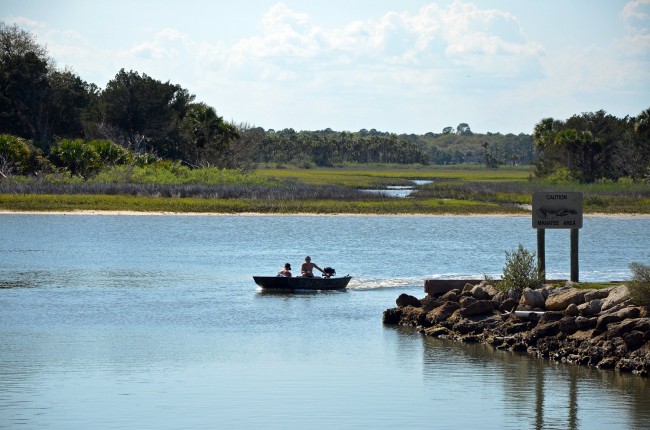 Front line troops who toil daily in the hospitality industry got their day in the sun during a kickoff lunch Thursday  for National Travel & Tourism Week amid hopes of a banner year for Flagler County's tourism business.
"We feel it will be a very good 2013," said Georgia Turner, vice president for tourism development for the Flagler County Chamber of Commerce and Affiliates. "If you look at the calendar year, we're up January, February and March from last year."
Turner spoke before the annual Hospitality Employees Recognition of Excellent Service, or H.E.R.O.E.S., awards lunch at the Hammock Beach Resort. Thirty hospitality workers, in jobs from front desk clerks to food servers to a park ranger and dolphin trainer were nominated for the awards and attended the lunch. Five people won awards.
Business as registered by bed tax collections on temporary lodging has been trending up. (The bed tax is a 4 percent, in addition to the existing 7 percent). March collections were $177,144 compared to $145,946 in 2012. Annual bed tax income has also been rising every year since the 2008 recession, $902,857 in 2010, $1,276,550 in 2011 and $1,568,993 in 2012. But some of those increases are also due to the county's decision to increase the bed tax from 3 to 4 percent in 2010.)
Bed tax income did dip two months in late 2012, which Turner described as a statistical blip in an otherwise upward trend at least partly to blame on a slow Biketoberfest. The dip was not unexpected: several countries in Europe are in recession (and France is about to join them), reducing transatlantic traffic.
In Flagler County, 2,600 people work in tourist businesses in jobs ranging from entry level clerk to administrative positions. "Tourism is a huge economic driver, not just for the state of Florida but for Flagler County," said Rebecca DeLorenzo, president of the Flagler County Chamber of Commerce & Affiliates.
As Flagler tourism leaders prepared to enjoy lunch with their prized employees, Turner said the ongoing economic recovery from recession is fueling a strong Flagler tourism economy along with marketing efforts and a growing preference for a homey style accommodation. "I'm not sure about the nation, but there's definitely a recovery in the state of Florida," Turner said. "I think the feeling out there is, 'I'm going to travel no matter what."
Efforts by Hammock Beach Resort to enter into a marketing promotion as a Grand Golf Resort of Florida have been successful, she said. "The better Hammock Beach does, the better our area does, because they are the biggest property," Turner said.
A national trend for vacation home rentals has also helped. "We have those in abundance," Turner said.  "That is very, very popular for a family to come and stay in a variety of size homes." The abundance has been such that it's created conflicts in the Hammock between vacation renters and more permanent home-owners, triggering hopes of legislative intervention. Those hopes were dashed this year.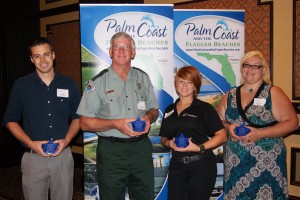 Palm Coast's efforts to boost tourism by attracting youth sports tournaments has had generated its own economic activity as youth participants and their parents stay in hotel rooms, eat in local restaurants, visit Flagler attractions and the beach. "The Tourist Development Council has hired a production development representative to work with niche marketing in sports, the arts and outdoors," Turner said. "We're really trying to pump up our efforts in the micro, or niche, markets. Sports have a huge potential to play in that. In addition to youth soccer and lacrosse tournaments, as state horseshoe tournament is planned in Flagler County in 2015.
When it comes to outdoors tourism, Flagler County has a jewel in Gamble Rogers State Park. Barbara Roberts, park manager, led a quartet of park employees in olive park ranger uniforms to the luncheon, including Anthony Greaves, a park ranger selected as one of the five H.E.R.O.E.S.
"Our campground is a very popular destination for local people, as well as people as far away as Canada," Roberts said. "We even had some people from Europe who brought over their own motor home and stayed with us. Our campground has 97 percent occupancy, that's the highest in the entire Florida State Park Service."  The park's location so close to the beach (south of Flagler Beach) helps its popularity, as does being close to Flagler Beach, a quaint city not as developed as other coastal cities, she said. Activities offered at the park include kayak rentals and tours, full moon walks and low tide bicycle rides. Gamble Rogers State Park is also on the Great Florida Birding Trail.
Reservations for the campsite can be made 11 months in advance. Gamble Rogers State Park is so popular that it's "almost" booked solid 11 months in advance, she said. "We are in the works for adding another 30 campsites," Roberts said. "We are in the design phase for that. That's going to be on the west side of State Road A1A. That's going to give us more campsites."
Business is also good at the Hampton Inn and Best Western, said Ryan Crabb, director of sales for the hotels. "We're having a great year," Crabb said. "The Hammock has been open four and one-half years now and March was the best month we've ever had. Bike Week has a lot to do with that." So did Spring Break, but underlying the improvement is a slowly recovering economy: In Flagler County, the unemployment rate dipped below double-digits (to 9.5 percent) for the first time in five years in March.  "The economy is getting back to the point where people are willing to spend money now," Crabb said. "If the first quarter is any indication of how it's going to be, it's going to be a record year."
Crabb said Palm Coast's efforts to attract sports tourism with youth events is "hugely important."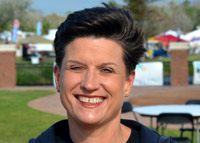 "Last week we had a state soccer tournament," Crabb said. "It was a statewide event. You had people coming in from Miami, Orlando and Tampa. It's a win-win for everyone. They stay at local hotels, eat at local restaurants, visit local attractions. "And it doesn't hurt to have the Indian Trails Sports Complex," Crabb said, "which is an immaculate facility maintained by the city of Palm Coast." Crabb said there are 13 soccer tournaments planned this year in Palm Coast, double the number of tournaments in 2012. He also gave credit to a new marketing effort as he prepared for the awards ceremony, during which one of his employees, Kellie Scribner was selected as one of the five H.E.R.O.E.S.
"The Tourist Development Council rolled out a marketing effort for Palm Coast and Flagler Beaches," Crabb said. "It's not just Palm Coast. It's trying to encompass Flagler County as a whole."
Master of ceremonies Jason Johnson talked about the importance everyone in the tourist industry has in the impact on visitors. "You never know why someone decided to move here or move their business here," he said. "It could be something as simple as the caddy at the golf club who carried their clubs."
Three other H.E.R.O.E.S. honored included Jason Olivares of Hammock Beach Resort, Sky Austin of Marineland Dolphin Adventure and Jason Hutsell, of the Flagler Fish Co., the Flagler Beach restaurant.
Following is a list of the other 25 people nominated for the H.E.R.O.E.S. awards: Patrice Beecher, Rob Blackmore, Dewey Brown, Nicole Connon, Amanda Corcoran, Carol Giles, Liz Groundwater, Joe Hari, Eric Johnson, Shakiria Jones, Madeline Kinney, Laurie Mazzola, Craig Medvid, Brandon Millman, Curtis Moden, Al Rebelo, Mark Siembieda, Latisha Smith, Jackie VanMiddlesworth, Elena Vuscan and Joe Williams, all of Hammock Beach Resort; Barbara Manzer, Gamble Rogers State park; T.J. Musto, Hampton Inn & Suites; Dan Palmer and Danielle Salvatore, Marine Dolphin Adventure.