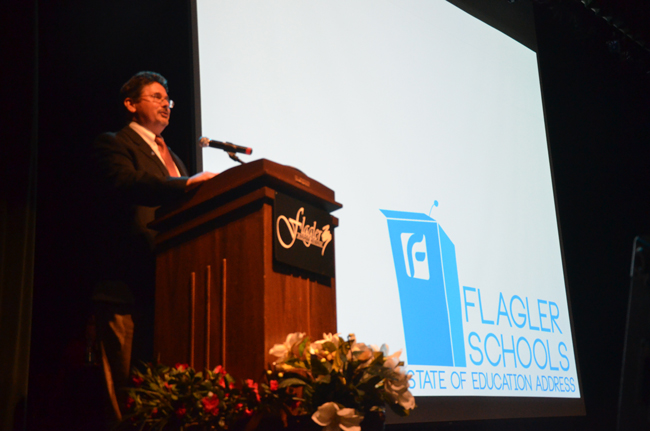 The Flagler County School district usually celebrates itself a few times a year through its Teacher and Employee of the Year evenings, or student-award shows such as the annual scholarship banquet or its digital video awards, and of course at commencement ceremonies.
Tuesday evening's State of Education Address took the celebration into a more focused and serious direction, highlighting what the district survived through the last few years of contraction, where it is today, what challenges it is facing in the next few years, and how it intends to tangle with those challenges.
The 90-minute event at the Flagler Auditorium, featuring the district's top staff and school board members, was by no means intended as a cheerleading session so much as an optimistic view of a district aware of its shortcomings—writing skills, for example, or minority staff recruitment can certainly improve—but more intent on making the community aware of many successes and innovations that either don't get broad attention, or get misinterpreted. The question-and-answer period drew out a few hard-edged questions about the district's intentions when it comes to hiring a new superintendent, or about the Common Core curriculum starting to roll out.
Dance started the evening by setting the tone of the district's intentions. "Everything we do is inspired by this vision," he said, namely, to be "the nation's premier learning organization" that's establishing a "culture of innovation:" and higher expectations.
Superintendent Janet Valentine spoke of last year's successes: 11th in the state out of 67 school districts, regarding school achievement, continuing a trend upward. With black students, Flagler is 8th in the state in reading and math, lending a different perspective to what had been seen locally as a severe gap between black and white achievement.
Financially, the district has become more efficient, including an almost half-million dollar rebate from insurance management and from Florida Power and Light (the last, after the district painted its roofs white, making buildings less energy hungry). The overall energy savings have totaled $3.1 million in the last three years. The district is also accepting advertising on its website to generate more revenue.
In the classroom, 98 percent of teachers are considered "highly qualified," while 18 percent of the newly hired teachers reflect the local demographics, thanks to partnerships with Bethune-Cookman University and Flagler College. (That doesn't mean that 18 percent of the teaching staff as a whole reflects the local demographics, but that the trend, among new hires, is in the right direction.)
"We definitely have an interest in recruiting minority teachers," Jacob Oliva, the deputy superintendent, said. The approach will include a cadet program in the district, which would give students an opportunity to get a start on their teaching career, "and really targeting minority students to be in that program," with a guarantee for a job once they graduate college.
Belle Terre Elementary's two paperless classrooms have drawn attention and visits from numerous other schools looking to replicate the experiment, which will be broadened locally. Valentine noted the day when middle school students were able to link up with astronauts on the International Space Station and have live conversations with them. And Flagler Palm Coast High School and Matanzas High School were highly ranked against schools in the rest of the nation in the latest tallies by USNews & World Report. "We have been extremely fortunate to be able to hold on to art and music and PE," Valentine said, referring to physical education, in a way that other districts have not.
Oliva spoke of the district's current challenges: enrollment has flattened. It's now below 13,000—specifically, the last school year started at 12,952 and lost some 350 over the year. This year, the district started at 12,787. "That's something that's been a little bit of a topic lately," Oliva said.
And of course he talked about Common Core, which has been drawing abrasive headlines of late even though Florida had been among the leaders in developing the system, through the National Governors Association. "That was the birth of the Common Core." The district is taking a wait-and-see approach regarding the yet-undetermined testing system that Florida will implement to measure Common Core, now that Gov. Rick Scott has pulled out of the national testing consortium.
Oliva then talked about the challenge of Valentine's retirement. It was an unspokenly ironic moment: Oliva is widely believed to be the school board's choice as her replacement. A majority of board members are already on record as supporting him, though they've also agreed to conduct a formal search for a replacement.
"We're seeing the advent of technology play a different role in education," particularly with regards to what the job market is demanding, and how to match those demands with schools' curriculums. It's not as simple as making students proficient in writing, reading and math, which once were a solid enough basis for success later. But financial and civic literacy, health and wellness, childhood obesity and other such matters and skills, including "digital citizenship" and communications, have become part of the school day. It's about "being able to think and problem-solve," Oliva said, or what he called "solution-fluency."
"Those are skills that students need to have in order to be successful," he said—and to know how to be critical as they go about calibrating what information is authoritative, and what information is frivolous: the first hit on a Google search is not the way to go, though it's the way many students do go these days when they write their research papers. Oliva illustrated the paradox of information overload with raw information's low and sometimes deceptive value by recalling a quote he saw on the web: "You can't believe everything you read on the Internet—Abraham Lincoln."
As he spoke, Oliva displayed his fluency with the challenges the district is facing as it further immerses itself in the whirls of technology and information literacy—and why Oliva is increasingly seen as the district's most able navigator of its digital future. That future includes the fact that Flagler is the first district in Florida to equip all its high school students with their own laptop computer, essentially eliminating the digital gap that chronically affected students depending on their financial means. The district within five years will have equipped all students in the district with their own laptop or tablet.
Marine science classes, a medical health and physical fitness, arts and science, engineering and math programs (combined): those are some of the "academics" elementary schools are developing in the county. By next year, every one of the district's elementary schools will be offering early learning programs, "because we know that if these schools don;t get early intervention," Oliva, "it's very difficult for them to catch up and they struggle almost their entire academic career."
At the end of the presentation the projection screen on the auditorium stage lifted, revealing a table at which the school board members lined up. Because the table was set behind the screen, the board members appeared deep at the back end of the stage, which gave the board an unintentional sense of remove from the community it meant—on this evening especially—to be close to.
When the floor was opened for public comment and questions (the event was relatively lightly attended), Common Core drew some attention, as did the state's low ACT and SAT scores and the inattention given, this evening anyway, to the arts, which drew a gentle rebuke from Board Member Colleen Conklin.
"We've worked really hard to protect them," meaning the arts, and could have spent half an hour highlighting the arts in the schools, Conklin said. "We have not done justice to our arts departments that touch dance, music, band, chorus, theater. It's a tremendous part of our culture and our system, so we'll have to work on addressing that."
Myra Middleton, a top administrator in the school district who recently retired, expressed concerns with the selection of the new superintendent through the district's succession plan, with little involvement from the community. "I fond it difficult that the community is now just addressing this most important move," Middleton said. She said the search must be extended beyond Flagler, "and preferably nationwide."
"Common Core for whatever reason has become a political hot potato," Conklin said. "We don't want to be part of this political game. We want to educate students." She discounted the notions that Common Core was dumbing down education or watering down critical thinking skills. It's doing the opposite, Conklin said.