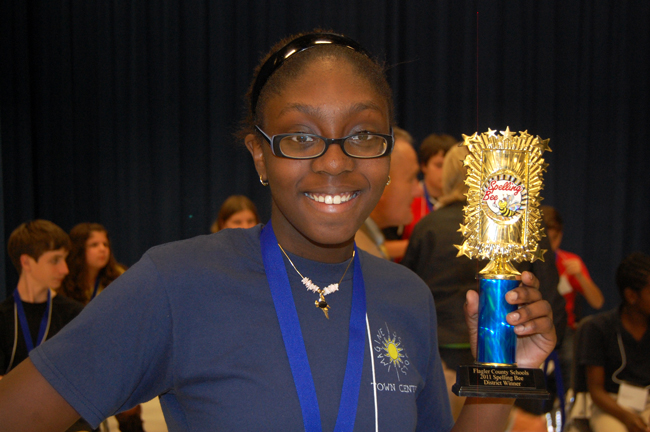 Imagine School's Ivana Moore did it last year with the word adieu. She did it again last night with propaganda and decaffeinated: she won the district-wide spelling bee and is headed to the regional competition in Jacksonville on Jan. 19.
Moore, a 6th grader at Imagine and a member of the Flagler Youth Orchestra, needed only five rounds to prevail in a field of 18 champion spellers from eight schools—a champion from each school from the 5th to the 8th grade (see the chart below). Belle Terre Elementary's Sandra Defalco, a 5th grader, was the first runner-up, followed by Old Kings Elementary's  Olivia Taylor, also a 5th grader. The competition was swift this time, lasting barely half an hour at the Buddy Taylor Middle School cafeteria Thursday evening.
Blame it on the words: from first to last, they were none too easy—no let-up, no mercy. Seriously: toxicosis, anyone? (The word means "any diseased condition caused by poisoning"—including poisonous words. Narcoleptic? Rhombus? (That would be an equilateral parallelogram. Not that anyone past the age of calculus could possibly want to fool with any equilaterals of any sort.)
With Christine Zappas as presenter (Diane Dyer, the usual presenter, had a family emergency), and a malfunctioning microphone that left Zappas unleashing words unplugged, perhaps to the detriment of a few students who may have misheard certain words, the 18 contestants sat in two rows of chairs on the cafeteria stage and, one by one, walked up to a microphone in the center to enunciate. This being the age when sizes vary greatly, some, like Wadsworth 6th grader Dominick Read, had to will himself close to the microphone, while others, like Imagine's Diana Solokhina and Old Kings' Elizabeth Kirconnell, made the microphone stand look small.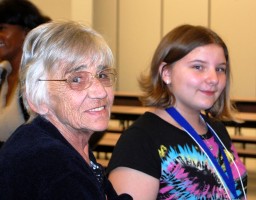 Before the competition each school champion accepted a medal from school board members Andy Dance and John Fischer then sat, nervously, through the reading of the rules before watching each other taken on the words. Three judges sat to the side—Bunnell Elementary's Richard Dupont, Wadsworth Elementary's Robin Dupont (both principals at their respective schools) and teacher Elizabeth Cowardin. With every wrong word, a little counter bell went ding. But with every word, right or wrong, an audience of about 60 applauded.
It took all of 48 words in those five rounds, starting, appropriately, with writhe, the very thing the students quietly did as the competition unfolded. Buddy Taylor Middle School's Christina Goodin was chosen as the very first contestant for the very first word—always a difficult spot—and the word proved too much. But so it was with every other word: Imagine's Jonathan Tsistinas managed to make his way through unkempt, but Bunnell Elementary's Sasha Feldman stumbled over desolate. Imagine's Adrienne Toles-Williams conquered testimony, but abominable lived up to itself and took down ther third of five contestants. And it was only the beginning of the first round. By the end of it, fully a third of the 18 contestants had been eliminated with words like onus, capillary and tangential.
Wadsworth Elementary's Jonathan Vidotti shouldn't feel bad about misspelling capillary: Fisher, the school board's newest member, mis-spelled it, too, when asked to give it a try after the competition (Fischer gave it an extra I after the two l's). And he'd just heard it spelled not long before. Imagine's Diana Solokhina can take heart after struggling her way through tangential. At least she tried, which is more than Fischer did. When asked to give that word a try, his reply was a quick "no, thank you" (and he's been spelling words roughly since the Eisenhower administration).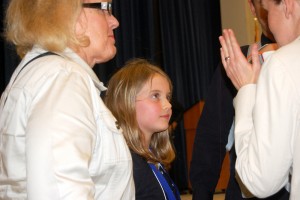 The second round was kinder. The 12 remaining students spelled 10 words correctly—including adorned, despicable, impromptu and the tricky convivial. The two mean words turned out to be misinterpret and gigabyte, one of the newer words in the dictionary, though only for the Eisenhower set: none of those students was born before the second Bush, when gigabytes were already the shadow of every other thing they touched.
The third round was a bloodbath: 10 words, six stumbles—magnificently, feral, quotient, abacus. Only Olivia Taylor managed to make her way through narcoleptic, Sandra Defalco (whose name was misspelled in the printed program) made it through the endless rambunctious, Ivana Moore easily handled curmudgeon, and Rymfire Elementary's Angelica Timothy took care of Kelvin (a proper noun? Really?)
So that final four was left standing, though the way the competition was designed, the students who had stumbled before them didn't walk off the stage. All 18 were still in their seats as the following two rounds were called, and the real nerve-wracking moments unfolded.
Olivia heard papyrus. She took care of that. Angelica got jalapeño and got burned—and who wouldn't? Sandra, who was wearing gold-colored pants, took care of Olympiad, and Ivana handled affectation.
The final round was a flash. Olivia got non-negotiable, a compound word that should have been negotiated out of the rotation. Hypochondria defeated Sandra. That left Ivana with having to spell the next two words correctly to win it all: had she spelled one wrong, the round would have continued with all three students. But that's when Ivana showed she could handle propaganda and anything else thrown at her, as long as it was decaffeinated.
Even Juan Valdez would have been proud. Congratulations.
Flagler County School District 2011 County Spelling Bee: School Champions
| Student | Grade | School |
| --- | --- | --- |
| Jeremy Anders | 8 | Indian Trails Middle |
| Sandra Defalco | 5 | Belle Terre Elementary |
| Alan Doron | 6 | Belle Terre Elementary |
| Sasha Feldman | 5 | Bunnell Elementary |
| Christina Goodin | 7 | Buddy Taylor Middle |
| Valerie Jones | 5 | Rymfire Elementary |
| Elizabeth Kirkconnell | 6 | Old Kings Elementary |
| Ivan Moore | 6 | Imagine School |
| Trenton Ray | 7 | Indian Trails Middle |
| Dominick Read | 6 | Wadsworth Elementary |
| Diana Solokhina | 8 | Imagine School |
| Olivia Taylor | 5 | Old Kings Elementary |
| Angelica Timothy | 6 | Rymfire Elementary |
| Adrienne Toles-Williams | 5 | Imagine School |
| Jonathan Tsistinas | 7 | Imagine School |
| Mikhail Vassilyev | 6 | Bunnell Elementary |
| Jonathan Vidotti | 5 | Wadsworth Elementary |
| Adam Weeks | 8 | Buddy Taylor Middle |