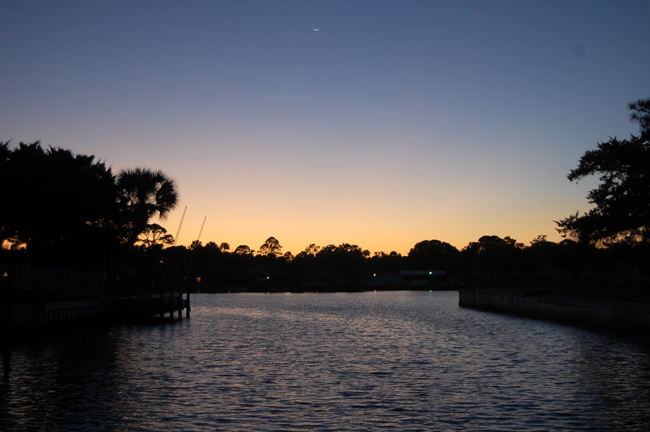 Boater enthusiasts and manatee advocates went at it again Tuesday afternoon before the Flagler County Commission in the latest round of wrangling over new speed zones the Florida Fish and Wildlife Conservation Commission is proposing for less than a third of the 18.5 miles of the Intracoastal Waterway.
The commission says the zones are necessary to protect manatees, an endangered species. Local boaters and marine industries and a near-unanimity of politicians say 10 manatee deaths over 10 years don't warrant the extent of speed zones the commission is recommending, particularly as manatee populations have recovered.
"I paid $800,000 to buy a house here," Jim Booth, a resident of Palm Coast's C Section, told commissioners before speaking resentfully of having to crawl by low speed limits with his boat. "It's just really pissing me off. I think 10 manatees in 10 years—I know one manatee is bad, but 10 in 10 years is a little bit ridiculous to be imposing this kind of stuff."
Not ridiculous for Jane Culpepper, a Palm Coast resident in whose honor earlier this month the commission declared Jane Culpepper Day. The commission was recognizing Culpepper's distinguished service as a volunteer and environmental advocate. If they were hoping to buy more compliance, they failed: "We've got to educate a lot of people. Not just the tourists, but a lot of these self-serving, self-interested people that live here and don't care about anything except themselves. So we can get them to be a little more humane, a little more understanding," Culpepper said. She paused briefly. A love-bug was crawling about her. Then she resumed: "These are amazing animals, and I do not understand why we don't promote them more to bring tourists in that are the non exploitive, the non consumptive people. I don't hear anybody concerned about that. Now frankly I wouldn't go anywhere to see a lot of fast boats. But I would go a lot of places to see manatees, like the Blue Springs."
Of the 11 people who addressed the commission in a public hearing about the proposed rules, four were clearly in favor of expansive speed regulations. Two were relatively non-committal, proposing compromise or complaining that the fish and wildlife commission's own hearing on the matter, in June, was taking place in St. Johns County instead of in Flagler. The five remaining speakers were opposed to speed zones and the zones' duration months (the zones are lifted in winter), although there were compromising voices—even Booth's: "I don't have too big a problem with split channels," the $800,000 home-owner said, referring to a compromise scheme whereby the waterway is split, with a speed zone to one side and a normally navigable zone to the other. "Don't have too big a problem with 25 miles an hour, and the bridges I do see that people do go through the bridges too fast and seeing them a little slower wouldn't be too bad, so I would agree with that."
As it turned out, Booth's approach hewed to the commission's, once the commission got around to voting on its own recommendations to the wildlife commission. Those recommendations were what it characterized as a compromise, but would be more accurately referred to as a compromise with a compromise.
By law, the wildlife commission had to let a local review committee, made up of representatives from the region affected by the proposed rules, come up with its own recommendations to the proposed rules. That so-called "Local Rule Review Committee" was established last spring and finished its work in summer. It essentially rejected most of what the wildlife commission proposed, acceding only to three miles of speed zones and an abbreviated, three-month manatee zone period. The committee, at any rate, had been stacked against serious rule-making. The commission countered with a compromise—or revisions—of its own, extending the speed zones to 5.6 miles in three places along the Intracoastal. That's the proposal the commission took on on Tuesday, again whittling down what the commission was proposing to less than two miles and extending a split-channel zone, though both sides agreed to a manatee season of just over four months.
Commissioners were not hopeful their proposal would have "legs," as Commissioner Barbara Revels put it: in the end, it's the commission's decision to impose what it will. But an exchange between County Commission Chairman Alan Peterson and the wildlife commission's Kipp Frohlich was revealing.
"There doesn't appear to be a problem in Flagler and St. Johns County, relative to the others," Peterson said of manatee deaths. "Yes, we don't have perhaps the regulations that the others do, but that doesn't appear to be a problem either. Why now does fish and wildlife want to impose—I mean, I can clearly see if there was a problem, or there was a trend that was increasing relative to everybody else. But it just doesn't seem to be a problem. Why now?"
Frohlich summarized the history: in 2007, at the height of the building boom in Flagler, several marinas and boat owners were having their boat slip permits ruined down by the Army Corps of Engineers because the county had no manatee management plan. That sort of development "ground to a halt," Frohlich said (although, in fact, all development was grinding to a halt by then.) To kick things back up, the commission was willing to work with developers as long as manatee rules in compliance with the Endangered Species Act were developed. In other words, Frohlich was contending that the rules had their origins motivated by development. At that point, fish and wildlife's planes went airborne to count manatees.
"The areas that the data showed that the risk would be the highest were the ones that we came back to the county with, and started that process," Frohlich said. "And I would agree with you commissioner, I want to make sure, I'm a biologist, you're absolutely right in the sense that manatee population has been growing. It's one of our success stories in Florida. I don't think there's a manatee biologist anywhere that will argue with that, but they are still a federally listed endangered species, and our statutory requirements are still to, where we see risk areas, we try to reduce those risks, because nobody wants to collide with a manatee."
It's as close as Frohlich came to conceding that not only is the original motive for the rules—excessive development—no longer an issue, but that the Endangered Species Act is being enforced because it has to be—not because manatees are, in fact, endangered.
"Do you also look at the overall economic impact you're having on a community by enforcing these regulations?" Commissioner Milissa Holland asked. "Do you weigh  that during your decisions and recommendations?"
"Yes," Frohlich said. "We're now required to do a statement of estimated regulatory costs that will evaluate the potential economic impact of whatever proposed rule they're looking at."
While those points made it easier for the opponents of speed zones to argue their position, they did not diminish the points the wildlife commission and manatee advocates maintained: mortality isn't the only measure of danger to manatees, nor is the fact that they may be endangered. There are inherent values in slowing speeding boats down regardless, they said. A canoer, for example, described the Intracoastal as a danger zone.
And Katie Tripp, the Save the Manatee Club's director of science and conservation, took on the notion—a repeated theme since last spring—that speed zones would hurt economic development and tourism. "I'm going to take my work hat off for a second," Tripp said. "I recently moved. I saw your Visit Flagler website, 'Come visit the quiet side of Florida, come paddle with the manatees, nature is alive here in Flagler.' Fortunately, I also knew what else was going on. I didn't move to Flagler. I moved to a boating community that supports speed zones, that honors speed zones, and I don't recreate here anymore. I don't bring my bike and cycle from Flagler Beach up to Marineland. I don't sit at the Golden Lion and have a cocktail after I've cycled 30 miles. I've taken my life elsewhere. Environmental communities, the green community your strategic plan said you wanted to be, supports manatees, supports zones."