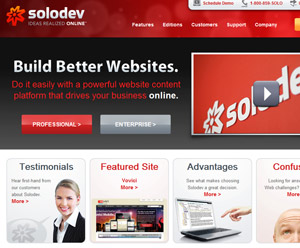 The Flagler County Commission this evening approved a $50,000 contract with Orlando-based Solodev, a marketing and web-design firm that pledges to launch the county's revamped economic development website by January 2013.
The county created a $450,000-a-year economic development department last year and hired its executive director–Helga van Eckert, formerly of Perth Amboy, N.J.–in January, with a nine-member advisory council, to bring jobs to the county.
"This is a really important component for economic development," Commissioner Milissa Holland said of the branding and website effort. "It should be a top priority."
The contract calls for Solodev to develop a logo for the site–what would double up as the economic development department's, and by extension Flagler County's, brand–for $6,000. The website itself will cost $20,000. Planning and design will take up close to $10,000, and web hosting and maintenance $12,000 That last figure would be recurring annually, as would a $2,500-a-year licensing fee to Solodev.
Commissioners had no objections to the plan, though they raised a few questions. The company originally submitted a $90,000 proposal to do the work. Van Eckert negotiated it down to $50,000 because a lot of the projected work was either already done by county staff, or will be done in-house. "The staff is going to do a little bit more work," van Eckert said. The county has its own web developer and content management system. The economic development website, however, will be limited to 40 pages, with more flexibility through such things as blogs.
The contract with Solodev, County Administrator Craig Coffey said, "is a lot more thorough, a lot more time frames and deliverable and that sort of thing."
The jobs council went to some lengths in its early goings to downplay expectations and shift the discussion from actual jobs it would create to something more akin to a climate for jobs that it would enable–a more amorphous definition of economic development that releases the department and its council from the sort of time frames and deliverables they impose on contractors.
It is unlikely, as the department and the council close out their first year in January, that they will have new jobs they could ascribe to the effort, other than the ones the department's half-million dollar budget are creating or maintaining. One company, Designs for Health, opened an office in Palm Coast in June as its southeastern distribution center, with the possibility of adding several jobs by year's end. But those efforts were under way before the creation of the jobs council.
A new website would be one way to show a tangible accomplishment with possibilities as a portal to development leads down the line, though Enterprise Flagler, the predecessor to the jobs council, went through a similar exercise, with its own website development several years ago, and little to show for it.
As examples of its track record, Solodev, van Eckert said, consulted for the Metro Orlando Economic Development Commission and Team Volusia, the public-private economic development partnership that represents Volusia County and 16 cities. She described a team eager to be part of Flagler's economic development designs.
"We're hoping to move very aggressively on it," Eckert said.