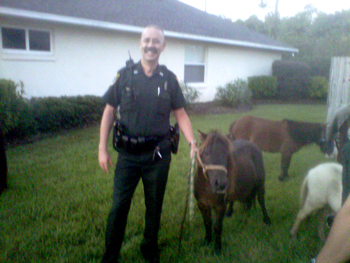 Several Flagler County Sheriff's deputies did some horse wrangling this morning when 11 Shetland ponies escaped from their make-shift corral on North Old Kings Road in Palm Coast.
Shortly after 7 a.m., the Sheriff's Office received a report of miniature ponies running toward Fleetwood Drive. The ponies are part of a Fall Festival being hosted by the Italian-American Club this weekend.
Sgt. John Bray, Cpl Frank Celico and Deputies Joe Delarosby, Bradford MacDonald, Scott Nance and Jeff Turner were able to round them up in the area of Foxhall Lane and Foxhall Court.
While the roundup was underway, deputies reported, the animals strolled along Old Kings Road north to Fleetwood Drive where they made their way to Foxhall Lane.The carnival owner was notified and the pony owner was contacted. He was enroute back to Palm Coast from Ocoee to secure the animals.
In the meantime, the deputies, assisted by the carnival owner, were able to rope the small horses and get them back to the corral. The ponies belong to Josh Ellis of Bristol, Tenn., who said the ponies "pushed the fence away from the trailer and got out." But they never posed a threat to anyone. "You got rottweilers bigger than these horses," Ellis said. "They want to runa round. They're like big kids."
"The corral was re-secured and all are well," the deputies reported.
The wrangling took about 20 minutes.
"It was quite the humorous morning to say the least," said Sgt. Bray.
Shetland ponies take their name from the Shetland archipelago in Scotland, where ponies have been known to pasture for thousands of years. They're strong little horses, well-tempered, gentle, and smart, though they can be irascible if mishandled.
Wednesday afternoon, volunteers at the Italian-American were not aware that a pony break-out had occurred from their property. The festival, incidentally, begins Friday at 4 p.m. and ends Sunday evening. It will feature, beside pony rides (should the ponies cooperate) plenty of Italian food, crafts and festival-type attractions.