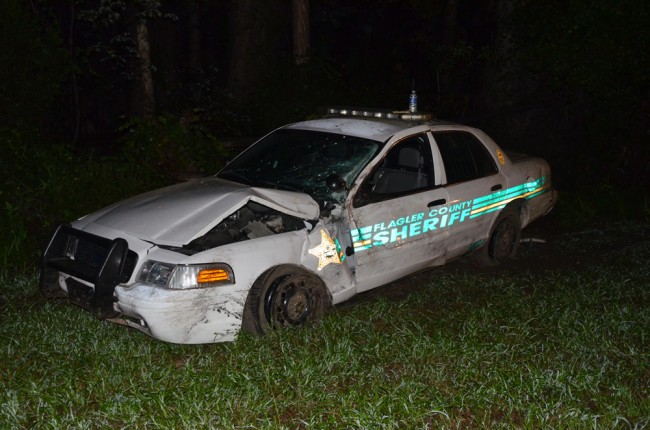 A young Flagler County Sheriff's deputy was driving north on U.S. 1, about 75 yards south of Palm Coast Parkway, when he lost control of his cruiser and crashed in a ditch Saturday evening. The wreck took place at 8 p.m.
The deputy, James Dopp, 20, was not hurt. No other vehicle was involved. The deputy stood at the scene speaking with other deputies, including a sergeant and Capt. Marc Carman, who heads the sheriff's Palm Coast operation. The sheriff's office was investigating the crash, with help from the Florida Highway Patrol. An FHP trooper was at the scene taking measurements this evening.
A sheriff's sergeant said Dopp, who was off-duty, was traveling alone, going north. U.S. 1 curves before the juncture with Palm Coast Parkway. It appeared from marks in the road and the grass that the driver failed to negotiate the curve.
The cruiser, a Crown Victoria, traveled a short distance between the shoulder and through the ditch, in a straight line, before smashing into a tree on the driver's side. The cruiser appears to have spun but never flipped.
Lt. Stewart, the watch commander, was investigating the crash. Dopp was hired by the sheriff's office on Jan. 5, 2011.