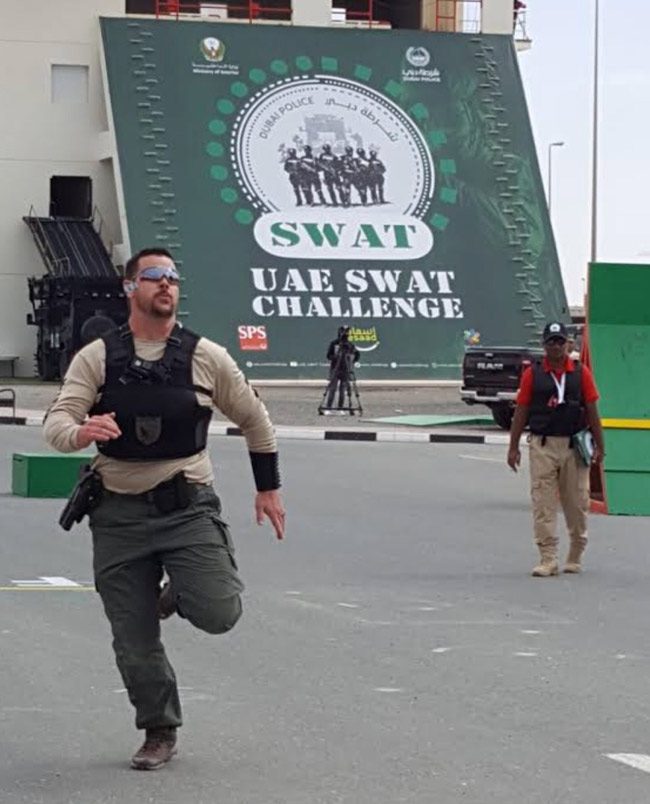 Flagler County Sheriff Rick Staly and eight members of the sheriff's SWAT team left for an international SWAT competition in Dubai on Feb. 6, and are returning after the competition ends on Thursday.
The trip is paid for entirely by Dubai police and the United Arab Emirates' Ministry of Interior, which invited the Flagler agency to be part of the challenge. "As a gesture of good will, we would like to extend to your Agency return flight tickets and accommodation for 8 compeditors [sic.] for the period of the UAE SWAT Challenge," a Jan. 3 email to Staly from Dubai police reads.
According to the ministry's undated invitation letter to the agency, the SWAT meet is the first of its kind, with five challenge categories testing various skills, featuring SWAT teams, special operations teams, police and military groups to "work together and promote knowledge and cooperation in the spirit of collaboration, exchange of ideas and mutual positive values, solidarity and respect."
Dubai police, however, is not known for such forbearing ideals, though few Americans or participants in the challenge are aware: the UAE is an absolute monarchy and a police state with zero tolerance for dissent.
"They offered to pay my flight and expenses over there so I'm going to go on and see the competition and cheer for our team," Staly said the day before departure.
The Sheriff's Office announced the trip in early January in a release, though at the time it did not mention that Staly would be joining the team. The actual cost of the trip is still not known: FlaglerLive requested the numbers from the Sheriff's Office, but the agency said the figures are not known yet, nor were the prices of the tickets on the electronic tickets sent the team. Chief Mark Strobridge, providing a rough estimate, said the value of the flight might be around $1,700 per person, round-trip. The team is staying at a Dubai Holiday Inn, where room costs run about $100 a night, Strobridge said.
The sheriff will be required to submit more precise figures, as constitutional officers are required by law to declare gifts. Deputies are not, in such circumstances. The sheriff's policy states that "Personnel will not solicit or accept gifts, presents, or other gratuities in return for favor(s) or official act(s)." Since the deputies are not currently providing policing services, Strobridge said, the policy does not apply. He compared it to, for example, Chief Paul Bovino recently going to the FBI Academy for training. (Bovino is the acting sheriff in Staly's absence.)
Staly acknowledged that "there's a small cost" incurred by sending eight deputies to Dubai, with coverage of shifts locally, "but the value of the training as compared to the overtime cost is insignificant." He added: "This is just a great training opportunity for our team, our people, it's also a way to reward them, quite frankly, they train very hard."
Flagler's is one of four American teams joining teams from Italy, France, Argentina, Lebanon, Vietnam, Armenia, Latvia, Rwanda, Iraq, Russia, and Angola, among many others, and from four of the seven emirates, including Dubai of course. There's also a team ominously representing a "State Security Committee" (from Belarus).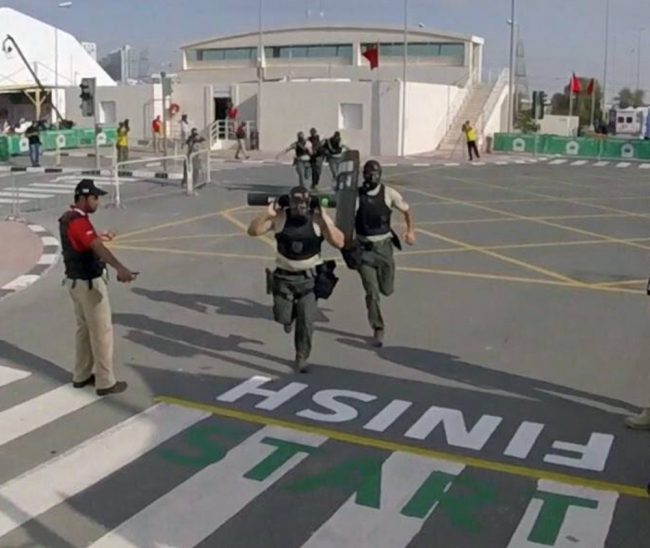 "This event is an opportunity for all of us to get to know each other and learn from one another," major general Khalil Ibrahim Al Mansouri, assistant commander of Dubai Police's criminal investigation department, told The National, the Emirates-based English-language daily. (Event organizers did not respond to an email inquiry to their media line.)
Det. Diego Morales, who is leading Flagler's team in Dubai, said by phone today that the team has been treated with "nothing but courtesy" (Morales is familiar with Arab hospitality, having been to Dubai twice before, and elsewhere in the Middle East, on security assignments), and that the team itself has done well against others, even though it may not seem so strictly by looking at the standings.
"Different teams have different agendas," Morales said. "There's certain teams that only train for this, they put a lot of time and train for these specific events," and some of these teams have no budgetary issues to worry about: they are free to train, whatever the cost, a luxury Flagler's team does not have.
Oddly, if perhaps not surprisingly, Dubai Police's A Team placed first in both Day 1 and Day 2 challenges (tactical and assault events), with Dubai Police's B team in second place on Day 1. Flagler placed 34th and 23rd in the first two days' events. Today, Day 3, in the Officer Rescue competition, Dubai's A team fell to 11th place,  with two American teams cracking the top five: Osceola County Sheriff's Office in second (Kuwait took first), and Alachua County taking fifth place. Flagler came in 38th.
Every day's first-place winner gets $5,000, the second place team gets $3,000, and the third place team gets $2,000. Then, in the overall standings, the first-place trophy is worth $70,000, second place gets $30,000, and third place gets $20,000.
Morales says the competition is invaluable in other ways: "The main thing is networking, shaking hands with different people from all over the world in different units, what works for them, what doesn't work for them, looking into their policies, what's too aggressive, what are we doing right, so the learning experience there is tremendous,"  Morales said. "I can feel comfortable in saying we're on the right track as far as tactics."
Language has not been a barrier. A lot of teams' members speak English–a universal language these days–and when they don't, Dubai is providing police officers as interpreters. (Morales does not get the sense that they're watching what their guests say.)
Monday night Morales had a conversation with a French team member who serves on one of France's teams that responded to the November 2015 terrorist attack in Paris's Bataclan theater, a music venue, among other attacks that left 130 dead (90 of them at the Bataclan) and more than 400 injured. "Conversations like that are priceless," Morales said. "That is where true discipline is extremely important in what we do, knowing when to treat people right, do the right thing, have no tolerance for excessive force, and knowing when to flip the switch, and there are times when you have to be aggressive."
Morales said he was steering clear of all politics or perception issues, as he and his team were in Dubai to compete. He was concerned that the trip would be seen in a poorer light. "I can understand there can be a different, negative outlook on it, but it truly is a positive thing and there's a lot to bring back," he said. As for the sheriff's presence there, he said "he's able to be involved in these conversations, he's able to see the new tools, the tactics. When an incident happens, he gives me the ability to give him numerous different options." Pairing that with what the sheriff is witnessing at the competition, "now he can sort through them and say OK, this is the best option, this is the route we're going to go. This allows him to see why those decisions are being made, because you can't see that from behind a desk."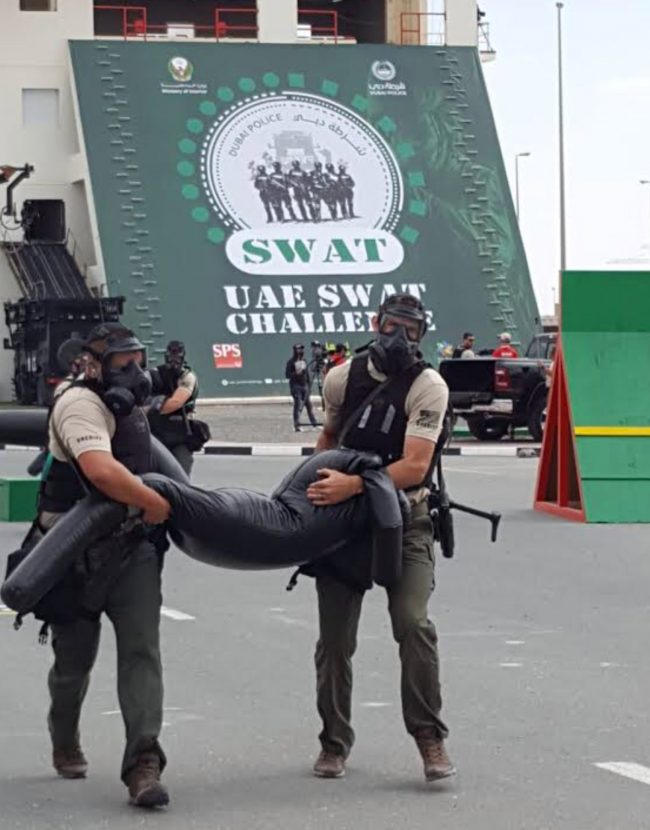 Chief Paul Bovino was long a member of the SWAT team. He stayed behind as the acting sheriff in Staly's absence. He explained what led to the decision to go to Dubai.
"We have always used our limited SWAT training time to prepare for real world situations," Bovino said. "I have always believed that our team must be prepared for the worst and our focus should be sharp. When we were presented with this opportunity for an all-expenses paid invite to compete on a world stage, we didn't know what to really think about it. We discussed it over a weekend and with a very small window to prepare our SWAT Team leader Detective Morales selected the group and immediately started to focus efforts with a crash course in SWAT round-up style competition. The guys took it seriously, dieting and working on their skills even on their off duty time."
Bunnell's police chief, Tom Foster, a SWAT competition veteran who often goes to Orlando's annual SWAT meet,  pitched in to give the men pointers. "We have a strong belief and practice of trying not to overuse tactical assets, but when they do deploy they do the work that not many can or want to do. We don't focus on competitions, but this opportunity has really ignited a positive fire in the team and future participation in the local round–up could be in the cards since we have had such a positive experience so far."
Along with Morales, the team is made up of Sgt. Ryan Emery, Sgt. Michael Breckwoldt, Sgt. Bernard Woodward, Cpl. Mark Moy, and deputies Chris Taylor, Brandon Fiveash and Daniel Malta.
The team took off just before one of the more serious controversies of Staly's tenure exploded at the agency, when Anthony Fennick, an inmate at the jail since December, was taken to the hospital in an ambulance on Feb. 4 after complaining of illness for days, and was brain dead later that night. He died Saturday. "It is very tragic timing, there's no doubt about that," Strobridge said, adding that Bovino locally and Staly from Dubai have been directing the investigation.
As for Dubai's and its police's human rights record, Strobridge said: "It's not going to change our constitution, it's not going to change the way we police," and noted that as an American ally, travel to the UAE doesn't even require a visa, while the U.S. State Department considers travel there on par with travel to Europe. "Any immediate vetting we would have done, we would have hit those particular areas," he said. "We have human trafficking in Florida, we have rape, robbery and murder in Florida."
Dubai is one of the seven emirates that form  the United Arab Emirates, an American ally and a nation of immense wealth and glitz. But it is also a nation with a dismal human rights record whose police are known for arbitrarily detaining, imprisoning and torturing citizens and residents, particularly free-speech, human rights and religious-freedom advocates –the same police hosting Flagler's and other SWAT teams, and against whom those teams are competing. Women have minimal rights: domestic violence by men against women and children is enshrined in law, provided beatings don't leave marks, and marital rape is not a crime. More than 88 percent of its population of about 9 million is non-Emirati, as the nation relies overwhelmingly on poor migrants from South Asia for labor, many of them in forced-labor conditions, according to Human Rights Watch.

Follow the Dubai SWAT Challenge here and here, with results posted at the end of each day's competition here.