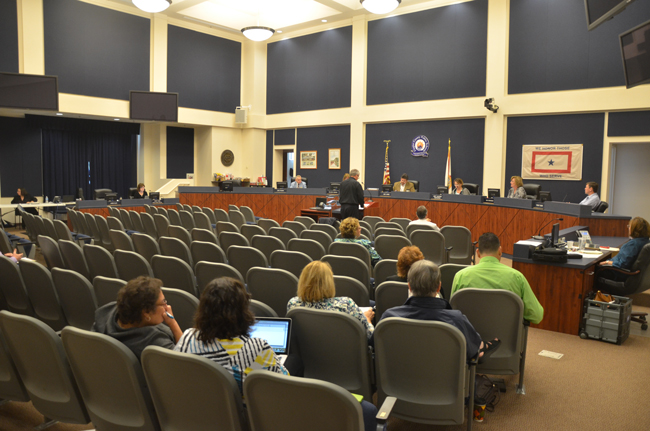 Last Updated: 7:14 p.m.
By 2:45 this afternoon, after almost six hours of debates on how to cut $1.7 million from its budget, the Flagler County School Board was still almost $1 million short.
Discussion turned to closing a school, which would save $900,000. The options proposed are closing either Wadsworth or Old Kings Elementary. If Wadswroth were closed, the massive building between Wadsworth and the old portion of Buddy Taylor Middle School could be turned over to Buddy Taylort, which would potentially enable the closing of Indian Trails Middle School.
Board member Sue Dickinson, with tempers getting testy and Board Chairman Andy Dance asking her to humor him with one more line-by line exercise, put it starkly: The electorate must know that the board is cutting big-ticket items, including closing schools or eliminating classes such as the so-called "wheel" system in elementary schools, if it's going to be shaken up enough to vote for a tax that would avoid these cuts.
"The longer we wait the more negative votes are going to get mailed in against us," Dickinson said. "It's not our final decision. It's the public's final decision. If they don't want us to have the wheel anymore, if they don't want us to close a school, they're going to make that decision on June 7."
But the board at mid-afternoon could not bring itself to make that $1 million jump beyond deciding that between eliminating the wheel system and closing down a school, the closure of a school would come first. Board member Trevor Tucker was adamantly opposed to eliminating the wheel system, which provides a variety of different subjects to elementary students on a rotating basis during the year. Tucker said closing a school would preserve those classes, while requiring students to be shifted. He had support from two other board members.
"We are down to that point, we have to meet our budget, we have to do that, so it's just as realistic as cutting the wheel," Superintendent Janet Valentine said.
That's where matters stood as the clock approached 3 p.m., with just one hour left before the meeting had to send, so other scheduled meetings of the same board that have nothing to do with budgeting could begin.
Once the notions of closing a school or eliminating the wheel were on the table, a seemingly shocked board took a break and reconvened, with Andy Dance, the board chairman, reversing the entire day's process: all the morning and afternoon debates were put aside, the list of cuts was redrawn to show a school closure and the elimination of the wheel system as untouchables, leaving everything else on the district's elimination list as required cuts: closing the alternative school, requiring students who live within two miles of a school to walk rather than take the bus, eliminating media aides and six paraprofessionals, eliminating all travel, eliminating the after-school strings program, and numerous other items.
"Yeah, we spent the morning talking about all these items, but at the end of the day we still need to cut $1 million," board member Colleen Conklin said. "If we're not willing to deal with closing a school or cutting the wheel, then we need to do all those other cuts."
It was confusing. But the board itself was confused as it tried to wrap its numbers around the right approach. "We discussed all day and we couldn't reach the target," Dance said. "This is a way to reach the target."
But there wasn't much consensus among board members.
At 3:30 p.m., yet another option emerged: Closing the alternative school, eliminating media aides despite principals' insistence that they remain in place, and imposing the 2-mile limit. The combined savings would be $962,000. That, in addition to the savings agreed to earlier, would keep the board from having to close a school or eliminate the wheel system.
And it wasn't quite at the total in savings the board needed to come up with.
"This closing of a school is going to be so disruptive to the largest group of students," Superintendent Janet Valentine said.
Many programs, in essence, became chips in a political process: board members were declaring that they had to make cuts, they had to eliminate programs, they had to eliminate services, leaving it up to voters to decide on June 7 to restore them.
Kristy Gavin, the board attorney, raised another caution about closing a school: it would be immediate bait for charter schools, which could use the building without being charged rent: they are public schools operated by private entities, and by state law they get to use existing school buildings, which cannot be leased to those operators.
The decision came down to Colleen Conklin, with the rest of the board split between willingness to close a school other than the alternative school (John Fischer and Sue Dickinson) and willingness to close the alternative school, eliminating the 2-mile rule, and eliminating media aides.
She did not take a decision. The board agreed to end the meeting and call for an emergency meeting for Thursday morning, May 9, at 8 a.m.
The board had convened at 8:30 this morning to figure out what to cut from next year's programs. The board knew it was facing a day-long meeting. But by late morning, it still hadn't settled on a single cut, as it got repeatedly sidetracked by a mixture of budgeting details and lack of clarity in the numbers, down to the sort of dollars the state is awarding the county for next year: in the space of less than a week, that figure changed by $400,000, reportedly increasing the local deficit—as the district sees it—by that amount. The total the district is trying to make up is $1.7 million.
"This is a moving target," Tom Tant, the district's chief financial officer, told the board in his introductory presentation. In early July, the state will produce yet another set of budget numbers that could upend whatever the district settles on by then.
But there wasn't just one target, as this morning's meeting made clear: the district's roughly $100 million budget is complex and multi-headed, including, for example, such operations as its adult education program, designed to run as its own, self-funded enterprise. But that nearly $5 million budget mired the board in a long discussion this morning as it tried to figure out to what extent the general fund was subsidizing the adult education budget, and how much of that subsidy could be cut.
"What we need is for adult education to come back and add something to this list to help us," Conklin said, raising in her left hand the sheet listing numerous programs the district was considering cutting.
That was just one of the targets. And all of them were moving.
That $1.7 million figure, for example, doesn't include a projected cut of more than $1 million in federal funding. But the figure only partially includes the amount the district is ready to plug in from its reserves, which currently stand at $7.4 million. In other words, as the district began its budgeting this year, it was already budgeting on the assumption that it was dipping into reserves to withdraw $1.7 million. That leaves the district's net reserves at below $5 million.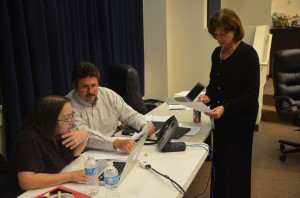 And those expected deficits are developing despite a projected increase of $5.2 million in state funding ($100,000 less than the district calculated last week). The paradox is explained this way: whole the state is appropriating more money to local districts, the new money is quickly eroded by new and costly requirements, including a raise for teachers, a huge increase in districts' retirement and costs, and new requirements that local districts pay for students dually enrolled in community colleges. For the Flagler district, that translates to a new, $180,000 bill to account for students enrolling at Daytona State College—a higher education cost now levied on primary and secondary education schools.
Thrown in the mix is the district's campaign to pass a property tax levy on June 7 that would equate to 50 cents per $1,000 in taxable value (or $24 a year for a house valued at $123,000, the current average value in the county, with a homestead exemption). The levy would bring in roughly $4 million a year and would negate one—though possibly not all—the cuts, while enabling two major initiatives the board wants to accomplish: first, restore the 45 minutes a day cut from the school day in middle and high schools two years ago, to save money. Second, to add cops in all elementary schools and revamp security measures in all schools, in response to concerns following the Newtown elementary school massacre.
At 11:30, the board began its line-item elimination exercise—three hours after the board first convened.
A long list of potential cuts was on the table: eliminating the outsourcing of the two high school graduations to Volusia and St. Johns counties, eliminating the district's alternative school, eliminating nine media aides, eliminating the Flagler Youth Orchestra's strings program, reducing travel, not paying for library books for a year, eliminating six paraprofessionals, eliminating funding for certain academic competitions, shortening the elementary school day by 45 minutes, even potentially closing a school.
Dance began that portion of the discussion with a defense of "niche programs that really separate us and are leading to the increased performance that we've seen." He specified, for example, problem solver competitions. "They may be bigger benefits than just the dollars and cents."
He added: "I would think as part of our school identity and culture it's one of the things we want to set as a priority." But many such comments would be rendered moot by subsequent debates and conclusions.
Conklin suggested to "meet in the middle with it," so that the funding is shared.
By lunchtime, the board had agreed to cut a half dozen items, including a grant-writer's contract, two administrative positions at the district office, energy savings, the teacher of the year competition ($10,000 that will be privately funded from here on), a year's worth of new school library books ($100,000), keeping in mind that libraries themselves would not be affected beyond not being able to buy books for a year.
"There's not a thing on this list that I want to be naming," Superintendent Janet Valentine said. By then–at noon, when the board broke for lunch–members had tallied up just over $500,000 in cuts. Immediately after lunch the figure jumped to $612,000 when the board agreed to cut six para-professional positions (non-instructional personnel paid $18,000 a year—already, less than a living wage in Flagler County. A percentage of the $244,000 out-of-county travel budget will be cut, though there was no precise number.
The board spent about a half hour discussing the budget of the Flagler Youth Orchestra–an overall budget of $67,000. The cost to the district, however, is $57,000, as the program pays for one of its teachers with its own funds. Cheryl Tristam, the program director, proposed reducing the cost to the district by an additional $12,000 by having the program assume the cost of yet another teacher and eliminating transportation, which costs the district $2,500. The board set aside the matter to discuss more directly academic costs before deciding the orchestra's fate.
Among those costs: the Linear Park and Princess Place service learning programs, which serve only a handful of students. Those programs have become more difficult to manage, Valentine said, and "can't be the same kind of program we used to provide" because of new state strictures. With the district adding a tech school component to Flagler Palm Coast High School, and continuing Phoenix Academy, the specialized school on FPC's campus, Valentine recommended eliminating the two programs. The board agreed to eliminate 80 percent of the cost, saving $80,000.
Several programs and services did not get cut, and were removed from the elimination list: The proposal to require all elementary age students who live within a two-mile radius of their school to walk rather than take the bus would have saved $200,000, but there was no support for eliminating the service. Principals asked that eight media aides not be removed from their staffs. That would have saved $184,000, but board members wanted to honor principals' request. Everest alternative school costs $577,000, but board members were curious about the possibility of returning the 50-some students who attend the alternative school back to regular campuses. Winnie Oden, the principal at Everest, argued strongly against the idea. Board members were more amenable to reducing the number of teachers there (five), who serve about 50 students.
But by close to 3 p.m., the board was still $1 million short of its goal, having tallied up just $755,000.
"Somebody is going to perform a miracle, I don't know who it is," Dickinson said as the board took a 15-minute break at 3 p.m.
This story will be updated as it develops.