Budget cuts are coming to the Flagler County school district—deep, broad cuts that will affect almost all faculty, staff and students in one way or another, including the elimination of 40 teaching positions in middle and high schools over the next two years and the reduction of the school day in middle and high school from seven periods to six. The shorter day will also apply in elementary school.
Teachers' planning schedules will change (currently every teacher gets one planning period during the school day). Employees who work longer than the 180-workday schedule of teachers will see their days reduced five or six days, depending on their position. That includes some service workers. And every one of the district's para-professionals will see their work days reduced by four.
Most of the 40 teaching  positions would likely be eliminated in the coming school year, although like several other proposals, the school board would have to negotiate the cuts with the teachers and service employees unions. It could not enact them unilaterally. And principals will attempt to minimize actual job losses by leaving vacant positions unfilled and spreading some of the cuts over two years, so the actual number of teachers losing jobs would be smaller.
The Flagler County School Board held a four-hour workshop on budget cuts this morning, extended through lunch, with the district's top administrators, including all but one school principal. Led by Board Chairwoman Sue Dickinson and Superintendent Janet Valentine. The board approached matters systematically, with a list of 17 budget-cut proposals totaling an annual saving of $4.7 million in a $100 million general-fund budget. That was the savings goal the board was trying to reach.
Four hours later, it had agreed to cuts totaling $3.6 million—a figure it could live with, but only by dipping into reserves by about $1 million a year. That's assuming that Gov. Rick Scott's proposed cuts to school funding go through, and the district's school population remains as static as it is this year. The cuts are necessary because the nearly $5 million in federal stimulus funding, which staved off cuts in the current and previous years, are running out, with no replacement in sight and no pick-up in the local or state economy to project better property tax revenues. Scott's cuts would be compounding the loss of federal funding.
None of the board's decisions were formal: the board didn't vote, and couldn't vote, this being a workshop, and there's still plenty of negotiating ahead. But Valentine wanted clear direction from the board on her recommendations—which were to be pursued, and which weren't. She got both.
"The thing I think it's important for all of us to keep in mind is that this is a very difficult task in front of us, and it's going after each one of our hearts, each one of us has in-depth love, caring," Dickinson said at one point, when fellow-board member Colleen Conklin characterized as a "waste of time" to be considering some of the cuts on the list, which had little support from board members. "Colleen you and I spent a lot of time on these programs"—Dickinson and Conklin are in the 10th year of their service on the school board—"they're dear to us, and no, we don't want to lose them, but unfortunately we're going to have to do something, whether it's these programs or the rest of what we're going to talk about. I agree with you, but yet on the other hand we know we're at bare bones."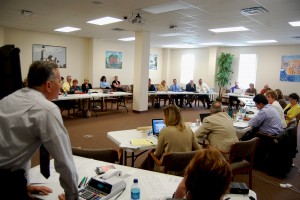 One of the proposals that got no support is also the only proposal that would have affected thousands of families beyond schoolhouse doors (other than the shorter school day, which will affect all parents with children in public schools): imposing a 2-mile limit within which students would not be able to get bus transportation to and from school. Conklin was adamantly opposed, and signaled that even in the future, should would oppose such an imposition if it were to affect elementary age students.
Other programs that were spared elimination: Phoenix Academy, campus police (that is, "school resource deputies": the proposal to eliminate middle school deputies was scrapped), the service learning programs for 38 students at Linear Park and Princess Place Preserve. Pathways, the district's alternative school, was one of the programs that could have been cut. The budget there will be cut, for a saving of $250,000, but the school itself will remain.
By far the largest saving would be generated by eliminating the 40 teachers and reconfiguring the teacher-planning period. (Valentine is referring to it as "common planning," which would be considered for either before or after [the] school day.) That would generate $2.5 million in savings.
The reduction by six days in the work schedule of year-long employees—including administrators and the superintendent—would save $350,000. Valentine's salary would, in fact, be cut. The reduction of other employees' schedules would save an additional $162,000, while para-professionals' schedule reductions to a 186-day schedule and a 6.5-hour per day schedule would save an additional $186,000.
The district also projects energy savings of $300,000 by holding all summer programs at Buddy Taylor Middle School and Wadsworth Elementary, and closing all school buildings for two weeks during the year (the week of July 4 and the last week in December). The middle school campus advisor position would also be eliminated, for a saving of $41,000.
Toward the end of the meeting, school board members proposed some of their own ideas either to generate savings or revenue. Trevor Tucker proposed indexing all salaries to the district's revenue stream, based on percentages. In a year when revenue falls by a set percentage, then salaries would follow accordingly. In a year when revenue would increase by a set percentage, then salaries would rise accordingly. Heads nodded, though it wasn't clear whether in agreement or disbelief.
The same reaction greeted Conklin's proposal, which, knowing how far out it was—especially for Conklin, who's not been known to propose ideas generated by conservative think tanks—she prefaced with a series of qualifiers. The idea: eliminate health benefits as a district-based package, and let employees shop for their own on the open market, where they may find better rates.
Those were just ideas, not recommendations or proposals the board agreed to, as in the other series of hard-dollar cuts.
Just before 5 p.m. today, Valentine sent an email to her staff and all school district employees outlining the board's agreement at the morning workshop. "These are tough discussions and even tougher decisions," she concluded. "We will weather this storm together."