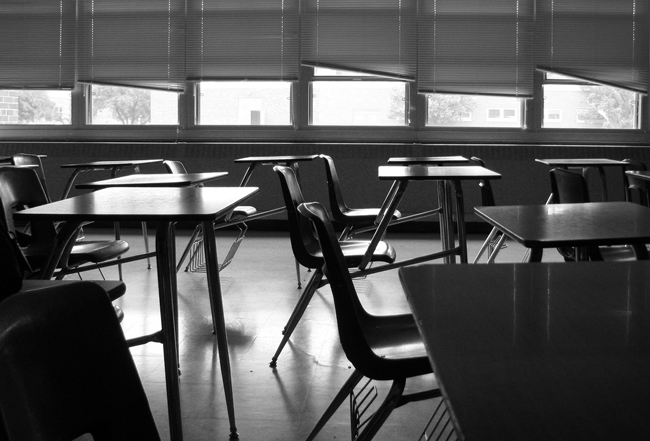 Bob Cerra greeted the members of the Flagler County School Board and their superintendent this morning. It's not usually a notable detail. It was this morning, because it was virtually the only positive thing the board heard out of Cerra in the 90 minutes that followed.
Cerra is a lobbyist for the North East Florida Educational Consortium, of which the Flagler school district is a member. As such, Cerra represents Flagler schools' interests in Tallahassee. He also reports back annually after the spring legislative session, summing up successes or, more frequently these last years, the Legislature's latest assaults on public education. This year is exceptionally dismal: the assaults are paired with a pile-up of budget shortfalls that will ripple, and possibly wreck, through Flagler County schools in the months and year or two ahead.
For starters, Flagler County schools will get $90.6 million in state funding next year. It's an increase of $1.2 million. But that increase is deceptive. Flagler has continued to add students in the district. When those increases are figured in, the district will actually see a net decrease in state funding of $63 per student, or more than $750,000. That's the equivalent of 15 teachers (when starting pay and benefits are calculated.) And that's before figuring in three additional costs that the district will have to carry by itself, and that haven't yet been calculated. Here they are:
Complying with the far stricter requirements of the class-size amendment: Voters approved the class-size amendment in 2002 to lower the teacher-student ratio. It was phased in. At first, schools could address the lower grades only. Then they could average out their district-wide, and school-wide, ratios. A librarian, for example, was included in that ratio, thus lowering it in the absolute, even though particular classes were still larger than the target number. This fall, it'll be mandatory for every school to comply with the ratios strictly, class by class. School-wide averages are out. All pre-K to 3rd grade classrooms may not exceed 18 students. Classes in grades 4 through 8 may not exceed 22 students, and in 9 through 12, they may not exceed 25 students. To comply, schools must hire extra teachers. In Flagler, the district is hiring "associate teachers"—for $28,000 a year, to start, rather than the usual $38,000 starting salary—to have enough teachers and stay within budget. (Legislators have put an amendment to the class-size amendment on this November's ballot. If voters approve, it'll ease some of the restrictions.)
Florida Retirement System rate increases: The retirement system ensures all public school employees' financial security in retirement. But the state has been increasing local districts' burden in funding the retirement system. Flagler will have to pick up its growing share. That's like an individual's increase in insurance premiums, which comes out of one's paycheck. Retirement premiums come out of the district's bottom line.
Required Local Effort: That's lingo talk for a share of local tax revenue that the state calculates in its funding formula. This year, in an accounting sleight of hand designed to downplay its current shortfall, the Legislature essentially overestimated by half a percent the amount of "local effort" funding it will have next year. The result, come next year, is a half-percent shortfall in local districts' revenue from that category. The details are overly complicated. The end result isn't: the state is deceiving itself by imagining it will have more money to dole out, when that money will have to be made up locally.
All of this is part of a state budgeting system conducted under the cloud of a $2 billion overall shortfall, which the state had to plug. It did so without raising taxes. It also did so through accounting tricks such as the one controlling "local effort." And it did so by shifting a $1 billion shortfall to next year's calculations. The overall state revenue shortfall is expected to be around $6 billion, Cerra said.
That's before the effects of BP's colossal Gulf of Mexico oil spill. What has that oil spill got to do with Flagler County schools? The state's largest source of revenue is the sales tax. Aside from Florida residents, tourists contribute most in sales taxes.
Most tourists who come to Florida don't come here because of Disney, NASCAR or the stunning intellectual and visionary quality of the Florida Legislature. They come here for the beaches. Those beaches are about to be overrun by tar balls from the oil slick. It's unknown to what extent the disaster will strike Florida beaches. What is known is that beaches will be affected, and the perception of tourists around the world will be such that Florida beaches are dirty—even if just a small portion of Florida's beaches end up soiled.
The end result, for the state budget, is a drop in revenue that Bob Cerra, the lobbyist and consultant, compared to the impact of the attacks of September 11, which briefly devastated Florida tourism, with this exception: In 2001, tourism bounced back within six months. It's not at all clear whether tourism can bounce back from an oil spill that rapidly, considering the lasting effects of an oil spill, and its broader effects on tourists' perceptions.
That's why it was not such a good morning for Flagler's school board. It got a bit worse, too, when the board, later in the meeting, discussed what to do with one more revenue source the Legislature dynamited in its last session.
The school board receives about $2 million a year from a portion of its property tax levy that the board renewed every year. Starting next year, local boards will be barred from renewing that portion of local revenue (which goes directly to the district's general operations, most of which pays teacher salaries). To get the money, the levy must be approved by voters in a referendum. To get the money next year, voters must approve that referendum in November. And to put the measure on the November ballot, the school board would have to make a deadline that runs out in less than two weeks.
Board members wanted to do just that–put it on the ballot. Delbrugge reminded them that they were acting too hastily, and that doing nothing this year might be the wiser course, even at the cost of losing the $2 million. The reason: next year, the school board will be going to voters with another referendum–a half-penny sales tax. That half-penny is on the books now, but it runs out in 2012. To be continued, voters would have to approve it on the November 2011 ballot. Delbrugge is warning board members against loading up the ballot this year with a smaller tax increase that would risk defeating the chances of a more important levy next year.
Demoralized by what they'd been hearing all morning, board members agreed to a workshop on May 24, at 3:30 p.m., when they'll discuss the levy issue, and what to do with this November's ballot.
Board Chairwoman Evie Shellenberger at one point summed up the effects of the Legislature's concerted assaults on school finances: "The folks in Tallahassee, to me, their goal is to shut down public schools. Shut down public schools and go to charter schools. Even the class-size reductions: charter schools are exempt from it. Public schools are not. And so if we don't make it they're going to take funds from us. So to me that's their goal, to do away with all public schools and go to all charter schools. By these unfair ways of dealing with growth and so forth, it verifies it."