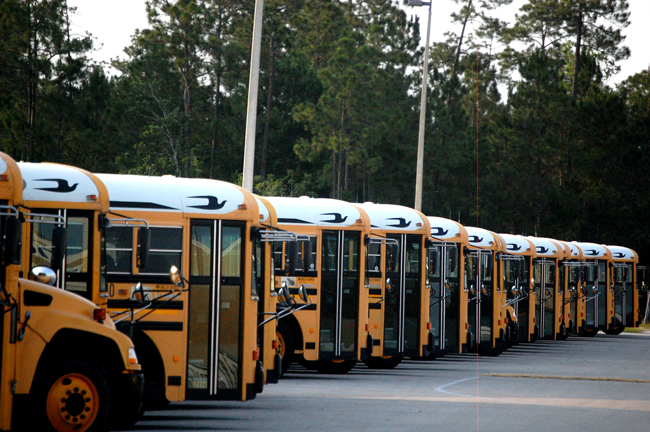 When the Flagler County School Board changed class start times two years ago, shifting the first class in elementary school, to 9:30 a.m. and middle and high schools to 8 a.m., an outcry followed. Parents were upset that the changes were finalized late, over the summer, giving parents little time to prepare—or to have a say.
School schedules are changing again, and the school board is preparing for another outcry. This time the board made the changes in early May, presumably giving parents more time to prepare. But it approved those changes today, at a morning meeting—at Bunnell Elementary School—again giving parents little room to be involved in the decision. That led to disagreements among board members.
First, the new times:
High school students at both Matanzas and Flagler Palm Coast High School will start their first class at 8 a.m., instead of 7:30. They'll be dismissed at 2 p.m., instead of 2:15. They're losing 45 minutes in their day at school: their classes will be shorter—or longer, depending on the block scheduling applied—though the number of classes they'll take will remain the same.
Middle school students at Indian Trails and Buddy Taylor will start at 7:40 a.m. instead of 7:25. The students will be dismissed at 1:40 p.m. instead of 2:15, or almost half an hour earlier. Parents will likely not be pleased. Nor were some board members, who worry about middle school students released earlier, with little or nothing to do, or without adult supervision at home.
Times for elementary school students will either change not at all or negligibly: Instead of starting at 9 a.m. in all five elementary schools, and ending at 3:30 p.m., the day will start between 8:50 a.m. and 9:05 a.m., depending on the school, and dismiss between 3:20 and 3:35 p.m. See the chart below for precise times school by school.
Phoenix Academy will start at 7:30 a.m. and end at 2:55 p.m., and Pathways will start at 7:50 a.m. and end at 1:50 p.m.
The school board approved the changes on a 3-2 vote, with Sue Dickinson, Andy Dance and Trevor Tucker approving, and Colleen Conklin and John Fischer in dissent.
---
Bell Schedule for Flagler County Schools, 2012-13
| School | Morning Bus Arrival/Breakfast | First Period Bell | Dismissal |
| --- | --- | --- | --- |
| Flagler Palm Coast High School | 7:40 a.m. | 8 a.m. | 2 p.m. |
| Matanzas High School | 7:40 a.m. | 8 a.m. | 2 p.m. |
| Buddy Taylor Middle School | 7:20 a.m. | 7:34 a.m. | 1:40 p.m. |
| Indian Trails Middle School | 7:20 a.m. | 7:40 a.m. | 1:40 p.m. |
| Bunnell Elementary | 8:30 a.m. | 8:50 a.m. | 3:20 p.m. |
| Belle Terre Elementary | 8:40 a.m. | 9 a.m. | 3:15 p.m. |
| Old Kings Elementary | 8:45 a.m. | 9:05 a.m. | 3:35 p.m. |
| Phoenix Academy | 7:45 a.m. | 8 a.m. | 3 p.m. |
| Rymfire Elementary | 8:40 a.m. | 9 a.m. | 3:15 p.m. |
| Wadsworth Elementary | 8:45 a.m. | 9:05 a.m. | 3:15 p.m. |
| Imagine School* | 8 to 8:15 a.m. | 8:30 a.m. | 3 p.m. |
| Palm Harbor Academy* | 8 to 8:15 a.m. | 8:30 a.m. | 3 p.m. |
| Heritage Academy* | Closed. | Closed. | Closed. |
(*) Charter schools
Note: a stand-alone chart of the bell schedule is available here.
"I dissented because I didn't think it was appropriate to have a bell schedule change on a morning agenda. I would have rather have it on an evening agenda. I'm not comfortable with middle school kids being dismissed at 1:40. And I understanding we needed to do it because of budget cuts, but it doesn't mean I have to like it." The third reason Conklin opposed it is the reduction in the number of electives that will be available to middle and high school students as a consequence. "I don't know if there are other choices. I have to have faith in staff that all those avenues have been exhausted," Conklin continued, but she would have liked more discussion on possibilities.
Sue Dickinson, who chairs the school board, said next year no board meetings will be held in the morning anymore, even in May, when board members would schedule them in the morning in order to be able to attend numerous evening functions such as the Education Foundation's scholar banquet that was taking place this evening.
Dance agreed that the handling of the new schedule could have been better. He said in future he'd prefer to require two public hearings, similar to the two hearings scheduled for policy changes or for the adoption of the budget, for such things as changes in the bell schedule, "because," he said, "it ripples through the home life of all the families. It affects them in different way that we can't always foresee, so we have to give the parents an opportunity to voice their complaints."
But Dance was supportive of the change. He recalled the outcry two years ago when the elementary school day started later. That made elementary schools' schedules off limits, which pushed changes onto the middle and high schools. "If people don't like that, what has to happen this coming year is a more public discussion about like a St. Johns County schedule, where elementary is earlier in the day, and middle and high school go later, and they get out later. But that's not been something that's gone over. Bill and I had the discussion a couple of years ago," Dance said, referring to former Superintendent Bill Delbrugge, "and he said, in his discussions, it never went over favorably. It was something that this county for some reason wasn't ready to do."
Research has shown that for teen-agers, later start times are more biologically in tune with their bodies as well as more effective intellectually, and safer: a Kentucky school district's switch to an 8:30 start time for high school students led to a drop in teen car crashes even though crashes rose overall in the state.
The driving force behind the change is budgetary: the school district is compelled to cut $3.5 million from next year's budget. Most of that will come from reductions in faculty in middle and high schools, and the switching of teachers' planning periods to the beginning and end of the day, rather than during the course of the day. The switch enables more scheduling flexibility for the administration, but creates other issues for students and faculty. Teachers don't like the change, but feel they had no choice in the matter. The county's teacher union reluctantly agreed to the change, when it became apparent in negotiations last month that the change was going to take place regardless.
"It's allowing us to reduce the money we spend on instructional staff anywhere from 10 to 14 percent," Superintendent Janet Valentine said. Valentine is aware of the issues arising from the earlier, final bell for middle school student. The administration is meeting next week to discuss expansions of after-school programs such as sports, including football and soccer, to contend with students' longer afternoons.