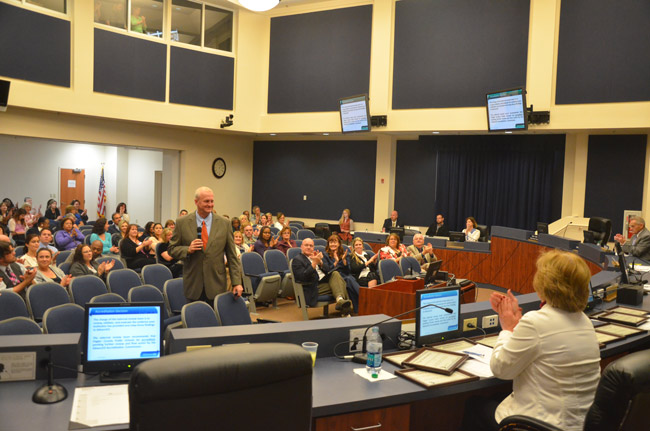 The Flagler County School Board often celebrates itself, spotlighting achievements in the district or hearing other local voices applaud its works. But it doesn't often get independent validation for the core of its mission, least of all from leading national judges of education quality.
On Wednesday, the school board got just such validation, along with a few reminders that on several crucial matters—the disproportionate disciplining, suspending and expelling of minorities and the alarming gap between minorities in low-achievement columns and others—it had a distance to go.
AdvancED is a worldwide accreditation agency under the umbrella of the Southern Association of Colleges and Schools (SACS). It announced to the board that the accreditation the district secured almost 10 years ago will be renewed for another five years. Because it's a renewal the announcement may sound like it's not as big a deal. But it is, and a two-thirds-full board chamber showed why: district-wide accreditation is laborious, requiring of a district to prove that it is meeting innumerable criteria of academic achievement, strategies (such as technological learning and innovations), teaching techniques, involvement by the community and proper governance. This district met and exceeded all five criteria.
In Florida, 43 of 67 districts are accredited, as is Florida Virtual School and a couple of charter school groups. There are four levels of accreditation, three of them being below par (down to accreditation with a warning, and accreditation on probation). Flagler ranked at full accreditation. About a quarter of all evaluated organizations fall below full accreditation status.
"I'm very proud to be superintendent of Flagler County schools right now," Janet Valentine said at the end of the meeting, eliciting the last of several loud rounds of applause and not a few standing ovations—one of which went to Diane Dyer, a central office administrator and accreditation manager. She had coordinated the team of nearly a dozen teachers and other professionals across the district to prepare for the accreditation.
The announcement, by AdvancED's George Griffin, who chaired the accreditation team's visit to Flagler, was the culmination of a process that started more than a year ago as the district prepared to be evaluated. The process ended this week with a three-day visit by a team of a half-dozen professional educators—teachers, principals, university professors, administrators. They visited six schools, formally observed 33 randomly chosen classrooms, interviewed 88 teachers, 44 administrators, 62 students and 43 parents and four board members.
Their detailed report will be made public in 45 days. Today they produced a 17-page PowerPoint presentation summing up and explaining their findings. Griffin, an education professor at William peace University in Raleigh, N.C., repeatedly spoke in glowing terms of the district's achievements, especially highlighting an attitude of willful innovation and risk-taking even in the face of economic contraction.
"The attitude I've heard around here, consistently, has been, we're willing to try it," Griffin said. "We want to commend you all for that and urge you to recognize that it's a little more than the norm." Griffin said he expected to hear excuses of why things were not done anymore, in luight of budget cuts. He didn't hear such excuses. Rather, every dollar was put to the benefit of students in the form of reading teachers, electives, art and music education and various types of academic coaches, all of which have been cut in many other districts.
"I have enough comparisons to know when I say these things, I don't make them up," Griffin said. "So you should feel good." Students, he said, feel safe at school, according to interviews—an irony, considering that the district is now proposing to spend hundreds of thousands of dollars to add deputies in elementary schools—and like to be in their school environment. The team was also especially complimentary of the physical condition of district schools, with one caveat: they're big, though Griffin said that wasn't so much a criticism as an observation. But he wasn't telling board members anything new: the district's schools have been criticized for being too big.
Griffin made another notable observation: as the team visited classroom after classroom, he had the sense that he was going to end up with many 4's, the top grade, on many criteria. Instead, the average came out at 3 or below in most cases. The reason: ion some classes, the teachers were fully engaged, and engaging, in their modernized approaches, notching up those 4's. In many others, teachers got only 1's, as they were not—during the visit, anyway—implementing technologies and strategies the accreditors were looking for. Griffin was kind in his explanation: he said the disparity may have merely shown that at those very moments, the strategies were not being used, which did not necessarily mean that the teachers were averse to them.
But Griffin was also unwittingly observing one of the perennial challenges for the district: closing the gap between younger, more innovative teachers and older, more established—and more rigid—teachers who tend to resist innovations, and teach more "traditionally" (the word Griffin used).
The accrediting agency normally makes recommendations on what to improve. In this case, the Flagler district got one recommendation only: "Expand the strategic plan to ensure the system supports the vision and mission of the school system beyond 2014." In other words, plan more broadly beyond 2014.
One reason for the abbreviated horizon is Valentine's plan to retire sometime in the coming couple of years. But she said she would be implementing a longer strategic plan that would run to 2017 or 2018. The district has two years to file an updated response to the accreditation report.
When Board Chairman Andy Dace opened the floor to public comment, several people, including John Winston, who chairs the district's African American Mentors program, and Sims Jones, a pastor who works with the less-than privileged, reminded the board that for all the overall achievements, serious problems remain with students who can't read, students who are being left behind, and who are falling prey to the district's disciplinary vise.
One striking fact: only 40 percent of black students are reading at a satisfactory level, compared with 65 percent for whites, 67 percent for Asians, and 60 percent overall.
Andy Dance, the board chairman, acknowledged those very reminders. "There's a lot of passion in the comments that were made, and it's that passion that makes us all better," he said, asking Winston and Jones to keep the comments coming.
For other board members, the accreditation was validation for the district's work in general, and a timely affirmation as the district prepares to ask voters to approve a new levy to compensate for lost state revenue, and to restore 45 minutes a day to the school schedule—time cut two years ago to save money, as budgets were cut.
"I know in my heart that with the continued support of this community we are going to be able to return that 45 minutes to the students' day," Dickinson said. "I hope in my heart that that's going to come through for us."