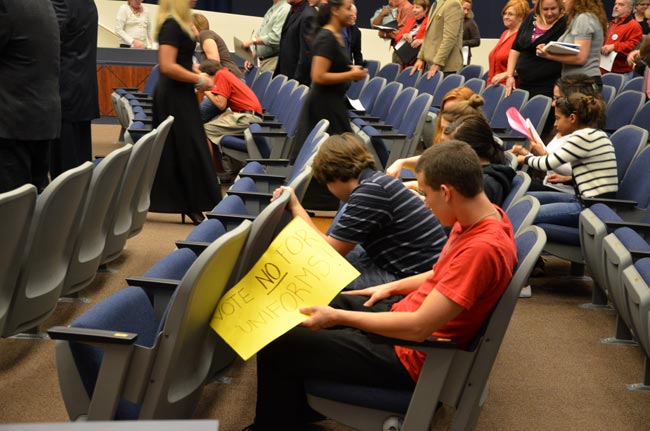 Maybe Flagler County has school-uniform fatigue. Maybe people have other things to worry about even as they may have wished the Flagler County School Board did, too. Regardless, there was no mass turnout this evening as the board promised to take an up-or-down vote on the matter. It was not 2007, when crowds filled the board room and public anger roiled to such a pitch that it forced the board to reverse course and abandon its then-plan to institute uniforms.
Facing a board room less than half full Tuesday evening, and after a little more than a dozen people spoke, the school board voted 3-2 to adopt what it called uniforms in all traditional public schools (kindergarten through 12th grade) beginning in August 2012. But the word "uniform" is being misapplied. What the board voted on was, in so far as its supporters have spoken about it, a more stringent dress code than it has in place now, the signal difference being the requirement that all students wear a collared shirt.
But there were no district documents defining what those uniforms would be one way or the other. Board Member Colleen Conklin spoke of her visit to the Osceola school district last week as the model. There, students can wear jeans, many colors as long as they wore collared shirts, and had no restrictions on shoes, belts and many other accessories.
The board member most responsible for this year's uniform initiative is John Fischer, who spoke of this as "the right time" for uniforms as he dismissed the notion that people could not afford uniforms, since the clothes could be bought at any discount store. Remarkably, Fischer downplayed the high number of Flagler County students on free and reduced lunch–usually an indicator of need–saying that for many in that category, it's not "poverty level" need. He rejected one by one the arguments made against uniforms. It seems like there's a lot of people don't want uniforms, but I haven't heard reasons as to why they're bad," he said. "I believe it's something that's good for our community."
"I've been on the fence in regard to the cost," Conklin said. That's no longer her concern. She went so far as calling a uniform policy "a favor" to those who have less money, because it would reduce the amount of clothes they'd have to buy. She also believes that uniforms do change attitudes and results in schools, if only by decreasing "negative student behavior" (terms left, like so much else in this debate, undefined and unencumbered by evidence). "You look at all this research, it's hard to deny that it makes a positive impact in the schools," Conklin said.
Sue Dickinson, who chairs the board, took exception to recurring criticism that the board was ignoring its job before calling for the vote at 7:30 p.m.: Fischer, Conklin and Dickinson voted in favor. Dance and Tucker voted against.
Board member Trevor Tucker had "one big hang-up with this": the fact that the school district could not spend tax-dollars to buy uniforms for students in need. Board member Colleen Conklin said the Osceola school district had secured a federal grant to make just such aid possible. She was only half-right: the federal grant was small, and it was designed to help homeless children, not children who needed uniforms, though the two needs could intersect. Conklin said donations and businesses could pick up where tax dollars would not. Tucker worried that those donation dollars would be diverted from other needs.
"We haven't defined what a uniform is, we have a lot of ideas up here as to what a uniform is," board member Andy Dance said. Without that, "I'm not at liberty to support this. There's too many questions that still have to be answered." He added: "We still have a ton of important issue before us that this is somewhat trivializing." Not least, he said, Tucker's point has to be made: Flagler County has parents who "can't afford a roof over their head, can't afford a brand new set of clothes." He summed it up as "the wrong time" to be having the debate on the issue, and wished the same emotions and investments were directed into the schools, in matters of actual student achievement. "If we did that, we'd put St. Johns County to shame," he said, a reference to the district to the north that always exceeds Flagler in achievement–and has no uniform policy.
There were no new revelations or ideas during the public-comment portion on the topic.
Those opposing uniforms spoke of the repression of individualism, of choice, of freedom, they spoke of the need to encourage expression and creativity rather than control, and even of competition: "If you pass this there will not be another school in the county that offers free dress," the man said. "You're eliminating competition." He was referring to the three charter schools and existing parochial schools where uniforms are a requirement. A woman who spoke soon afterward noted how one of those charter schools, Heritage Academy, has a uniform requirement, but was being shuttered by the school board this very evening (the board was to vote on accepting the superintendent's recommendation to close the school, because it's been failing academically, according to state standards.)
Opponents of uniforms frequently appealed to the board to enforce the existing dress code rather than impose a more stringent one. Speakers compared uniforms to communism, Castro's and Hugo Chavez's regimes. Many of those who spoke were team-tagging parents and children. Katie Hansen, the local teachers union president, asked the board: is the existing dress code being enforced uniformly? Is there money to provide assistance to those who may need I to buy uniforms? Is there a correlation between uniforms and student achievement? The questions were mostly rhetorical, but answering No to each was implied.
The proponents of uniforms spoke of the need for some uniformity in schools to reduce distraction, judging, eternal decision-making in the morning, to improve "respect" and possibly achievement, though even proponents conceded that there is no proven correlation between uniforms and achievement. "Students learn more, pay attention more in class," one young student—in uniform—said. "All the kids are a lot more respectful, and everybody is nicer." Cornelia Manfre, the parent of two particularly achieving graduates of Flagler Palm Coast High School, reminded the board of the 2007 reversal and urged members, favoring uniforms: "Let's get it done, make a decision, no rescission."
She got her wish.