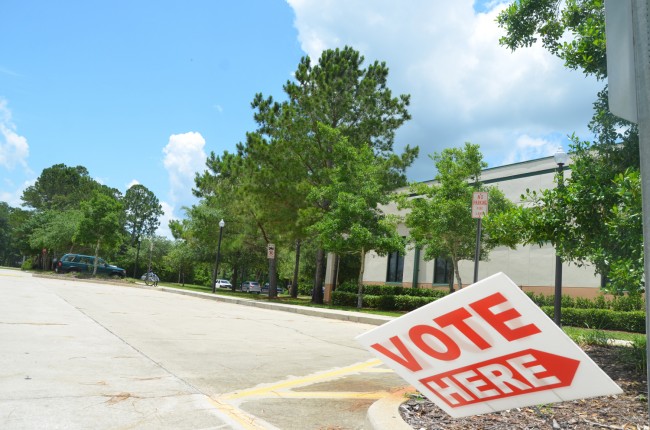 Last Updated: 8:11 p.m.
The Flagler County school tax referendum has failed.
With all polling locations reporting, 57 percent of voters had rejected the proposal of a half-mil tax levy, with just 43 percent in favor. The numbers: 7,959 against, 5,970 for. That's a total of 13,929 ballots counted, for a turnout (so far) of 21 percent.
Flagler County Superintendent Janet Valentine acknowledged that the referendum was lost at 7:50 p.m.
"It's unfortunate that the vote did not go in the school district's favor," Valentine said, "but the community has spoken, the school board will move forward with the recommended reductions, and we will do everything possible to meet the challenges that we're going to face, staying focused on students' success."
That means Everest alternative school will close, the school day in middle and high school will not have 45 minutes restored, and elementary schools will not have deputies posted on their campuses.
Opponents outnumbered proponents in every precinct except in Bunnell, Belle Terre Elementary and Old Kings Elementary, the latter two only barely. The widest margins against the referendum were recorded at the Veterans of Foreign War precinct (64 percent against), Grand Haven (62 percent against) and St. Mary's Catholic Church (63 percent against).
"The indication is we have to proceed with all of the cuts that we previously identified," School Board member Colleen Conklin said.
Voters, she said, are "very angry. I think we just have to continue to get the dialogue going, even when they don't want to talk to us."

Earlier:
'Win or Lose, We've Lost,' Andy Dance Says of Tax Referendum as Polls Close
Every election has advocates who usually take up posts at visible intersections and precincts on Election Day, brandishing signs, waving to drivers, passing out last-ditch solicitations for the vote.
Not this one. If advocates for the Flagler County School district's property tax referendum were out and about today, they were rare sights. Even the Flagler County Public Library precinct on Palm Coast Parkway and Belle Terre Parkway, usually the Grand Central of Election Day campaigners, was deserted in early afternoon, with few voters and no campaign volunteers anywhere. School Board member John Fischer was at the VFW precinct on Old Kings Road.
School Board Chairman Andy Dance voted in mid-afternoon at the First Baptist Church precinct near the Government Services Building in Bunnell, but he'd spent most of his day catching up on work, and dropped by the school district offices before he voted for a few conversations, including an interview on the vote.
He knew it was different this time. The last time the school district asked voters to approve a levy—last August, when voters, by a large margin, approved the renewal of a half-cent sales surtax—Dance himself was among the leading advocates for the measure, spending most of that election day under the summer sun at the library's intersection. Dance supported the current measure, too, but eh'd heard a different tone from voters this time.
"Whether we win or lose, we've lost, because I feel we've lost some supporters," Dance said, "and I just think there's a bad taste from the timing of it, the fact that it's a special election. So if we win we've got a lot of work to do to build that trust back up, and if we lose we obviously have a lot of work to do."
The board had decided to hold a special election culminating today, at a cost of at least $80,000, because time was running out to ensure that—should the levy be successful—revenue would keep coming in past June 30 (the half-mil levy actually asked voters to renew an existing quarter-mil levy, and approve the addition of an extra quarter mil. The total would have meant an additional cost of 50 cents per $1,000 in a property's taxable value, or the equivalent of $50 a year on a house valued at $125,000, with a homestead exemption of $25,000. Only $25 of that would be a new tax.)
Supervisor of Elections Kimberle Weeks had warned board members that a Friday election would not sit too well with voters because of its oddity, but the board, out of time, wanted to hold the election after schools' last day, but before the end of that week. And so Friday it was. There were also six days of early voting at two locations, and voters could cast absentee ballots, more than 7,000 of which had been requested.
Weeks appeared to have expended great effort to get the word out for the election, through advertising, county-wide automated calls to registered voters, and planting many more yard signs than the school district's own political action committee managed to do. The supervisors' signs did not advocate for or against the vote. They merely advertised the day of the vote in black and yellow, and appeared at innumerable strategic intersections in the county—and would have appeared at many more places in Palm Coast, especially today, had the city not dispatched one of its code enforcement officers to uproot signs from right-of-ways and haul them off in a pick-up truck: one more example of Palm Coast's oddly misplaced code-enforcement zealotry, even though in this case the signs were tax-supported public service announcements on a vote of great importance to one of the city's key partners.
"I think it's all about the special election," Dance said, referring to the distinctly negative tenor of this election. "If I had to draw a conclusion, I think it leads itself to second-guessing and conspiracy, even though none of it is accurate. There's reasons for it," meaning for the Friday election, "but it's hard to make that point, and I think it's bad timing. We kind of had the perfect storm of issues surfacing at the same time, which led to the decision to do with the special election."
The security issues triggered by the Newtown school massacre, the federal sequester, and budget figures released by the state, combined with the latest enrollment numbers, pushed the district to go for the referendum.
The unusual timing was only part of the referendum's challenges. There was also a different tone to the debate this time.
School Board member Colleen Conklin described it as "frustration and disappointment by those in the community who have built upon a sound-byte context or built upon completely wrong factual information. It's been a non-stop effort to try to get out there and try to re-correct the record."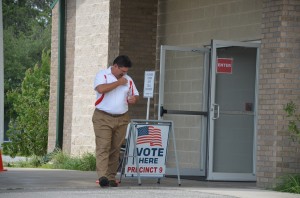 The district proposed the referendum with two principal goals in mind: to restore 45 minutes to the school day in middle and high schools, 45 minutes that amounted to almost a month's worth of instruction and that were eliminated two years ago to save $2 million a year as the state reduced funding. And to install school resource deputies—cops—in all elementary schools. The district said the extra levy was necessary because the state and the federal government had reduced their funding, and local enrollment was declining slightly, adding further pressure on the district's budget.
Opponents of the levy claimed that the district was making an unclear case for the additional tax so soon after asking voters to approve the sales tax supplement. Questions were raised about the district's own calculations, which showed that some savings could have been achieved by closing one or two schools, although the full implications of consolidation had not been examined—neither by the district nor by opponents of the levy. Public sentiment had also shifted since the Newtown school massacre last December, diminishing the urgency of needing school cops on every campus, particularly when the costs were taken in consideration.
Opponents especially used the district's series of budget debates, when it hashed out $1.8 million-worth of cuts, against it, as discussions intended to be as transparent as possible, revealing where cuts could be made, became grist for criticism over the board's management. Dance said the criticism cherry-picked items out of their context—as with consolidation, which would have had far-reaching effects that go beyond monetary savings. Still, he was already analyzing the nature of the debate to forge a path after the vote, and for the next five years.
"The lesson learned is," he said, "we may not have been on the path soon enough—is stakeholder involvement." Dance said the district's finances are extremely complex, and the debate just ended revealed to what extent it is poorly understood by the community at large."