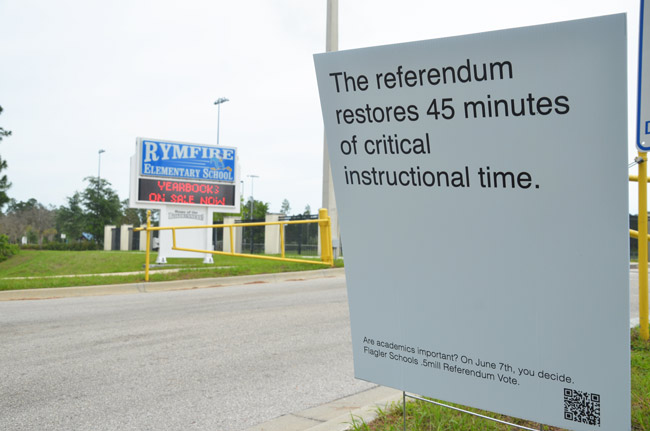 "It's always about $"
"board is always spending $"
"Older citizens feel they have 'done their part.'"
"If there are less students, why do they need more $"
The four lines, written in thick red marker beneath the title of "Negative Comments," were the result of a brief brainstorming session among a handful of focus group participants last week on the Flagler County School Board's proposed property tax levy. Voters get to vote on the referendum on June 7. It asks them whether they'd be willing to add the equivalent of 25 cents per $1,000 of taxable value on their property tax bill. (The referendum actually asks voters for double that amount, but half of it is the continuation of an existing levy. So the net additional tax would be the 25 cents.)
The $3.2 to $4 million in new dollars that would be generated annually (depending on property values' health) would help restore the 45 minutes a day the school schedule lost in middle and high schools two years ago, because of cuts forced by reductions in state funding. It would hire 40 additional teachers, re-expanding curriculum choices, including electives, for students. It would help to pay for the return of school cops in elementary schools, ensuring that all school campuses have at least one school resource officer. And it would finance additional improvements to technology, mental health services and other needs currently short-changed.
But the timing of the referendum is tricky for the school district. Just last November the district asked for—and won—the renewal of a half-cent sales tax to pay for technology in schools. To go to voters less than a year later and ask them to approve yet another tax is a tougher sell. To do so on an odd day (June 7 is a Friday) may diminish turnout enough to give more polarized constituents disproportionate influence at the polls. The referendum may not be decided by centrists.
Those are among the reasons Colleen Conklin, the school board member, has been holding weekly focus group meetings with anybody who'll show up—anybody who'll have picked up on notices of the meetings on Facebook or elsewhere—every Wednesday evening at 6:30 p.m. in the superintendent's conference rom on the third floor of the Government Services Building in Bunnell.
Conklin's purpose is two-fold: to hear what residents are saying about the levy, if they're saying anything at all, to hear their complaints, their issues, their concerns. Conklin then wants to use that information to then better hone her message as she disseminates information about the levy, or to educate the very people at those Wednesday meetings, and hope that they, in turn, will fan out in the community and campaign for the levy, armed with facts.
And she wants those residents to be able to answer the sort of questions posed under "negative comments" last Wednesday. True, it's always about money, but that's because every year for the past six years the district has had to make cuts and contend with relatively fewer dollars and more responsibilities. Of course the board is always spending money, but what else is it supposed to do to maintain its standards and educate 13,000 students a year under roofs that don't leak?
"This should be a regular, ongoing meeting, it's really about gathering input," Conklin said."
Only eight people showed up at last Wednesday's meeting, however. They included Conklin. They included Winnie Oden, the principal at Everest, the alternative school, and a key member of the district's security team. They included Deborah Williams, the executive director of the Flagler County Education Foundation, the district's non-profit arm and outright levy advocate. And they included a reporter. That left all of four individuals who weren't there by necessity—not a good sign for the district, if its intention is to build a grass-roots campaign and win the referendum.
But the board hasn't at all been idle beyond that meeting. Today (April 22) it finalized a presentation that will be in the hands of every school board members and others who wish to explain what the referendum is about. (
The school board was scheduled to finalize the presentation as a group in a workshop unusually scheduled for 8 p.m. last Friday. The workshop had to be cancelled after a reporter noted to a board member that notice of it had not been posted on the district's website, though it had been posted in the lobby of the Government Services Building. Technically that would have been sufficient to hold the meeting, but Superintendent Janet Valentine—who was livid when she found out that the meeting wasn't properly noticed—chose to cancel it out of caution, to not give the impression that the board would in any way meet in less-than-transparent circumstances. On Monday, Valentine said she ended up meeting with most of the board members one-on-one, getting their sign-off on the presentation. (See the presentation at the foot of the story.)
"We have agreed on the sources of information that we're going to use in the general presentation," Valentine said, "and if a board member ants to change that presentation for their audience they can do that as long as all the numbers and the sources are the same."
Even School Board Chairman Andy Dance, Valentine said, is "on board" with the presentation, after voting against going out for a full 50-cent levy. (Dance initially favored sticking with the 25-cent renewal, without the additional 25 cents.)
The presentation was partly influenced by Conklin's Wednesday meetings, and was based on one principle: that every bit of information it contains must be factually verifiable beyond the shadow of a doubt.
As, for example, when a slide notes that the district's locally generated school taxes have dropped $37.6 million over the past six years. It's an arresting figure, though the state has made up some of that loss, which was caused by the precipitous drop in property values. Another arresting figure is the drop in the district's total budget, not just its general fund: from $174 million in 2007-08 to $118 million this year, what one slide describes as the "loss of $55.6 million in revenue over six years."
The slide is factually correct, but also somewhat misleading, or at least incomplete and not as dramatic as it appears: In 2007-08, the district was at the tail end of a building boom, with millions of dollars from the state and from local sources underwriting school construction. The boom is over, and with it, the dollars: no schools have been planned or built since, and the school population five years ago leveled off, and began declining last year.
Still, it is just as true that the state has simply ended distributing millions of dollars a year to local districts—the so-called PECO dollars, or Public Education Capital Outlay—for construction, improvements and maintenance. The Flagler district used to get millions in PECO funding. The money helped build schools, but it also helped fix roofs, rebuild driveways, refurbish classrooms and so on, investments the districts must continue to make in every one of its schools whether enrollment is increasing or declining. Those PECO dollars have dried out—not because the state doesn't have them any more. It does. But it is now directing them exclusively to charter schools. It's one of many examples of legislative changes in recent years that undermine the financing of traditional public schools (which have also lost per-pupil funding allocations) while favoring the privately run, but still publicly funded, charter schools.
It's also another reason why districts like Flagler are having to turn to voters to make up for lost money.
Other slides in the presentation point to the loss in federal stimulus dollars, though those dollars were essentially meant as a one-time allocation (by the Obama administration and Congress in 2009), spread over several years, to counter the effects of the Great Recession. The dollars helped districts hold on to numerous teachers, but the dollars were not meant to be permanent. On the other hand, the federal sequester—the result of House Republicans' refusal to go along with the Obama spending plan—is resulting in yet another cut in federal funding estimated at $1.5 million locally.
District employees and officers are not legally allowed to campaign explicitly for the referendum, at least while on the clock. Nor can they use resources of the district to push for or against a political issue, including the referendum. But there is nothing in law that prohibits either employees or officers of the district from expressing their opinions and campaigning for or against any measure as individuals, and of course voting accordingly. They simply have to do it outside the purview of their job. But there is a loophole that district officials are also exploiting, based, Conklin said, on an attorney general's opinion, that does not stop the district or employees from using district dollars or time to disseminate information about a referendum, as long as the information does not include an outright endorsement. The entire campaign is designed with the "You Decide" tagline.
That, Conklin says, is what the district is doing, along with its board members and even some of its employees. But nobody is fooled: the information, rendered in the guise of pure information or "facts," is clearly designed to sway voters in favor of the referendum. The "You Decide" tag-line is no more believable than Fox's
For example, every school now is rimmed with strategically placed yard signs, paid for with district dollars, that don't tell voters how to vote, but that clearly spell out what they may gain, in the district's estimation, by voting in the referendum. The language of the signs leave no doubt about their intention. One, for example (also included in the presentation), asks the following questions:
Is a quality education important?
Is prevention important?
Are the arts important?
Is peace of mind important?
Is restoring 45 minutes of instructional time important?
Are academics important?
Is security important?
Are our children important?
The questions, of course, ask questions that no one in their right mind would say no to-and that could be asked at any time, in any circumstance, by the richest or poorest school district. This district is hoping that the "yes" to those questions would somehow translate into a yes vote on June 7.
"I feel confident and comfortable presenting something like this," Conklin says.