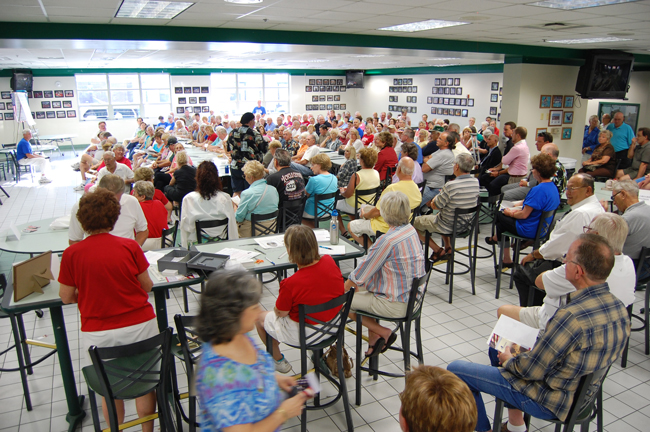 It was the briefest of flashpoints. Back in spring, when the Flagler County Tea Party Movement began holding its monthly meetings in the Bulldog Cafe at Flagler Palm Coast High School, local Democratic Party activists noisily grumbled that it wasn't legal.
They took their case to the school district administration, only to discover that the Democratic Party had itself held meetings in the Government Services Building in Bunnell, which is also the school district's headquarters, and therefore a school facility. The tea party folks, who have a soft spot for self-victimization anyway, thought they had themselves a local issue they could brandish: the attempt, never more than imaginary, to have them thrown out of the high school. In May the school board held all of one debate that entertained the possibility of closing schools to all political activity, whatever its stripes, but that idea never got support when it became clear that the board would tie itself up in knots if it attempted to enforce that sort of policy. Schools are polling places. Schools are used as churches on weekends. Schools are used by the school board for forums on political issues–town meetings about school levies, for example, or meet-the-candidates gatherings hosted by one group or another.
The board decided instead to make its use-of-facilities policies broader, not more restrictive, by clarifying it and eliminating some of its contradictions with a policy manual that went into the details of how facilities may be used. Political groups are now explicitly welcome, within limits. Last week the board took the first step toward formalizing the amended policy, voting unanimously to advertise it for the required 28 days before it approves it for good.
Here's the new, relevant wording: "Political events" are defined as including "any and all meetings, fund raisers, gatherings, or other such events organized or conducted for the purpose of supporting or opposing any candidate for public office, any issue which is or may be scheduled to appear on a ballot, or any political party organization." Political organizations as defined as "any group organized as a political action committee or political party. Facility users may be required to provide proof of their organization's purpose type."
That last line may, if an organization wishes to press the issue, raise legal questions by giving more legitimacy to an established political party as opposed to, say, an insurgent political organization–such as the tea party organization before it coalesced into an actual political action group.
The policy wording controlling actual political events held in schools is more specific, too:
1. No political event shall be conducted at or in any school at any time, except political forums to which the general public is invited to meet and hear, under the following conditions:

i) An invitation, in writing. shall be extended to all announced candidates for the specific office or offices or representatives for or against each issue. If a candidate or representative of an issue declines to attend, the forum may continue provided that the audience is made aware of each candidate's choice not to attend.

ii) No preferential treatment shall be afforded to any candidate or representative of an issue, in any way.

iii) Distribution of campaign materials shall be confined to the immediate area in which the forum is being conducted.

2. School facilities may be utilized by any official or employee for the performance of duties that are related to any issue that is placed on a ballot by or at the request of the Flagler County School Board.
The policy makes one more clarification of note relating the the specific school buildings around town: "Political organizations, and political events that are not forums, may rent facilities at the Government Services Building (GSB) only. If facilities at the GSB are inadequate or unavailable, the superintendent or designee may allow the use of an alternative location if available, a school site (sic.).
The last detail is likely relevant to the tea party organization, whose meetings have been drawing upwards of 200 people.