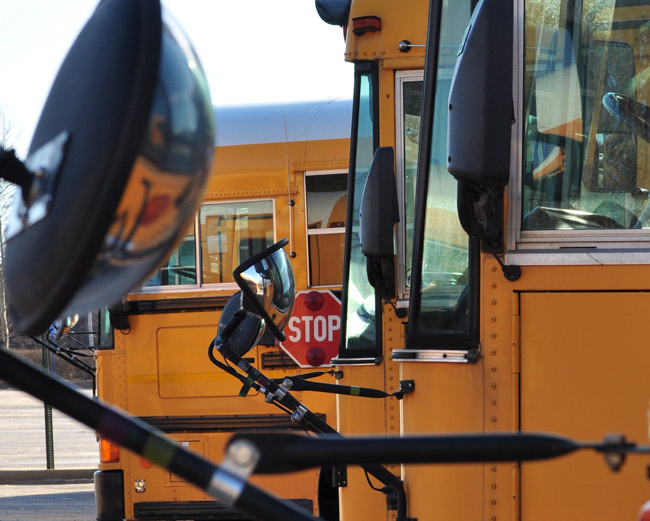 Budget season comes early in local governments these days: governments are still bleeding revenue. They must figure out early what to cut, and by how much, or what taxes to go after if current formulas aren't doing the job. Tuesday, it was the Flagler County School Board's turn. After cutting the current year's budget by $3 million (out of $97 million) last spring, the district is again looking to cut next year's budget, this time by $1.6 million.
Judging from their discussions today, school board members are not interested in a repeat of last year's at-times harrowing public debates and meetings over what to cut. So programs such as the Phoenix Academy, service-learning programs for some 35 students at Princess Place Preserve and Palm Coast's Linear Park, or further reductions to many employees' workdays appear, for now, off the table.
The district achieved the majority of its cuts for the current year by reducing the high school and middle school day from seven to six periods and shifting teachers' planning time to the beginning and end of school, enabling the layoffs of 41 teachers. That "saved" $2.1 million. But that trick has been used up: there are no more means of shaving the school day or gimmicking teacher hours to net additional dollars. Rather, the main reason the district is looking for $1.6 million in cuts is to afford teachers the $1.2 million they're due in a "step" raise, which ensures that teachers' salaries are commensurate with additional years of experience.
The district saved close to $300,000 from lower electric bills. But that saving, too, won't be repeated next year, short of turning off the lights entirely. And fuel costs may well rise, causing the district new headaches.
"We've nickeled and dimed categories to death," board member Andy Dance said. "We need another big idea."
Or several ideas. Dance and Colleen Conklin proposed several: the district could abandon its current health care plan and self-insure, as the St. Johns school district does, or adopt a new insurance regimen altogether, saving hundreds of thousands of dollars.
The district could offer early retirement to teachers paid at the upper end of the pay scale, and hire younger teacher paid at the lower end. It did so last year, saving hundreds of thousands of dollars. It could do so again, depending on the number of teachers who'd qualify.
The district could opt for exclusively digital textbooks, though the savings in that regard are not yet clear because even if up to $20 might be saved per book, there are associated costs of additional technology to ensure the students can access the textbooks.
And there's one tantalizing option for bean counters, but maybe not as tantalizing for parents or students: eliminating the portable classrooms at Flagler Palm Coast High School, thus saving the leasing cost of those portables, which cost the district 24,000 a year at FPC alone, and $250,000 across the district. Where would those students go? Matanzas High School, under the guise of "choice," or as Superintendent Janet Valentine put it, "Open up school choice to fill our schools with seats in them."
"We can do that a lot quicker than redistrict. Redistricting would take another year," Mike Judd, a senior administrator in charge of facilities, said.
"OK, think we've got $1.6 million there?" Valentine asked after about 70 minutes' presentations and discussions. Dance and board member Trevor Tucker gave a resounding "no." (Conklin had left by then, to go to another meeting, and Sue Dickinson, who chairs the board, was absent.)
There are other variables that may darken the district's budget further.
The district spends $860,000 a year on property insurance. Those insurance rates are projected to go up significantly, Tom Tant, the district's finance director, said, with some projections putting the range of increases for central Florida insurers between 25 percent and 100 percent.
Diesel costs are also rising. In 2009, the district's school buses and vehicles burned 235,000 gallons of diesel, for a total cost of $589,000. In 2012, the district is projected to burn a total of 260,000 gallons for a cost of $938,600. But that's at $3.61 per gallon. Every penny increase in diesel costs adds $2,700 to the district's annualized cost. If, for example, diesel went up to $4.50 a gallon next year, the fuel bill would increase $189,000. That money is not in the budget, and the state, which defrays some of the costs, is sending a mere $32,000. Tant literally scoffed when he mentioned the figure.
And just like Palm Coast and Flagler County, which have been splitting $4 million in annual revenue from a half-cent surcharge to the local sales tax, the school district has been taking in $4 million in annual revenue from its own half-penny surcharge. Both of those are up for renewal this year—at the ballot box. If voters turn down the surtax, the district will be short those $4 million. About $2 million of that won't necessarily be a serious loss, at least not at first, because it was financing Belle Terre Elementary. The final $2 million payment on that school will be made this year. Still: absent the revenue for infrastructure, the district's buildings will be left in disrepair. "We could be getting to the point where we can't even maintain our facilities," Tant said.
The state is no longer sending capital dollars to districts as it used to. A large chunk of that money is now entirely diverted to charter schools—even though charter schools are privately run, though on the public dime.
The other $2 million out of that sales tax revenue pays for the district's technology group: it enhances technology in classrooms and pays the salaries of 27 people. If voters turn down the sales tax, those jobs disappear.
"I'm just full of good news. Sorry," Tant said wryly at one point.
The school board made no decisions today. Valentine will schedule a focus group with members of the community and school staff shortly after spring break in hopes of generating fresh ideas on what to cut. The board will then set another meeting for mid-April when it will take on the cuts in more details, and settle on specific cuts. The district is reinstating a link on its website that invites district staff to make their own suggestions. The link is not valid without a "token," which is distributed exclusively to district staff.
The revenue drought isn;t over. Next year, Tant said, there'll be yet another round of cuts of about $1.5 million.