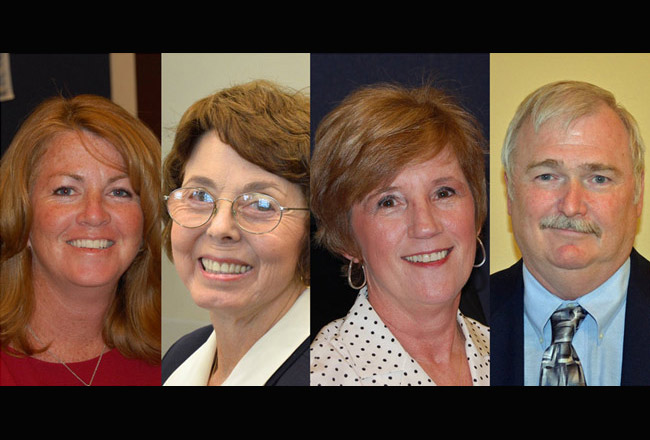 Besides knowing who to vote for, the most important things you need to know about the Flagler County School Board races are these: all registered Flagler county voters may vote in these races regardless of party affiliation (including independents, greens or socialists) or address. And the Aug. 14 election, though dubbed a primary, will decide the election for both seats. There will be no run-offs. There will be no general election in these two races.
That's important to know, because candidates are still hearing voters tell them that they cannot vote for them because they're not of their party, or not in their district. As with the county judge race, those distinctions don't apply in the school board race.
Colleen Conklin, the three-term incumbent first elected in 2000, is running for a fourth term against Deborah Laury, a retired university administrator and fund-raiser, and a newcomer to political campaigns, at least as a candidate. They're running in District 2, but again: that's irrelevant as far as your vote is concerned. It's an at-large election, open to all registered voters. The districts are so organized only to ensure that candidates don't all clump from the same area. (Conklin and Laury have yet to disclose their age).
In District 4, Sue Dickinson, 57, who was elected with Conklin in 2000, is being challenged by Bill Corkran, 64, a retired teacher and police officer who's also making his first run at political office.
The school board race is, on its face, non-partisan. But that's mostly a facade. Corkran and Conklin, who plasters her Facebook page with JFK iconography, are Democrats, both with union support. Indeed, Corkran is essentially running on behalf of the Flagler County Educators Association. Dickinson and Laury are staunch Republicans, both of them having won the endorsement of the local chapter of the Ronald Reagan Republican Assemblies, a group that falls to the right of the more moderate GOP establishment. Conklin and Corkran are leading in the fund-raising race, but unlike several other races, money is a small factor in the school board contests: by their last reporting period in mid-July, all four candidates had raised around $15,000 between them, well below what several candidates in races for other offices (sheriff, clerk of court, county judge, supervisor of elections) have raised singly.
The school board candidates all agreed to participate in the Live Interview: they received identical sets of 16 questions each, covering the usual issues (standardized testing, cops in schools, budget cuts) and a few variations (school prayer, unions, the IB program, and so on). The candidates were sent a few follow-up questions once they answered. Their original answers appear. The follow-ups are pending.
Early voting begins Saturday, Aug. 4.
Here are links to the four interviews.