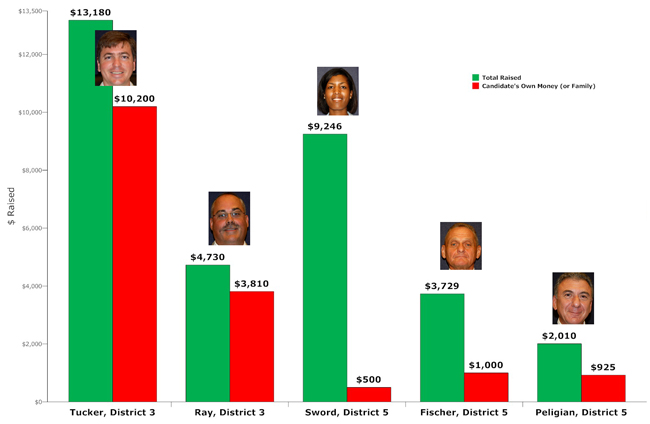 School board candidates generally are not as likely to seek to buy their seat as prospective judges.
The five Flagler County school board candidates in two races have raised a combined $32,894. That's less than half the money each of two candidates for Kim Hammond's 7th Circuit Court seat have put in toward their own campaign, let alone raised altogether (Joe Horrox and Eric Neitzke are bankrolling their campaign with $75,000 of their own).
The biggest money pot among school board candidates is Trevor Tucker's, the incumbent candidate in District 3, though Tucker is not the biggest fund-raiser by any means. He's raised a total of $13,180. But $10,200 of that, or 77 percent, is his own money. Tucker's opponent, Marc Ray, raised $4,730, but 81 percent of that is Ray's own ($3,810).
Neither candidate has drawn too many contributors, either. Tucker drew 36, Ray drew 10. That's including their own or their families' contributions. Tucker's biggest contributor other than himself is the Flagler County Association of Realtors, which gave $500. Current Board Chairwoman Evie Shellenberger, who's retiring, contributed $50 to Tucker, as did former school board member Jim Guines, who's running Raven Sword's campaign in District 5. Gail Wadsworth and Tom Bexley, the Flagler County Clerk of Court's mutual shadows, each gave $50.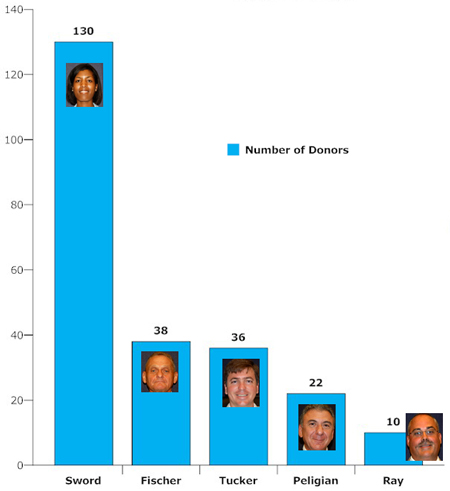 The most successful fund-raiser by far in either race for school board is Raven Sword, who's raised $9,245, all but $500 from donors other than Sword or her immediate family. Overwhelmingly, Sword's contributions are in the $25 to $100 range, with several donations in the $200 range. Beyond that, LaRita Mandley, the dean of health and human services at a college in Washington State, contributed $400, Lloyd Kemp, a truck driver in Fort Meade, contributed $500, Genara Toy of Idaho contributed $550, and Chiumento & Guntharp, the Palm Coast law firm, contributed $300. Guines put in $150.
The two other candidates in District 5, John Fischer and Peter Peligian, raised modest amounts and drew equally modest contributors. Fischer has so far raised almost the same amount as he did when he first ran for the seat four years ago: $3,729 compared with $3,889 four years ago. Just as he did four years ago, he put in $1,000 of his own, in two $500 increments, this time around. He got $25 from the Flagler County Tea Party. His biggest contribution is $400 from James Curran of Palm Coast. Fischer drew 38 contributors, a distant second to Sword in that category.
Peligian has the smallest amount raised, at $2,010, almost half of it ($925) his own or his direct family's. Aria Peligian, his daughter who ostensibly impersonated him on a web site last month, donated $50. His biggest contributor is Michael Biller of New Jersey. He donated $500. Peligian drew a total of 22 contributors, including himself and his direct family.
An irony of this money race: the combined amount raised adds up almost precisely to the annual salary for a single school board member.