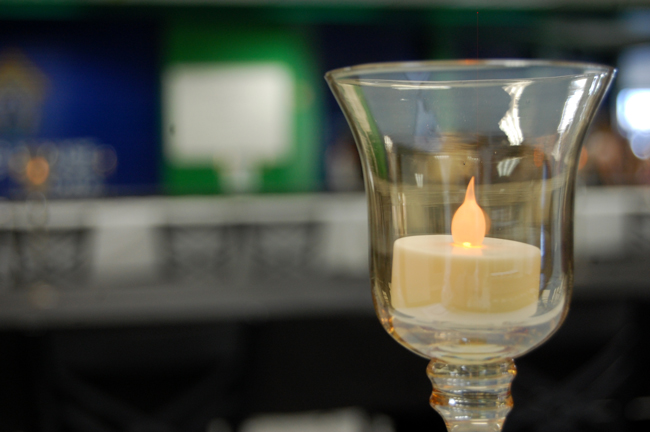 The annual scholarship banquet and awards ceremony started in 1985 as a relatively modest event sponsored by the Flagler Palm Coast Kiwanis Club and the Flagler County Chamber of Commerce, with some $7,000 in awards. Twenty-five years later, the last 21 under the aegis of the Flagler County Education Foundation, the event has grown in popularity and gravitational pull, to the benefit of students, as an increasing number of organizations have looked to be associated with it.
Tuesday evening, 108 organizations presented a 239 scholarships totaling $240,000 to 138 deserving seniors across from the county's high schools. The awards ranged from $500 (the minimum in order to be included in the annual ceremony) to $14,000, the latter made possible by the Education Foundation. Since its inception the foundation has awarded close to $2 million in in scholarships and grants. The evening's big donors included the Flagler Palm Coast Kiwanis Club, with $25,000 in scholarships, and the Florida Lottery, which underwrote the cost of the banquet's food and the evening's program.
Keep in mind, that $240,000 represents only Flagler County organizations' donations. Most students will also be receiving financial aid packages in addition to that from out-of-county organizations and foundations, from the schools they'll be attending, and from the state, through the ever-diminishing Bright Futures program.
None of the seniors knew what they were receiving. It's been part of the annual evening's tradition to keep that detail secret. All they knew was that they'd earned something. The money, incidentally, isn't handed over in checks they can readily cash. Rather, the money is eventually sent to a financial aid account at whichever college or university the student eventually enrolls. Students can then withdraw the funds as part of their financial aid allocations. It diminishes the risk of the money being blown on sundry seductions before the first day of classes.
The evening started in the Flagler Palm Coast High School Bulldog Cafe with the traditional banquet: every candle-lit, cloth-covered table was filled with parents, students, representatives from the civic and business groups presenting awards, and the school district's top brass: school board members, administrators, teachers. The assembly then moved to the Flagler Auditorium around 7 p.m. for the award ceremony, with Channel 13's Dave Cocchiarella emceeing the show and the Education Foundation's Nicole Brose–the elegant workhorse behind the riches–and Larry Henderson, the foundation's president, welcoming everyone.
As always at these big events, Amy Fulmer's Formality Singers performed. Jeff McDevitt, a senior at FPC, performed "Shine Your Light," a song he wrote as an anthem for the Education Foundation. More than two hours of award presentations followed.
Below is a list of every organization presenting one or more scholarship, and the seniors receiving them.
| | |
| --- | --- |
| AACA Wheels in Motion | John McDevitt |
| Afro-American Caribbean heritage Scholarship | Brandon Riddick, Ester Rose Safaite, Arelys Nieves, Taylor Pogue, Vladimir Jean-Pierre, Jasmine Dwyer, Levi Rosa, Desiree Williams |
| Alpha Kappa Alpha Sorority | Andreina Nash-Gutierrez, Alejandra Nash-Gutierrez, Jasmine Myles, Alvonte Pearson, Ruth Tima |
| Alpha Kappa Alpha Sorority - Ernestine Phillips Memorial | Briana Johnson |
| Alpha Kappa Alpha Sorority - The Richie Bell Johnson Memorial | Esther Rose Safaite |
| American Association of University Women of Flagler County | Kelly Flanagan, Gianna Mastrostefano, Deetra Ware |
| Andy Anderson Memorial | Sara Perilli |
| Antonio Amaral Foundation | Amy Langhauser, Kelsey Donahue |
| Bright House Networks, Inc. | Daniel Ivanovoskya |
| Bunnell Masonic Lodge | Caitlin Hannan |
| Central Florida News 13 Project Weather | Shannon Jacobs |
| City Lites "Arts" Scholarship | Teniyah Christian, Jeffrey McDevitt |
| Clay Electric Cooperative | Michael Nahirny |
| Council for Exceptional Children | Matthew Jaenike, Sarah Bandes, Chaz Davis |
| Daytona State College Foundation Scholarship | Jordon Jones, Stephanie Batista |
| Delta Sigma Theta, Inc. - Letitia T. White Memorial | Jasmine Dwyer, Antoinette Hagins |
| Dennis Fitzgerald Memorial | Caitlan Hannan, Jeffrey McDevitt |
| Ebony Society | Ester Rose Safaite |
| Flagler Ace Hardware | Jason Terry |
| Flagler Auditorium Governing Board Performing Arts & Technical Theatre | Jason Cazella, Sierra Parks, Michael Nahirny, Caitlin Hannan, Adam Lehman, Jeffrey McDevitt, Brittanie Hamilton |
| Flagler Beach Environmental Preservation Council | Elizabeth Wang, Amanda Wilson |
| Flagler County Art League - Shirley Newton Scholarship Fund | Kiah Bonner, Amanda Meade |
| Flagler County Association of Realtors | Michael Nahirny, Riley Shugg |
| Flagler County Corvette Club | Cody Shepard |
| Flagler County Educators' Association | Kaci Ellis, Michael Nahirny |
| Flagler County Educators' Association - Mikal Widing Memorial | Samantha Gwinn |
| Flagler County Education Foundation - Annual Scholarship | Jeffrey McDevitt |
| Flagler County Education Foundation - Beverly Kelly Memorial | Riley Littlefield |
| Flagler County Education Foundation - Tommy Tant, Jr. Surf Memorial Scholarship | Kelly Flanagan, Rachel Flanagan, Addie Gibson, Jeffrey McDevitt, Christina Stuckey |
| Flagler County Education Foundation - Take Stock in Children | Mariama Alexander, Summer Anderson, Georgia Ensminger, Charles Geng, Antoinette Hagins, Brandon Smith, Sara Snyder |
| Flagler County Education Foundation - Bill & Dot Wilson Memorial | Juliya Pavlova |
| Flagler County Historical Society | Krista Roy |
| Flagler County Pal | Alex Giorgianni, Justina Hampton, Zachary Helm, Donya Alkhatib |
| Flagler County Medical Society | Antionette Hagins, Riley Shugg, Vadim Adler, Gianna Mastrostefano |
| Flagler County Youth Center - Student Advisory Council Award | Brandon Riddick |
| Flagler County Youth Soccer Association | Jordan Martin |
| Flagler Educational Support Personnel Association | Michael Nahirny |
| FPC - National Honor Society | Abbey Konchan, Kaci Ellis |
| FPC - Student Government Association | Kaci Ellis, Abbey Konchan, Jordan Martin, Mallory Gottleib, Imani Thomas, Mike Giuliano, Cassandra Pennington, Aaron Pearson, Danish Geffrard, Alvante Pearson |
| FPC - Theatre Arts Scholarship | Eddie Green |
| Flagler Woman's Club | Marielena Dias, Kelly Flanagan, Antoinette Hagins, Vladimir Jean-Pierre, Deetra Ware, Amanda Wilson |
| Florida Hospital Flagler - Medical Staff | Charlie Heng, David Petkovsek, Marissa Feola, Eurika Pen |
| Florida Hospital Flagler - Volunteer Auxiliary | Larry Tesler, Esther Rose Safaite |
| Florida League of IB Schools | Ryan McDermott, Kyle Russell |
| Friends of Tennis Committee | Katie Bryl, Ryan McDermott, Kelly Flanagan |
| Friends of the Flagler County Public Library | Donya Alkhatib, Caitlin Hannan, Jacklyn Rumberger, Kaitlyn Gore, Jasmine Dwyer |
| Garden Club at Palm Coast | Zachary Helm, Kelly Flanagan, Amanda Wilson |
| Garden Club of Palm Coast "Hilda & Joe Gottwald Memorial" | Riley Shugg |
| Gilyard Group Foundation | Yeovanti Williams |
| Grand Haven Woman's Club | Brandy Mamo, Kassandra Munoz |
| Mackenzie Grein Memorial | Julia D'Angelo, Andreina Nash-Gutierrez, Shawn Upson, Brittany Eggum |
| Shannon Grein Memorial | Victoria Rodriguez |
| The Grenadian Association of Palm Coast | Desiree Williams, Levi Rosa |
| Dr. Jim and Lavern Guines Scholarship | Taylor Jones, Zhengyang Qian, Robert Barber, Shakir Terry |
| Annes and Theodore Hein Memorial | Jacklyn Rumberger, Adam Lehman |
| Hispanic American Club Scholarship - In Memory of Helena Smith | Levi Rosa, Marissa Feola, Arelys Nieves |
| Indian Trails Parent Teacher Organization | Gabrielle Ceballos |
| Insurance Professionals of Volusia/Flagler Counties | Kyle Greene |
| Intracoastal Bank Scholarship | Hallie Hydrick, Alexandria Perkins |
| Irish Social Club | Ryan McDermott |
| Italian American Social Club at Palm Coast | Taylor-Marie Miceli, Raymond Santoianni |
| Kiwanis Club Scholarship - Flagler Palm Coast | Hannah Lipsey, Charlie Heng, Tyler Sweeney |
| Kiwanis Club Book Scholarship | Amanda Wilson, Elizabeth Wang, Kelly Flanagan |
| Kiwanis Senior of the Year Flagler Palm Coast | Rebecca Wight, Ryan McDermott |
| Kiwanis Foundation Scholarship | Lauren Munsinger |
| Kiwanis Key Club Scholarship | Rebecca Wight, Adam Lehman |
| Robert Osner Kiwanis Scholarship | Myles Collier, Shawn Upson |
| Olga Kosminski Memorial | Shannon Jacobs |
| Kumon Math & Reading Center of Palm Coast | Tyler Bright |
| Matanzas High School - Deca Scholarship | Kelly Flanagan, Rachel Flanagan, Christina Stuckey |
| Matanzas High School - Giving Back Scholarships in Honor of Ken Seybold | Levi Rosa |
| Matanzas High School - Giving Back Scholarships in Honor of Maryann Mlinac | Victoria Ecker |
| Matanzas High School Leadership Scholarships | Kyle Green, Azia Alston, Brian Eichinger, Donya Alkhatib |
| Matanzas High School National Honor Society | Courtney Brady |
| Matanzas High School Step Team Member Scholarship | Jasmine Myles |
| Matanzas Shores Women's Club | Taylor Miceli, Eurika Pen, Michael Nahirny, Heather O'Brien, Lauren Munsinger, Zachary Helm |
| Military Order of the Purple Heart, Palm Coast Chapter | Noah Feldman, Julianna Bell |
| TJ McCracken Memorial Scholarship | Michael Giuliano |
| Mills Aviation Charities - Wings Over Flgler William "Wild Bill" Walker Memorial Scholarship | John Dixon III, Levi Rosa |
| NAACP | Antoinette Hagins |
| New York City Transit Retirees of Florida | Lauren Munsinger, Taylor-Marie Miceli |
| Palm Coast Business & Professional Network | Michael Nahirny |
| Palm Coast Chamber of Commerce | Rebecca Wight |
| Palm Coast Data | Tracey Adams, Lorenzo Butler, Sarah Flanagan, Christine Bolla |
| Palm Coast Lions Club | Samantah Penalver, Taylor-Marie Miceli, Lauren Rawlins, Amanda Wilson |
| Palm Coast Sons and Daughter of Italy | Taylor-Marie Miceli, Joseph Sovia, Brain McDonald, Michael Giuliano |
| Palm Coast Woman's Club | Lauren Munsinger, Antoinette Hagins |
| Palm West Home Realty, Inc. | Brian Eichinger, Kiana Grabowski |
| Phi Delta Kappa Chapter 1515 | Nancy Smith, Joseph Sovia |
| Plum Creek Community Scholarship | Michael Nahirny, Elizabeth Wang |
| Ray Boylan Towers of Excellent Scholarship | Shakir Terry, Tyrique Harper |
| Rotary Club of Flagler Beach - Sam & Shirley Newton Scholarship | David Petkovsek, Ryan McDermott, Neal Shepherd |
| Rotary Club of Flagler County | Mariya Cheban, Marissa Smith, Kevin Nguyen, Lauren Munsinger, Heather O'Brien |
| Rotary Club of Flagler County - Scholar/Athlete | Wendell Powell II, Desirea Hurley |
| Rotary Club of Flagler County - Princess Place | Raksmey, Prum, Saevonne Fleming, Nicolette Riera |
| Stephanie P. Smith Memorial | Deetra Ware, Abbey Konchan |
| Oradell "Dell" Trayer Memorial Scholarship | Brandon Hok, Alexis Jennings |
| United Caribbean Cultural Association | Desiree Williams, Vladimir Jean-Pierre |
| University Women of Flagler | Amanda Wilson, Deetra Ware, Riley Shugg, Kaitlyn Gore |
| Theda Wilson Scholarship | Leivaughn Lyn |