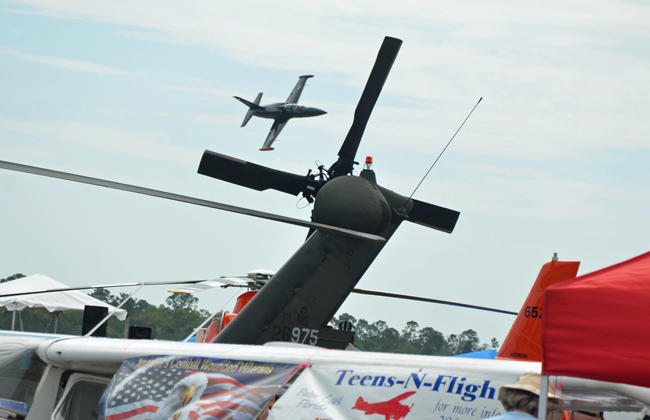 A slew of annual special events in Flagler County have been scrapped: Palm Coast and WNZF have ended the partnership that produced the annual Rock 'n Ribfest every spring and the Seafood Festival every fall in Town Center. In an unrelated move, the Flagler County Chamber of Commerce is ending its annual Taste of Flagler.
No sooner was the Ribfest put on ice than it got brazed again to a new home, helping revive another special event that had cvanished last year: on April 25 and 26, what used to be Rock 'n Ribfest and what used to be Wings Over Flagler, the big fly-in hosted by the Flagler County Airport in 2011 and 2012, will be born again as Wings Over Flagler: Rockin' the Runways at the airport.
It was a matter of quick and effective diplomacy as WNZF General Manager and Promoter David Ayres, Blue Sky Yakrobatics's Bill Mills–who had organized Wings Over Flagler those two years–County Manager Craig Coffey and County Commissioner Nate McLaughlin worked out the arrangement, with Airport Director Roy Sieger securing a permit for the event from the Federal Aviation Administration just Thursday. "We all know what we're doing, so let's do it," Ayres said, summing up the approach of the principals.
Mills liked putting on the air show, but he didn't like the peripherals–the concerts, the entertainment, the management of the vendors. WNZF doesn't know anything about fly-ins, Auyres said, but organizing concerts and the other incidentals is what it does. So it was an ideal partnership. "It'll be a really good annual event we can have from now on. I think we found our home," Ayres said.
The end of the partnership between Palm Coast and WNZF, first reported this morning by the Palm Coast Observer, is officially being portrayed as amicable: Ayres met with Jim Landon, the city manager, and Luann Santangelo, the city's parks and recreations director, along with Casey Ryan, the city's events coordinator, and in Ayers's telling, the two sides mutually agreed that the partnership had run its course. Clearly, the city's desire to have its own–if not its exclusive–imprint on events at least partly led to the separation.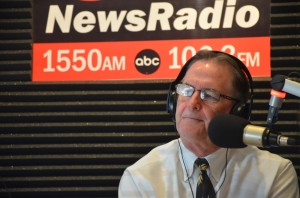 "It had kind of morphed over the years and was changing," Ayres said. "To me with the city hall being built there and those out-parcels, it wasn't long for there anyway, and the city, they have their own ideas and plans for promotion and we have ours, so we decided let's just shake hands. It was a great run."
Ayres added: "It was probably more my suggestion to let's just end it on a high note. You guys do your thing and we'll do ours."
Santangelo summed up the separation in an email to city staff on Feb. 6: "After much consideration, the City and Flagler Broadcasting have decided jointly to discontinue the annual Rock N' Rib Festival, beginning this year," she wrote. "We are currently evaluating all of our special events and deciding which ones are the best fit for Palm Coast. Then we will invest in those events to make them as high quality as possible. In addition to the decision on Rock N' Rib, we plan to discontinue the Seafood Festival and to move the International Food & Wine Festival to October."
Santangelo said that because the decision to end Rock 'n Ribfest was made only in early February, there wasn't enough time to plan for a replacement event in April–the clearest indication that the separation between the city and the radio station, however amicable, was neither planned nor necessarily desired, at least not this late in the process. County officials familiar with the conversations suggested that the relationship between city and station had become too strained to allow it to continue.
Asked about any such strains or demands by the city, Ayres said: "They have their own ideas and their own plans and their own goals and I just think we just outlived our usefulness as a partner with them as co-presenting things."
Ayres and Mills talked about the new event at the airport during Free For All Friday on WNZF this morning, the show Ayres hosts.
Taste of Flagler, the annual one-day food festival that featured offerings from local restaurants at one location under the auspices of the Chamber of Commerce, had had a difficult run in the last two years, with weather causing postponements and damaging the festival's viability. On Wednesday, the chamber's Amy Lukasik told the Flagler County Tourist Development Council that the event would be scrapped, and replaced with another called Restaurant Week (which should really be Restaurant Weeks), starting April 25 through May 9.
"We're working with local restaurants to get them signed up, there'll be a Prix Fixe menu," Lukasik said, before being interrupted by TDC Chairman Nate McLaughlin, who wanted to certify what he'd just heard: that Taste of Flagler was ended.
"We've got a bunch of restaurants already signed up, so we hope to have a big, successful event," Lukasik said. Restaurant Week awards will coincide with National Travel and Tourism Week, with an award ceremony at Hammock Beach Resort on May 12.
"I get a little nervous when we start using TDC time for any event that doesn't generate any revenue, any bed tax," one of the TDC members cautioned.
"Our activities are really in support of Restaurant Week in terms of setting up the website and a few other responsibilities," Matt Dunn, the chamber's vice president of tourism, said. "But in terms of pounding the pavement to try and sign restaurants up for it, that activity, that's really the membership director, manager, Heather Thompson, that's responsible for that activity." Thompson is the chamber's membership director. Her salary is covered by the chamber, not by the TDC's public funds. But TDC staff will also try to generate hotel stays by developing overnight packages with local hotels that would be distributed out of county to advertise Restaurant Week.
In a statement later Friday, the Chamber's Gretchern Smith wrote: "Flagler Restaurant Week is designed to showcase the outstanding restaurants, chefs and culinary talent that make up Flagler County's gastronomic scene. Flagler Restaurant Week (FRW) showcases what's cooking in local kitchens by giving local 'foodies' and visitors a perfect opportunity to support participating restaurants" over the event's duration. " Residents and visitors can explore different restaurants with specially priced menus, or enjoy their favorites at discounted prices. Restaurants, in turn, will enjoy the increased exposure that drives more traffic through their doors and increases sales."