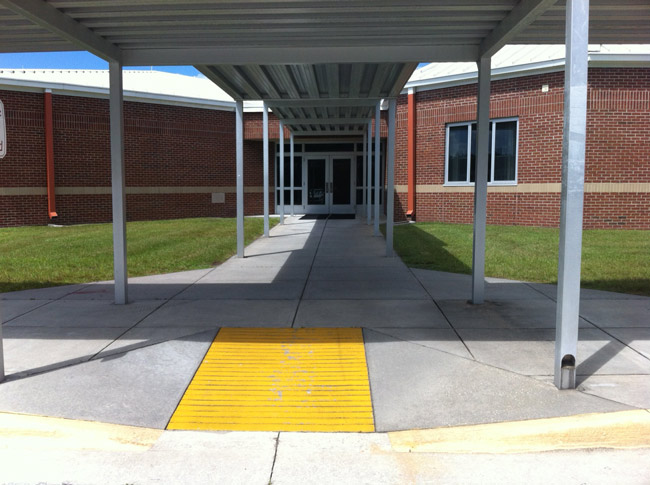 Like most school districts that applied for it across the country, Flagler County learned last week that it was not a finalist for a $30 million federal Race to the Top grant that would have radically altered the way education is done in Flagler. A majority of Florida counties applied for the extremely competitive grant. Just five have qualified to be finalists, among fewer than 70 nationwide, with more eliminations ahead. Most of the districts that qualified are much larger than Flagler, including Miami Dade and Seminole.
The grant would have been the equivalent of a third of the school district's general fund budget, which is just under $100 million. Aside from Matanzas and Flagler Palm Coast High School, the grant would have transformed all of the district's remaining schools into K-8, magnet schools, each geared toward a specialty (music and the arts, science, language, and so on). The district would have been a universal "choice" district, which means parents could have enrolled their child in any of the K-8 centers, depending on their preferences. The grant money was to underwrite the cost of smaller classes and of transportation, among other changes.
"We will definitely not be able to do that now," a disappointed Janet Valentine, the school superintendent, said Monday.
But the school board is not giving up on moving the district toward an all-K-8 system. It is still planning to do so. It won't do so as rapidly, or as radically, nor will the transportation component be as readily available to parents. In other words, while the magnet centers may be created over the next few years at a slower pace, and the universal choice system would be in place, it would be up to parents to get their child to the school of their choice, should it fall out of the normally zoned school boundaries.
"Because we didn't receive the grant, it's my belief that we won't be able to afford to move to all K-8 at one time," Valentine said, "but we have talked about Indian Trails being a K-8 center. It was built as a K-8." That could happen in the 2014-15 school year, for example, if not sooner. But school board members are not wanting to move to a different system without ample preparation for students, parents and faculty.
"We're still early in that process," School Board Chairman Andy Dance said. "Without the fund of the grant we definitely have to be careful about how that process moves forward and the cost to the budget and the strain on capital. There's a lot of discussion still to be had on that as we turn the corner on the year."
Despite losing out on the grant, the district will be re-zoning next year regardless: that plan was in the works as part of the grant, but also independently of it. The district needs to re-zone its schools because there are vast imbalances in student populations, especially between FPC and Matanzas. The disparities are the result of a combination of factors: it's been several years since the district rezoned. The student population has flattened out in the past five years, and may again not grow for at least another year. And charter schools have been syphoning off a steady stream of remaining students, although not yet at the high school level.
That has left the district with an excess capacity of about 23 percent overall, and particular imbalances from school to school, including racial imbalances that could place the district afoul of federal regulations. In actual numbers, the district was built for 15,420 students, but its enrollment, as of Nov. 4, was 11,760, a difference of 3,669.
Current enrollment at FPC is almost 2,400, which is at capacity, compared to an enrollment of 1,624 at Matanzas, which is well below its capacity of 2,500. The racial imbalance between the two schools is especially pronounced, with Matanzas having half the proportion of black students attending Matanzas.
The transformation of Indian Trails Middle School into a K-8 center would redraw the zoning map almost unrecognizably, based on a current, though not final, proposal (see the insert below). But even absent a move to a K-8 system for other schools, zoning boundaries would change considerably for many of those remaining schools.
District officials were particularly regretful about the letdown after the amount of work that had gone into the Race to the Top grant, but they also spoke of the grant as a working business plan with many components that can still be implemented—among them, the slow move toward a K-8 system. Among school board members, Colleen Conklin is the leading enthusiast of that approach.
"I would like to see us continue to move forward with creating the K-8 structure so we can get back to building community roots and community schools," Conklin said.
She defined what she meant by community schools. "The size of our schools is a detriment," Conklin said. "I personally have always been an advocate for smaller schools. But when we were in the middle of our building crunch financially, we were pushed in the direction of building these big mammoth schools, and all of the research out there talks about how important and valuable not only the relationships between teachers and students are, but how important the relationship between families and schools are."
As an example, Conklin cited Buddy Taylor Middle School, which has roughly 500 7th graders and 500 8th graders, all jammed into the one school at a critical time in their development. The faculty has to become familiar with that entire student body, and students' families, but barely manages to do so by the time the students have to move on. So the connection between the community and the school is more tenuous.
With smaller schools, where faculty would deal with a 7th or 8th grade size of about 150 students, the faculty would have the chance to better know its students and their parents, and build bonds more rapidly.
"This is a major reform model if we're going to do it in each of the elementary schools," Conklin said. The deal-breaker was transportation. For now, anyway. But "rezoning was always going to take place regardless of the grant. It has to."