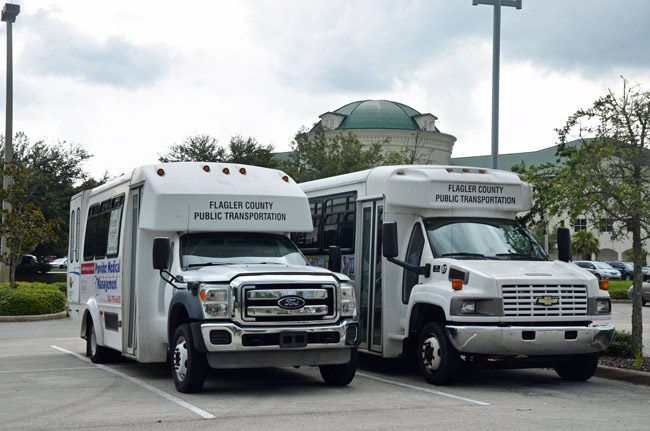 The Florida Department of Transportation last week ordered Flagler County to remove from service two public transportation buses because of "significant safety concern," as mandatory fire-suppression systems on the buses were not functioning.
The problem dates back at least eight months, according to the Department of Transportation, which had inspected the county's transportation system last November, finding a range of deficiencies. "In the eight months since the initial review," the department wrote Flagler County in a July 17 letter obtained by FlaglerLive, "the fire suppression systems have remained uninspected and documentation of preventive maintenance has remained non-compliant. Two of the vehicles' siren suppression systems have been disconnected from power, and several systems need to be recharged."
The county removed the two vehicles from the roads. A vendor was scheduled to work on the buses on July 24.
Last November the Florida Department of Transportation conducted its once-every-three-years review of Flagler County's public transportation system. Among other areas of focus, the agency reviewed 21 of Flagler's buses, ranging in age from 11 years to one year, and in mileage from under 1,000 miles to just under 200,000 miles, in the case of a bus bought in 2010. The county did not publicize the results of the review, which had not been made public until now.
Flagler County's transportation system is an as-needed, on-call operation rather than a fixed-route bus system, providing trips to those in need through advance reservation. Last year the system provided 110,453 trips, with an average client age of 62, according to a grant application the county filed in January. "FCPT client-focus is necessarily on the elderly," the grant application stated. The system is an important service for the county's poor and disadvantaged.
Its proposed budget in 2018-19 is $1.66 million. Bus fares cover only $176,000 of that. Grants cover $700,000. But last year the county received an additional $241,000 grant. It did not get that grant for the coming year, a gap that swelled the needed funding from general revenue from $448,000 to $737,000. (Wrap-around advertising generates about $40,000 a  year.) The department has 21 full-time and a few part-time drivers and a total staff of 30. Salaries and benefits account for $1.18 million of the budget, vehicle repair is $100,000, and gas and oil takes another $279,000. The county pays $20,000 a year for a maintenance agreement.
The 200-page inspection report examined maintenance and bus safety and security as well as peripheral requirements such as substance abuse protocols and vehicle inventories. The report then broke down its findings into sections ranging from a dozen "observations" and suggestions to 16 "areas of concern" to 45 "deficiencies," or areas "found to be deficient or inadequate in complying with state and federal guidelines."
The latter category included issues such as improperly or non-posted notices, the lack of certain written policies, a maintenance plan that doesn't meet state requirements, but two-thirds of the deficiencies were vehicle-specific.
Several buses fire-inspection tags were out of date. The more serious inoperative fire suppression systems were noted on two buses. One bus' tag light was not working (vehicles are often pulled over for inoperative tag lights). One bus had two rear tire treads below minimum acceptable tread depth. "Only 76% of the preventative maintenance inspections and oil changes were conducted on time," with the standard threshold set at 80 percent.
The county transportation system's preventative maintenance inspection form meets the state's minimum maintenance requirements, but the inspection found that "the form is not being thoroughly completed. Many of the inspection forms did not indicate the type of inspection conducted and/or had multiple inspection types listed on the same form. For example, some of the forms indicated that an A-level inspection and B-level inspection were conducted simultaneously, making it difficult to determine which type of inspection was being performed. Additionally, no evidence of C-level inspections being performed during the prior 12-month period were found even though vehicle mileages during this period indicate that these C-level inspections should have been performed. This practice signifies a risk to passenger safety as it leaves critical safety-sensitive vehicle components unchecked."
Other deficiencies included: "According to the vehicle safety inspection conducted during the review, vehicles are operating with defects. However, these defects have not been identified and recorded during preventative maintenance inspections, although repairs are documented as being conducted at the time of the inspection."
"For the five (5) vehicle history files reviewed, only two annual inspection forms were found for the prior 12-month period. FCPT staff stated that some additional annual inspections have been conducted, but the forms have not been filed and could not be provided during the review."
The substance-abuse random-testing program was not being implemented in accordance with state-required rules. (The department budgets $2,000 for random drug-testing.)
When it came to bus-specific issues, these, while minor, included an exterior wheelchair lift not working, missing paperwork from some buses (such as registrations, insurance and other documentation).
In the less critical inspection categories—what DOT inspectors referred to as "areas of concern"—the report found that Flagler's transportation system has no service animal policy, drivers' pre-trip and post-trip inspections of their vehicles was found to be wanting, the department's mechanic shop was "found to be very cluttered," two of the drivers' files reviewed were found to not have a current driver's license on file and two had expired licenses on file, the county had no follow-up system for background checks to keep up with any recent arrests of drivers, if any, and drug testing was done poorly: in 2017, it was all done in January, and some employees were not tested.
State inspectors conducted a follow-up inspection on July 11, when many of the deficiencies and concerns were found to have been addressed, but some, among them the fire suppression system, had not been.
While Flagler County Transportation staff has made significant efforts to address the remaining findings," Diane Poitras, transit programs administrator for District 5 of the state transportation department wrote Craig Coffey, Flagler's county administrator, "safety deficiencies pose substantial safety concerns for Flagler County residents. Effective immediately, FCPT must remove from service any vehicle with a fire suppression system that is non-functioning (disconnected from power or with a gauge showing need for recharge). All vehicles with outdated inspections must be inspected (and, if necessary, repaired) by Friday, July 27, 2018. Failure to respond to this requirement in a timely manner will necessitate the removal of additional vehicles from service."
Flagler's transportation staff was to provide daily written progress reports by email to all FDOT District 5 representatives.

Florida Transportation Department's Inspection Report of Flagler County Public Transportation (2017)
Click to access Flagler-County-Transportation-Triennial-Review-2017.pdf