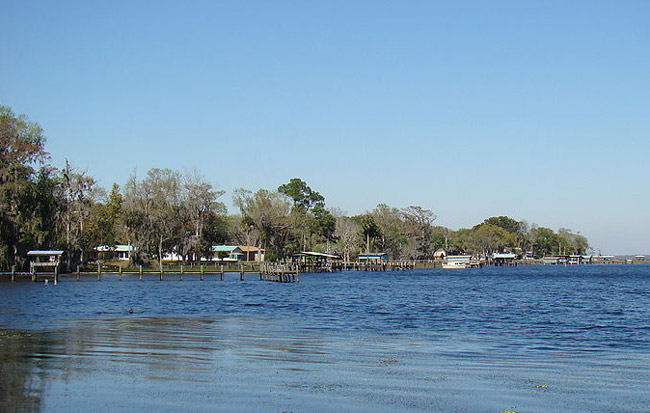 It's not been a good few years for land preservation in Florida. Two areas tagged by environmentalists as Jewels of Flagler County were expanded with recent purchases as those who work to set aside land for the future struggle with diminishing budgets amid great opportunity.
Flagler County bought 3.3 acres to add to the Bull Creek Fish Camp at the western end of County Road 2006 at Dead Lake, a Jewel of Flagler site. The St. Johns River Water Management District paid $2.85 million to expand another Jewel of Flagler area known as the Relay property by 2,392 acres. Located 10 miles south of Bunnell, the Relay site is considered an essential part of a wildlife corridor extending from Flagler to Tiger Bay State Forest in Volusia County.
Neither recent purchase was made using money from Florida Forever, the state program that has protected more than 2.4 million acres since its start in 1999.
Florida Forever budgets at one time ran at $300 million annually with money from document stamps on property sales, until former Gov. Jeb Bush gutted the program and Gov. Rick Scott virtually froze it. It was frustrating for those who want to save land for the future because the silver lining of plummeting property values in the ongoing recession made pristine lands far more affordable. The Legislature was considering what had been a shift in Scott's budget proposals–a $75 million Florida Forever appropriation. But in the end, the Legislature approved just $10 million in general fund dollars for the program this year. (The budget shows an extra $50 million for the program, but it's a deceiving figure, because that $50 million would be generated only through the sale of other conservation lands, amounting to a loss of protected lands overall.)
"We're always looking for opportunities to partner with other agencies to pick up more lands," said Anne Wilson, longtime member and chairman of Flagler County's Land Acquisition Advisory Committee, which recommends purchases of environmentally sensitive lands to the Flagler County Board of Commissioners.
"With the decline in property values during the recession we're limited because of state budget cuts," Wilson said. "Those were good times with Florida Forever was funded out of document stamps, which were used for what was intended, to buy environmentally sensitive lands, instead of taken for general expenses. We no longer have the ability to get state grants."
Flagler County completed the recent purchase at Dead Lake on its own.
"We're fortunate that we've been able to make an additional purchase out at Dead Lake, adding to the existing county park and increasing the ability to have additional rental units at the park," Wilson said.
In addition to recreation, the Dead Lake site has an interesting history. The land and an existing home were owned in 1922 by Dr. John J. Kinney, who came here from Ohio and treated local patients at the home without charging a fee.
Flagler County voters can pat themselves on the back for continuing a program that made the Dead Lake purchase possible. Voters in 1988 approved a property tax to buy environmentally sensitive lands, water recharge sites and recreation areas. Voters renewed the tax in 2002 and 2008, each time by margins of roughly 70 percent.
At 25 cents per $1,000 of taxable value, the Flagler Environmentally Sensitive Lands Fund costs the owner of a home valued at $175,000, minus a $50,000 homestead exemption, a tax of $31.25 a year. Flagler County has preserved more than 4,200 acres under its program.
In years past, when the Florida Forever program was robust, Flagler and other counties could leverage their funds to get matching money from the state to buy and preserve land.
"What the program needs most is, something I mentioned before, for the state Legislature to fund the Florida Forever program at historic levels," said Tim Telfer, Flagler County environmental planner. "With the recession property values dropped, so there was more opportunity. When Florida Forever was not funded at all, we lost one of our most important acquisition programs. That would be the best thing that could happen to the program, for our traditional partner to be re-funded."
Oddly, state money used by the St. Johns River Water Management District recently to buy the Relay tract came from an enemy of environmental preservation, the Department of Transportation, that builds roads carving up wild areas. The expansion of Interstate 95 through Flagler County destroyed wetlands. Purchase of the Relay property, paid for by FDOT, is intended to mitigate the loss of wetlands to the wider interstate highway.
"What we really need to be doing is filling in the pieces to create that wildlife corridor," said Sara Lockhart, president of the Flagler Audubon Society. "The wildlife corridor should go north and south through Volusia, Flagler, Brevard and then the Ocala National Forest. We need more wildlife corridors back and forth.
"What worries me over time is our transportation planning doesn't enhance our wildlife needs," Lockhart said. "We could probably do more to road planning so wildlife corridors don't get hacked all the time."
When Scott took office he dismantled the Department of Community Affairs, which also hurt preservation efforts by making development easier, Lockhart said. "Who knew that the Department of Community Affairs, with all its growth management legislation, would be out with a few strokes of the pen," Lockhart said. "I certain areas we lost the ability to buy land inexpensively. The state was not able to get in and compete."
Developers also sped up development applications for pristine tracts, such as the Miami Lakes site in Volusia and Brevard, as the prospect of the failed Hometown Democracy threatened to give voters veto power over projects, she said.
Purchase of the Relay property was the first by the St. Johns River Water Management District in Flagler County since 1990. "The Relay tract is strategically located to provide mitigation for wetlands impact along that stretch of I-95," said Robert Christianson, director of the Division of Operations and Land Resources for the St. Johns River Water Management District.
Christianson said the Relay tract is in the same drainage basin as the wetlands taken for the I-95 widening. The site is important for flood-water storage, a recharge area for underground water supplies and to protect the headwaters of the Little Tomoka River and Hull Cypress Swamp.
The Relay tract also will enhance the 15-year effort to establish a multi-county wildlife corridor.
"In Florida we're blessed with a great diverse range of plant and animal life," Christianson said. "Conservation scientists of our state recognize the importance of a large conservation corridor to support the movement of large mammals through the state."
Christianson said the St. Johns River Water Management District is working with Flagler County on additional acquisitions. Another strategy is for the district to sell land it owns, but maintain a conservation easement on the property sold, putting the money to use to protect more land.
"We would keep a conservation easement so we're certain it's used for conservation," Christianson said. "When we sell we use the money to get other land. We'll actually wind up with more land in exchange."
Although the water district bought the Relay tract, the former owner maintains water rights. However, Christianson said the former owner would have to get a permit from the water management district to pump water.
Environmentally sensitive land purchases have sometimes been controversial, for example the 2010 purchase of 980 acres at Pellicer Creek for $4.7 million from the defunct Ginn Development Co. The light of history makes the purchase look better, said Lockhart, the Flagler Audubon president.
"I didn't understand the price and justification," Lockhart said. "It didn't seem that transparent. It seemed like it was a pretty expensive price to pay for what may not be developable in first place. At the time that it was purchased, it didn't seem logical. But now, in retrospect, with the loss of money for land acquisition at the state level and the gutting of the Department of Community Affairs, which was oversight of development, it might work. It doesn't seem so out of balance now."
Roughly 12 percent of Flagler County has been set aside by the public for conservation. Twelve counties have a lower percentage of land under conservation and Manatee has the same percentage as Flagler saved. The rest of Florida's 67 counties have a greater percentage of land set aside. Some counties have a large percentage set aside because they're the site of a state or national forest, such as Franklin County with 81 percent under conservation largely because it's the site of Tate's Hell State Forest.
Flagler lacks site for preservation because much of the county has been under agricultural production, Lockhart said. "As a result we've lost a lot of old growth forest," she said.