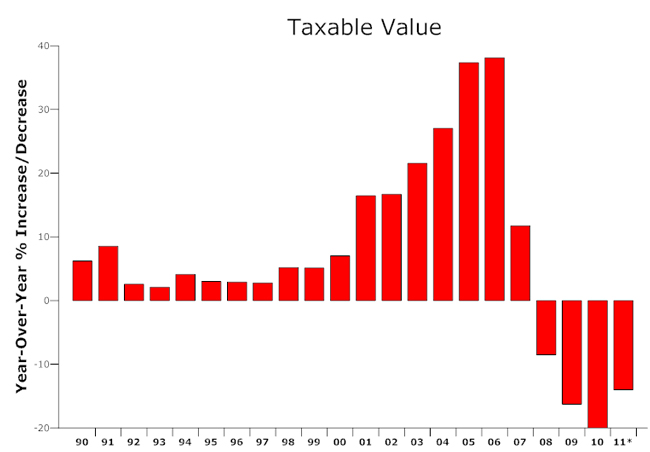 Note: this story originally ran on April 22. The News-Journal and the Observer ran their stories on the matter today (May 5), so we're re-posting it on the front page as a discussion refresher.
Wherever you live in Flagler County, including Palm Coast, expect your tax rates to go up next year—or services you receive to decline, in the unlikely case elected county and city officials choose to hold the line on taxes.
The reason: For the fourth year in a row, property values in Flagler County have fallen significantly. That means local governments' general revenue pots, which rely on the property tax, will shrink proportionately to the loss in values absent a hike in the tax rate. Values in the county and every city have fallen by double digits for the third year in a row, according to preliminary numbers released by Property Appraiser Jay Gardner.
"Now you're kind of to the point of it's a quality of life decision," County Administrator Craig Coffey said. It's either a matter of sticking with the same revenue, which entails raising the property tax rate to generate that revenue, "or you're going to have to make very draconian cuts that may not be the type of community people want to live in."
Coffey, like Palm Coast Mayor Jon Netts, is seizing on a bare silver lining: values fell, but not as much as originally predicted, and there is, in fact, a reversal in the trend. The value decreases are still severe, but they're shrinking, relative to the previous two years.
Here are property value losses, year over year, as of January 1, 2011:
Flagler County: 14 percent.
Palm Coast: 12 percent.
School Board: 13 percent.
Flagler Beach: 17 percent.
Bunnell: 11 percent.
Beverly Beach: 17 percent.
Marineland: 59 percent.
The Marineland number is an anomaly. Marineland has few properties. Its entire tax roll amounted to $11 million in 2010. And the sale of the dolphin attraction to the Georgia Aquarium, which took the property into non-profit status, lopped more than a third of the city's taxable values off the books.
Gardner, the property appraiser, stresses that the numbers are nowhere near final, but are within a point of where they'll be when presented to various government agencies later this year. "We think we've got our basic values ironed out," Gardner said. "It's better than last year but it's bad." The numbers are based on values in 2010, up to January 1, 2011. They are not necessarily a reflection of property values since. The values' free-fall may have stopped.
There is a bottoming out of values, says Matthew Wilson of CoQuina Real Estate in Flagler Beach, with some nominal appreciation in some neighborhoods, though some pockets are still more troubled than others. The monthly depreciation of 1 percent or more that were taking place at the depth of the crash have stopped. "We remain in a buyer's marker but we're seeing sellers holding their line at this point," Wilson said.
But local governments about to prepare their budgets for next year have to contend with those latest declines in value first, and they must do so after three successive years of severe cutbacks. "It probably means that the county will be forced into a millage increase," Alan Peterson, who chairs the county commission, said. "Not necessarily a tax increase, but we may have to increase the millage. I'm not sure we can easily decrease our expenses by 14 percent, particularly when the sheriff is about 40 percent of the budget."
Florida law is written in such a way that when property tax rates increase, it's not considered a tax increase unless the revenue generated is greater than the revenue generated the previous year. If, for example, a property owner sees values decrease 14 percent and the tax rate increase 10 percent, the resulting overall tax burden would still be less than it had been the previous year. But different property owners will experience different effects of a tax rate increase, no matter what the final revenue is for their local government: last year. Peterson said a combination of spending cuts and a tax increase are likely, though what spending cuts is the question.
"Fat in government—there's no fat in government anymore. You're all about doing the bare necessities," Coffey said. "There's no rabbit to pull, out of the hat to save the day, it's going to be tough and tougher choices." Cumulatively, Coffey said, the county has lost a net $8 million in revenue since the beginning of the decline, after accounting for higher property taxes. Each additional 5 percent loss in property value equates to a loss of about $2 million, so the county is looking at a loss in revenue of about $5 million this year.
It's not just the property values. Every local government is facing other steep increases in costs that have to be assumed, from energy to health care. The school board just signed a deal with United Health Care that increases the school district's contribution to employee premiums by $500,000, the equivalent of half a percent of the entire budget—at a time when the district is also facing $3.5 million in budget cuts. For county government, every $1 increase in the price of gas translates to an extra $500,000 cost, because between county and sheriff's office  vehicles, the county  consumes half a million gallons of fuel. That's eating into the county's budget on top of falling property values. On top of that, employees haven't had a raise in three years, and may face a cut in pay should the Florida Legislature and Gov. Rick Scott approve an increase in how much public employees contribute to their retirement fund.
Cities will face similar pressures. Palm Coast didn't raise taxes last year, but it lost $3 million in consequence, and now has the lowest reserves it's had in its 11-year history. The city also opted to keep its property tax steady by essentially raiding its capital funds.
Palm Coast Mayor Jon Netts would like to maintain the city's basic seervices without cutting taxes yet again. "I don't know that it's if it's going to be possible, but we'll certainly give it a try," Netts said. "It is what it is. You have to identify your essential services and you have to fund them. If you can do that without raising taxes, that's marvelous, but if you can't I think the residents would rather have the services than save $50 a year on their tax bill."
In Flagler Beach, where the property tax rate was raised last year to ensure essentially the same amount of revenue—which means the budget itself was not cut—the 17 percent projected loss in values is especially steep, because should tax rates again be raised as they were last year, the compound effect will be severe. "We knew that this was going to happen but didn't know to what degree," Acting City Manager Bruce Campbell said. "Now we know."
Meanwhile, state lawmakers are batting about various proposals to cut property tax further, including one that would exempt up to 50 percent of the property taxes for new homeowners, and cap non-residential increases in assessments at 3 percent (as opposed to 10). Those proposals and others like them, should they pass, will further reduce local government revenue. Gardner, the property appraiser, scoffs at the proposals disconnection from local governments' challenges. It's all a matter of shifting burdens, not reducing taxes, Gardner said. "There's no such thing as an exemption that somebody else doesn't pay for, period."