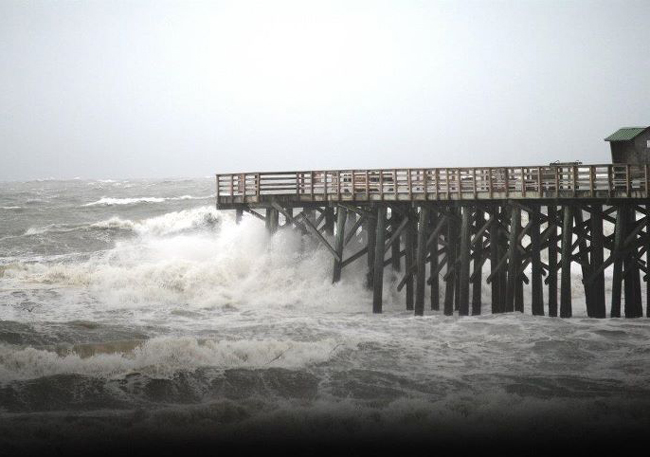 Last Updated: Monday, 8:40 a.m.
Monday update, 8:27 a.m.: Most major power outages in Flagler County have been restored, but a large number of outages affecting smaller groups of customers throughout Palm Coast and the county remain. Most of the outages affect less than 100 customers each and are due to downed power lines.
Palm Coast's P, R and C sections are all particularly affected with numerous, small, scattered outages. One of the largest remaining outages is in the city's canal section along Palm Harbor Parkway, where a single outage is affecting 148 customers. About 156 customers are without power north of Matanzas Woods Parkway.
There are also a dozen outages in Flagler Beach, mostly along the shore, including one south of State Road 100 affecting 37 customers, and one north of 100 affecting 156 customers. Beverly Beach has seven scattered outages affecting a total of 11 customers.
Outages in Volusia County are also small, but far more numerous and densely scattered, with thousands of customers still affected there.

Florida Power and Light is reporting that 15,000 customers are without power in Flagler and Volusia counties, as of 10 p.m. Sunday evening, including at least 6,000 in Flagler County, as high winds have felled trees and power lines in widely scattered areas and prevented FPL crews from managing repairs.
"Nothing is centralized. These are all scattered outages," FPL's Jacquie Anderson said.
Winds as high as 60 miles per hour in Volusia and Brevard counties were keeping crews from going up in their buckets. Crews cannot go up if winds exceed 35 miles per hour. The crews' safety is paramount, Anderson said–as is customers' safety: if power lines are down in neighborhoods, FPL asks that customers immediately call 911.
Anderson did not have precise numbers for Flagler, but FPL has devised a system that enables residents anywhere to see where outages are occurring, based on their own zip codes, and how many customers are affected. Residents can do so through FPL's Power Tracker outage map.
The maps reveal the following outages, by neighborhoods and zones in Flagler County:
In Palm Coast's F Section, 1,900 customers are without power. Estimated time of reconnection is 11 p.m. tonight.
Along State Road 100 toward Bunnell, 2,545 customers are without power, with the estimated time of reconnection at 11:15 p.m.
In the area of Palm Harbor Parkway, 106 customers are without power. Reconnection estimate: 12:15 a.m.
In Flagler Beach, 663 customers are without power, with reconnection estimated at 11:45 p.m.
Some 1,000 customers are without power at the south end of John Anderson Highway. Reconnection estimate: 11:30 p.m.
There are 25 scattered outages in the rest of Palm Coast, each affecting from one to 25 customers, and each scheduled to be reconnected any time from now until mid-morning Monday.
The storm causing all these outages is a subtropical depression churning along the east coast. Rain is expected to fall, at times heavily, through 1 a.m., with winds from 30 to 40 miles per hour, calming down slightly to 20 to 30 miles per hour after 3 a.m., and down to 15 to 20 miles per hour for the Monday morning rush, after 7 a.m. Rain will let up from 1 a.m. to 5 a.m., but may pick up again, with showers for much of the morning. The weather will continue to be unsettled through Tuesday evening, finally clearing up around sunset Tuesday, when the wind will die down for good.
You can look forward to blazingly pleasant weather next weekend, from Friday through Sunday, with lots of sunshine, dry weather, and highs skirting 80 or thereabout. In some households, it's called Disney weather.
You can track your own power outages (if you have electricity to see this) by going to http://fplmaps.com and entering your zip code in the upper-left corner box. The video below explains how the system works.