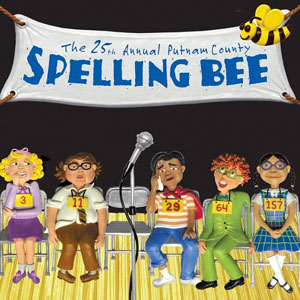 The Flagler Playhouse will hold open auditions for its season opening musical comedy, "The 25th Annual Putnam County Spelling Bee," on Sunday, July 31 and Monday, August 1 at 6:00 p.m. at the Flagler Playhouse, 301 E. Moody Blvd. in Bunnell.
"The 25th Annual Putnam County Spelling Bee," a musical comedy, gently and adorably explores the notion of competition as an adolescent rite of passage and character- building. The tweeners in the play, all played by adults, at a turning point in their lives, and they're all at a spelling bee. 
The play offers the opportunity for dual roles for actors (five men and four women, ages 18 to 50), improvisation, and "fantasy" vignettes, along with songs, and audience participation: audience members will be called up to try their own spelling skills, along with the show's actors. The pronouncer is usually deft on his feet with stand-up skills and one-liners. So no two performances are likely to be the same. Auditions will include music and cold readings from the show.
"The 25th Annual Putnam County Spelling Bee" opened off Broadway in 2005 to fine reviews, and won five Tony Awards that season, including best score (the music is by William Finn), best book (Rachel Sheinkin) and best direction (James Lapine). At the Playhouse, the show will be directed by Judi Ernst.
Rehearsals begin Aug. 8. The show opens Friday, Sept. 23, with nine performances at the Playhouse. To audition, volunteer at the playhouse or buy tickets, visit the Playhouse at www.flaglerplayhouse.com or call 386/586-0773.