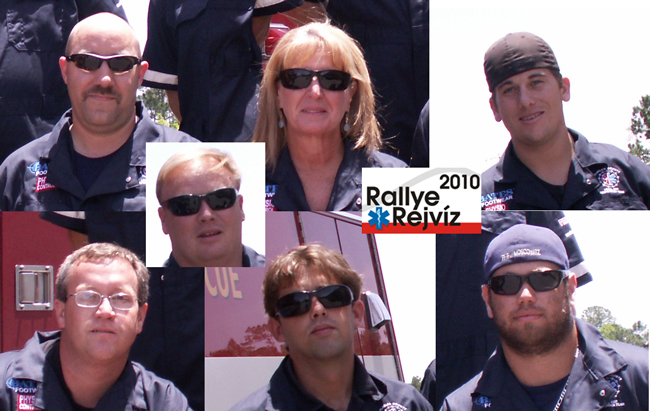 Dubbed by competitors as "a paramedic machine" on the emergency scene, a competitive group of Flagler County Firefighters again proved last weekend, in the heart of Bohemia, that they are among Europe's best.
Acting as the nation's only representative at the invitational world lifesaver tournament Rallye Rejviz in the Czech Republic over Memorial Day weekend, Flagler County's paramedics showed well, said Flagler County Fire Chief Don Petito, despite giving up the world champion title earned last year to a team in Croatia by an overall margin of 34 points. Flagler's paramedics took second and 14th place place, out of 25.
The team that took second place, officially dubbed Flagler County Local 4337 Team I (after its union designation), included Dennis Kline, Caryn Prather, Michael Pius, Hershel King and Thomas Stroncek.
Local 4337 Team II, which took 14th place, included John Moscowitz, George Stringfellow, Dennis Moore Jr., and Jan Hora.
After 11 tasks, Team I racked up 10,562 points, or 34 points behind leader EMS Split of Croatia, which got 10,596 points. A Hungarian team came in third.
The competition sorts teams by ability and ultimately stacked Flagler's two crew against 23 other teams from 10 countries, including Austria, Croatia, the Czech Republic, the Netherlands, Slovenia, Poland, Hungary, Crete, Turkey and Japan. With the exception of two teams from Japan, the trip to the Czech Republic for others was a jaunt, like traveling to a neighboring state–not a trans-Atlantic journey. Even the trip from Turkey is like driving from Palm Coast to New York City (assuming the Turks came in from Istanbul). Jet-lag must've not agreed with the Japanese: their two teams, from the small towns of Senri and Shonai, came in second-to-last and last.
Unlike Team Flagler, which includes a flight paramedic, a few rookie EMTs and a couple more veteran paramedics, the majority of the teams in the international competition also brought with them doctors as part of their crews. It's further proof that Flagler's residents are in capable hands, according to Petito.
 "The paramedics that compete on the team are indicative of the type of service our paramedics deliver to the residents and visitors of this county on a daily basis," Petito said.
Slovakia and Poland apparently want what Flagler has. Officials in the two countries have requested a side-by-side training experience for their medics on the Flagler's street-roving trucks, Petito said. Of course, the two countries would foot the cost of their own travel and accommodations, Petito said. When the medics will arrive and how long they'll stay is still being worked out, Petito said.
"It just goes to show how well our team performed over there," Petito said.
 Flagler County received its third invitation to compete in the international championship before leaving the country last weekend. Their attendance in 2011 will depend on whether they can again raise enough funds to pay for the trip, officials said, although local governments, including the Flagler County Commission ($5,000) and the Bunnell City Commission ($400) contributed tax dollars to foot most of the bill this year.
Team Flagler has already begun fund raising for next year's trip. It's an early start aimed at cutting local government officials out of the financial support mix, Petito said. The team is hoping private donations will cover all of the costs associated with their next trip to the Czech Republic and chance at a world championship title. To contribute, supporters can contact team leader Dennis Kline at 386/479-4025.

All images in the gallery below are courtesy of Flagler's firefighters.

[nggallery id=16]