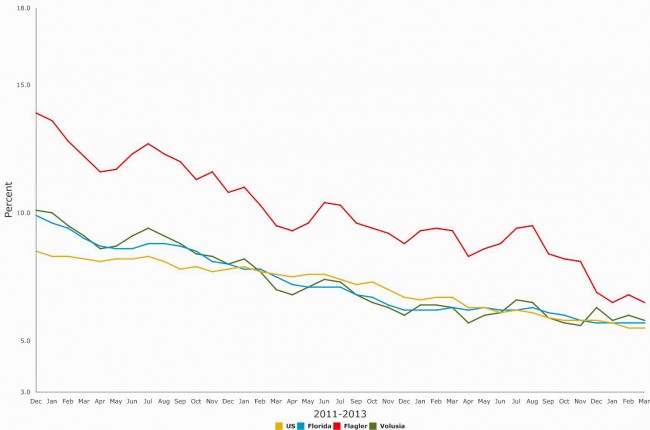 Flagler County's unemployment rate in March again took a significant dip, falling back to 6.5 percent (from 6.8 percent), where it had been two months ago, according to unemployment figures the state released this morning, although the decline this month was led by a fall in the size of the workforce rather than the addition of new jobs. The county actually lost 11 jobs.
Nevertheless, the unemployment picture for the county is vastly improved from a broader perspective: on every count, the county's economy has strengthened significantly in the past year. And while the labor force is actually smaller by nearly 600 workers in comparison with a year ago, the county's labor force has grown by a healthy 10,000 workers in the past five years–a 30 percent increase that belies many assumptions that the county is only now emerging from economic doldrums. In fact, the county has been gradually but very certainly been in recovery for years, with the numbers to show for it.
Compared to April 2010, Flagler County-Palm Coast's labor force has grown from 32,943 to 42,935. The county's unemployment ranks have fallen from 5,085 to 2,809, a 45 percent decrease. And the number of Flagler County residents holding jobs has increased from 27,858 in April 2010 to 40,126, an almost staggering increase of 12,268, or 44 percent. That's an average of 200 new jobs each of the last 60 months. Keep in mind: those are not necessarily–n or in large part–jobs based in Flagler, but residents who live in Flagler and hold jobs anywhere in the region.
Still, that's also residents whose paychecks now contribute to the local economy, buy homes, spend at local businesses, and certainly aiding those businesses to add jobs (and new businesses to open). Flagler County is nowhere near recession territory anymore. It has fallen off the state's leaders in unemployment. The county is now in 11th place from the the unenviable top, held by Putnam County, with an unemployment rate of 8 percent.
Palm Coast City Manager Jim Landon highlighted the improving numbers as he spoke to a group of 90 residents at the Palm Coast Community Center earlier this week, projecting continuing, solid growth ahead. "All of our numbers are very positive right now for employment, and continue to have the right direction. Very, very good news," he said, citing increasing private investment and the brightening employment numbers. "That's why you have to plan for these things and pull the trigger at the right time. But there is very, very much still a great deal of growth potential in this community," she said, unless something different happens in the state. The city is projected to have 150,000 people "10, 20 years from now," he said.
Florida's numbers, also released Friday, show the state's unemployment rate holding at 5.7 percent for the fourth month in a row, and the state losing a net 30,000 jobs overall. When only non-agricultural employment is considered, the state has actually added 30,000 jobs, with 548,000 Floridians still on the unemployment rolls. Most job sectors saw small changes over the month, most of them ticking in a positive direction, with the larger growth seen in construction (1.6 percent) and professional and technical services (1 percent) and the largest decline in educational services (1.3 percent).
The full jobless report appears below. For comparative purposes, the April 2010 report is available here.