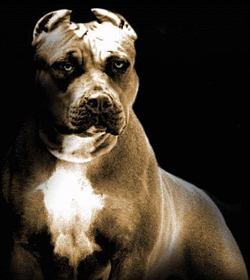 The following incident and arrest information was compiled using official documents, reports and affidavits obtained from government and law enforcement agencies. This feature is not inclusive. It is a sampling of reported incidents in the Flagler County area. Note: The U.S. legal system provides the presumption of innocence to those charged with a crime until guilt is proven in a court of law.
The previous crime report is available here.
Warning: These reports may include language that may be considered foul, obscene, unseemly or indelicate.

Worry Over Two Malnourished Horses
A deputy received an anonymous complaint on On Oct. 24 about two horses at 1697 Berrybush St. in Bunnell that appeared to be going without food or water and that were very skinny. The deputy observed a dark brown and a red roam horse on the property. They both appeared to be malnourished. The deputy reports: "I rated both horses to be a 2 on the horse rating scale of 1 through 9. I did not observed any hay or water for the horses at this time. I made contact with the owner of the horses, Robert Shook. Robert stated that he just obtained the horses three weeks ago and is trying to bring them back to health. He stated that the horses were in bad shape when he got them. Robert stated that he just wormed the horses two week earlier and advised that he may have to put the dark brown horse down. Robert showed me the feed he was giving the horses and how much he was giving them a day. Robert is using a senior complete feed and is feeding them the appropriate amount. Robert also showed me the two barrels of water he keeps out for the horses. I advised Robert to make contact with a veterinarian to examine the horses to make sure they are not suffering from any unknown sickness they might have. Robert stated that he will make contact with a veterinarian during the week and will make contact back with me as to his results and findings. At this time there does not appear to be any neglect in the care of the horses and it appears Robert is taking the right steps to care for the horses at this time. I took photos of the horses and will be doing a follow up with Robert in one week."
A Probation Violation on Speed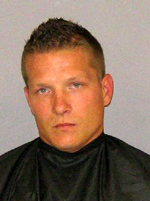 A Flagler County Sheriff's Office deputy observed Geddy Lee Peer, 28, of 1516 San Jose Blvd. in Daytona Beach, driving a blue motorcycle north on U.S. 1, without its headlights on, just before noon on Oct. 23. The deputy estimated Peer was traveling at 90 miles per hour. The deputy's radar showed that speed, steadily. He pulled him over after Peer had slowed to 70 while entering a 55 miles per hour zone. A check of Peer's name revealed he was on felony probation for possession of cocaine with conditions of submitting to search, prohibitions against alcohol and illegal drugs and restriction on leaving the county or state. He was restricted to Volusia County. He submitted to a search upon request. Bunnell police was on scene as back-up and conducted the back-pack search, which revealed six unopened, cold, sweaty, 50 ml bottles of Red Stag Jim Beam whiskey. The deputy then found, in the right side pocket of the backpack, under a bottle of cologne, what looked to be a spark plug. A closer look revealed it was actually what the deputy recognized through training and experience as being a marijuana smoking pipe with residue and ash in it. Peer claimed it wasn't his but a friend's, who'd left it in his backpack, while the booze was for people attending a motorcycle benefit ride he was running late to. The deputy asked Peer if his probation officer knew he was outside of Volusia. Peer said he had a pass. Peer was then arrested for probation violation and taken to the Flagler County jail. His girlfriend claimed the motorcycle. Peer posted $250 bond.
Midnight Mondex: Obscenities + Alcohol = Jail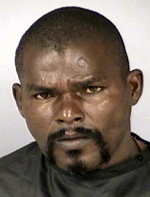 It was just before midnight on Oct. 21, at the corner of Laurel Avenue and Mahogany Boulevard in the Mondex, also known as Daytona North, also known as western Bunnell. A deputy was dispatched there in reference to an animal bite investigation. The deputy made contact with Ben Brock, 49, of Cedar Street. He was carrying a bottle of wine of unknown vintage. The deputy told him he could smell alcohol on his breath. Brock was upset about a dog that had ripped his pants on Laurel Avenue. Brock was not happy, saying he would "kill the dog and the mother fucker that owns the dog." He was told many times to calm down, according to the police report. He continued to yell and tell the cops that they were not doing their job. As a deputy conducted his investigation, Brock demanded the owner's name and made accusations about the dog owner. The dog owner and Brock exchanged words. Despite the advanced hour, there were young children nearby, in the house. It was a Saturday night.
The dog owner, Wilber Thomas, told a deputy that he'd heard noise outside and when he went out, he saw Brock kicking his dog, a tan hound dog, in front of the mailbox, according to a police report. Thomas said he took control of the dog and locked him up. Brock was told again to stop yelling. Once the investigation was completed, the cops filled him in, but he became irate because the dog owner was not being arrested. Brock was told to go home, that all was done. He stood in the middle of Laurel Avenue and continued to shout obscenities, according to the report, getting the attention of the people at one of the houses on Laurel Avenue, who turned on their porch light and peered outside to see what was happening. Ben was shouting: "I'm the fucking victim and you aren't going to fucking do anything about it." He accused the cops of being racists. He was advised again to calm down and stop yelling. He allegedly refused. He was arrested for disorderly intoxication and taken to the county jail.
Chasing an Undocumented Immigrant at Holland Park
A deputy was patrolling the area of Holland Park on Oct. 22 at 8:40 p.m. He made a traffic stop on a man whose bicycle had no lights, front or rear. The man identified himself as a permanent resident and offered up a Green Card and a Social Security card that identified him as "Roger Ivan Hernandez." Dispatch reported to the deputy that "Roger Hernandez" was showing an active felony warrant for possession of cocaine out of Nebraska, with full extradition on the warrant. The deputy reports: "I grabbed "Roger's" right wrist area and told him that I was going to place handcuffs on him for my safety due to him possibly having a warrant out of Nebraska. "Roger" began turning his body with me and then pushed me in the chest area with his left hand and then began running towards the back of the park. I pursued "Roger" on foot giving him several verbal commands to stop and I eventually lost sight of him in the twenty block of Farragut Drive. A neighbor in the area advised that they had seen the male I described to them in the area and that the male possibly lived at 23 Farragut Drive. The homeowner of the residence at 23 Farragut Drive consented to a search of the residence. "Roger" was found hiding in the back bedroom closet and he was placed under arrest reference battery on a law enforcement officer, resisting an officer with violence and obstruction by a disguised person (providing false information during a traffic stop). After "Roger" was placed under arrest he stated that he had "found" the permanent resident card and social security card and that he was an illegal immigrant and the information he provided as "Roger Ivan Hernandez" was not his true information. The male arrested refused to provide any of his information to include name, date of birth, social security number, or address and he was booked into the Inmate Facility as "John Doe." The Omaha Police Department sent a photograph of "Roger Ivan Hernandez" who had the active warrant and he was determined to not be the suspect in custody." The man was subsequently identified as Eveizon Carrillo-Lopez, 22, address and place of birth unknown. He was still in jail on Oct. 30.
Palm Coast Tale: Squatters Arrested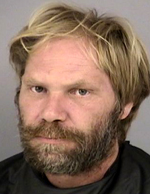 A burglary was reported on Oct. 21 on Milwaukee Ave. in Palm Coast. The persons who reported the burglary told a cop that they saw Michael Betts, 42, walk up to the door at 11 Milwaukee Ave., knock, and let in by Victoria Carbone, 50. The witnesses said the residence had been vacant for the past two years, that nobody should be inside. Another witness, who said she'd been watching the residence for the homeowner, Steve Proux, said Proux lives in New Hampshire, and that the previous tenants had died two years earlier, leaving the house vacant. Contacted by a deputy, Proux confirmed that no one had permission to be inside and that he'd prosecute anyone who was. He gave the sheriff's office permission to go inside and clear the house.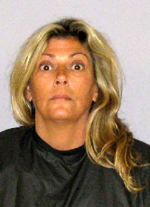 The deputy reports: "I made several announcements through an open window of our presence. I instructed Michael and Victoria by name to exit the residence. After several loud announcements and not getting a response I was able to unlock the front door through an open window. No damage was done to the residence while gaining entry. Inside the residence in the back bedroom Victoria was found sitting on the bed and was taken into custody. Michael was found concealing himself from capture by hiding behind clothing that was hanging in the closet. Michael was taken into custody without incident." Both were arrested for burglary. Both posted $500 bond and were released. Betts has been in jail a few times before, on a DUI, failure to appear in court, driving on a suspended license and, in March 2009, domestic violence battery and burglary. Carnone had been in jail once before, last July, on a failure to appear charge stemming from a misdemeanor offense.
Other Burglaries and Larcenies And Losses
Car stereo stolen from a car parked at 26 Westrock Lane in Palm Coast on Oct. 20. The car was left unlocked.
Burglary at 51 Blairsville Drive in Palm Coast on Oct. 29: A sliding glass window was damaged, clothes and prescription drugs stolen.
Front door kicked in at 164 Pine Grove Drive in Palm Coast sometime between Oct. 23 and 24. Nothing missing inside.
Four broken windows at 53 Briarvue Lane in Palm Coast. Incident occurred sometime between Oct. 18 and 24. Damage estimated at $1,500.
Front window and frame damaged at 49 Pine Haven Drive in Palm Coast sometime between Oct. 17 and Oct. 22–allegedly by a man who, while babysitting, had broken into the house and allowed his two children to play inside. The man disputed the charge, saying that he did see his children inside but yelled at them to leave.
10-inch Samsung computer tablet stolen from the front porch at 35 Lamoyne Lane in palm Coast on Oct. 22
Susan L. Robinette, 51, arrested for shoplifting at Walmart on Oct. 22.
Sports and stereo equipment stolen from a boat. Theft reported at 3458 No. Oceanshore Blvd. in Palm Coast. The theft took place sometime between Oct. 13 and 22.
Tag stolen from an Oldsmobile parked at 68 Florida Park Drive in Palm Coast on Oct. 20.
DVD player stolen from a Ford expedition at 10 Brian Lane in Palm Coast sometime between Oct. 17 and Oct. 20. The Expedition had been left unlocked.
DVD player stolen from a car at 95 Beauford Lane in Palm Coast between Oct,. 24 and 25. The car had been left unlocked.
Acer laptop stolen from inside a house–the laptop sat at the entrance–at 47 Prince Lane in Palm Coast between Oct. 24 and 25.
$200 reported stolen, allegedly by an employee, at Carmine Celery Pizzeria on Flagler Plaza Drive in Palm Coast on Oct. 25.
38-year-old woman reports being bitten by a 6-year-old pit bull while walking near 45 Wheatfield Drive, where the dog owner lives.
$34 in cash and a few prescription pills stolen from a purse hung on a hook in a bathroom at Florida Hospital Flagler on Oct. 26. The purse owner had used the bathroom and left, then remembered that the purse had been left in there.

DUI Arrests
Donald Gordon, 45, of 67 Woodlawn Dr., Palm Coast, on Oct. 25.
Melissa L. Enzweiler, 43, of 10 Packard Lane, Palm Coast, on Oct. 24.
John Johnson, 32, of 12 Seaman Trail, Palm Coast, on Oct. 22.