The following incident and arrest information was compiled using official documents, reports and affidavits obtained from government and law enforcement agencies. This feature is not inclusive. It is a sampling of reported incidents in the Flagler County area. Note: The U.S. legal system provides the presumption of innocence to those charged with a crime until guilt is proven in a court of law.
The previous crime report is available here.

A Man Is Accused of Raping His Wife
Chhom Chann, a 40-year-old resident of 15 Prosperity Lane in Palm Coast, is at the Flagler County jail on $100,000 bond, facing three felony charges, including sexual battery–otherwise known as rape–false imprisonment and aggravated assault with a deadly weapon after he allegedly forced his wife to have sex with him, tied her to a chair, struck her in the face and and cut off her hair against her will. A police report states that Chann carried out some of the alleged offenses in front of the couple's children. According to the victim, as related in Chann's arrest report, he confronted her on March 29 about his suspicions that she was cheating on him. He took her to the bathroom, and when the children left, he allegedly forced her to undress, tied her hands behind her head with a pair of pantyhose, forced her to give him oral sex and penetrated her with his fingers against her will. He then allowed her to leave the house to bring back one of their children, only to then allegedly confront her again with a knife, cut her hair off, break her glasses and say: "You're lucky I don't cut you to pieces." One of the children was present during that incident and provided the details to police, saying that he struck his wife several times. When police confronted Chann, a native of Cambodia (where ritual hair-cutting has its place only in Buddhist marriage ceremonies), he said: "I know you're here to arrest me for cutting my wife's hair off." The report states that Chann "showed no remorse for his actions and for putting his children through this." One of the children told police that over the years there'd been numerous incidents of domestic violence and anger issues, along with Chann's drinking.
Four Palm Coast Teens Arrested for Burglary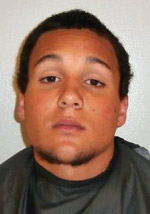 Flagler County Sheriff's deputies arrested four Flagler County teenagers Thursday evening (March 28) on charges of felony burglary and misdemeanor criminal mischief after deputies found them inside a vacant Palm Coast home. The property manager for the home at 9 Pine Ash Lane reported the burglary at 9:16 p.m. when he visited the home to check on the progress of some interior work. The manager told deputies arriving on the scene that he heard movement coming from the second story of the residence. Deputies entered the home and as they walked up the stairs to the second story, they encountered four males and one female in the hallway. All four were arrested and deputies recovered small amounts of marijuana and several packages of over the counter cold medication on the bathroom floor. The property manager reported there was an estimated $200 worth of damaged to the kitchen cabinets.
One of the four teens, D'Marcus Boyd, 18, of 34 Pine Ash Lane, Palm Coast, was additionally charged with contributing to the delinquency of a child. The other teens were ages 17, 16 and 15. "These teens put themselves and others in danger by entering this vacant home. In all but one case, there should have been some adult supervision involved with these minors. In the absence of that, we have four teens charged with felonies and that is unfortunate," Sheriff Jim Manfre said in a news release. The juveniles were arrested and released to the custody of their parents as directed by the state Department of Juvenile Justice. Boyd was booked into the Flagler County Detention Facility and released after posting $2,500 bond.
11-Year-Old Girl May Face Arson Charges
An 11-year-old Palm Coast girl may be facing an arson charge in connection with a Saturday evening fire that began in a wooded lot in Palm Coast. Flagler County Sheriff's deputies, along with the Palm Coast Fire Department, responded to a fire in a wooded vacant lot across the street from 123 Pine Grove Drive around 6:42 p.m. Deputies reported the blaze was about 15-feet in diameter with flames estimated at 20-feet high. Firefighters quickly extinguished the fire and the State Fire Marshal was notified. Deputies said the father of the Palm Coast girl believed his daughter may have started the fire with a lighter taken from his garage. The youngster set the fire with other neighborhood children, according to deputies. "We appreciate this girl's father getting involved by letting us know what may have happened," Sheriff Manfre said. "Our hope is that this child and the other children involved will get counseling on the dangers of their actions."
A Smith & Wesson Stolen from a Car at the Country Store
Brad Baxley, a 33-year-old resident of Palm Coast, drove his Chevy to the Country Store on County Road 305 on March 27 and walked into the store. Five minutes later he walked back to his truck and noticed, according to a police report, that his Smith & Wesson .38 special was missing from the glove box. The vehicle had been left unlocked when he went into the store. A Flagler County Sheriff's deputy investigating the incident asked for the surveillance video at the store. The store clerk told the deputy that there would be video–but that he couldn't access it. "I was told the owner of the system lives in China and he would have to be contacted," the deputy wrote in the police report.
Other Burglaries and Larcenies and Miscellaneous Matters
Burglary and criminal mischief–the stripping of copper wires of a home under construction at 19 Farson Lane–reported on March 26.
Jewelry and a computer stolen at 4 Princess Kim Place in Palm Coast. Thefts reported March 26.
Stolen vehicle tag reported March 26 at 6 Hargrove Lane in Palm Coast.
Utility trailer reported stolen at Tom Gibbs Chevrolet on March 25.
Vandalism–the shattering of a window–reported at 34 Roxanne Lane in Palm Coast on March 25.
Bicycle reported stolen at 15 Riviere Lane in Palm Coast on March 25.
Deputies responded to 44 Shinnecock Drive, in Grand Haven, on March 25 in early afternoon, following up on the report of a dead person in a van. The person, Robert Cherry, 53, was pronounced dead by paramedics. No foul play was involved.
Cash reported stolen at 5234 East State Road 100 on March 25.
Jewelry, a watch, a spring-loaded 6-inch tactical knife and Calvin Klein cologne and a 2-litre bottle of Sam's cola reported stolen at 2580 Beach Blvd. in Bunnell on March 27.
Trailer tag reported stolen at 7 Big Dipper Lane in Palm Coast on March 25.

DUI Arrests
Andre M. Nobles, 45, of 16 Fernmille Lane, Palm Coast, on March 25.
Susanne Cerullo, 54, of 7 Birchwood Drive in Palm Coast, on March 28.
Fernando Miranda, 42, of 86 Ann St. in Newark, N.J., on March 29.
Elaine M. Plumley-Tilton, 45, of 544 County Road 205, Bunnell, on March 29.
Jack E. Pilot, 20, of 1224 S. Daytona Beach Ave., Flagler Beach, on March 31.

Flagler Jail Bookings, April 28-April 1, 2013

Flagler County Jail Bookings, March 27-28, 2013