The following incident and arrest information was compiled using official documents, reports and affidavits obtained from government and law enforcement agencies. This feature is not inclusive. It is a sampling of reported incidents in the Flagler County area. Note: The U.S. legal system provides the presumption of innocence to those charged with a crime until guilt is proven in a court of law.
The previous crime report is available here.
Homeless Man Is Tased and Chased Into the Ocean. He Was Trespassing.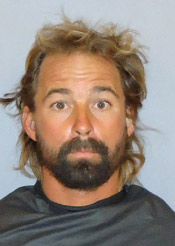 Joseph Carter is 35. He is homeless. On July 18, a Flagler Beach cop was attempting to serve him with a trespass warning when Carter began to elude the cop. The cop found him on South Daytona Avenue in Flagler Beach, called out to him, and asked him what he was placing in his shorts. A police report states that Carter appeared to be placing "a piece of wood and what appeared to to be a small shovel head" in his shorts. Carter said he had nothing. The cop told him he was trespassing, and to come to him. Carter turned to walk away. The cop grabbed his arm, according to the police report. Carter "immediately jerked away and became very agitated," and again turned away and began to leave, according to the report. The cop then "attempted to bring the subject back and he became hostile; dropped the items in his right hand and stood in a fighting position." The cop, in the police report, says he attempted to take out his baton, when Carter "became violent and struck me on the right jaw with his left fist. I then struck [Carter] in the upper thigh and he did not move and began to swing at me again. I then called for back-up and the defendant came at me again swinging both hands and then he began to run away. A foot pursuit began as [Carter] began to run east on 4th St."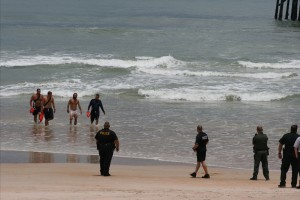 At 4th and South Daytona Avenue, Carter told the cop: "Stop chasing me, I love you, god loves you." Carter then, according to the report, began yelling and cursing and allegedly refusing to hear commands to stop and lie on the ground, instead taking fighting positions and clenching his fists, "gritting his teeth, and lean[ing] forward in a violent manner," according to the report. Another cop took out his Taser and Tased Carter, who nevertheless freed himself from the darts and ran off toward the Flagler Beach Pier. He ran onto the beach and swam out. Several Flagler County Sheriff's units joined the chase, including K-9 and ocean rescue units. Flagler County Ocean Rescue and a Flagler Beach firefighter swam out to the end of the pier, where the defendant was treading water and "became in distress," according to the report. He was then brought back to the beach and arrested on a charge of resisting arrest with violence, and a charge of battery on a law enforcement officer.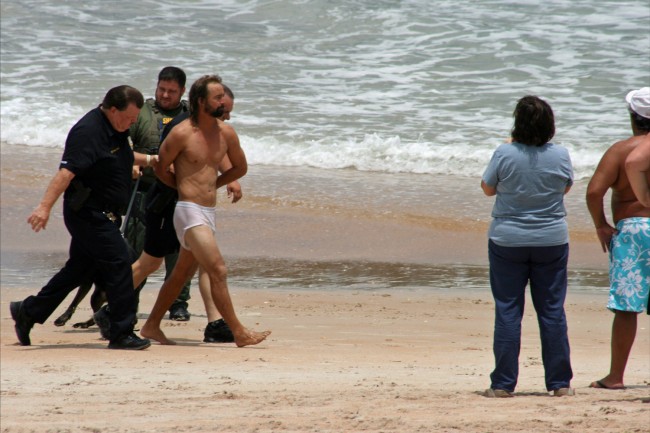 Charged for Assaulting a Police Dog That Was Subduing Him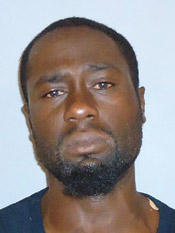 Flagler County Sheriff's deputies were serving a warrant at 11:45 p.m. on July 13 at 5 River End Place in Palm Coast, where they established a perimeter "due to the nature of the warrants," according to a police report. The report continues: "Contact was then attempted at the front door with Quinten Scarbo reference two active warrants out of Jacksonville Florida." Scarbo is a 25-year-old resident of River End Place. "Quinten was observed by FCSO K9 Deputy Dailey near the back porch area. When Deputy Dailey identified himself, Quinten ran to the front of the residence. Deputy Dailey then deployed his K9 partner Reno, who gave chase. Quinten continued running and jumped into the back of a neighbor's pick-up truck. K9 Reno proceeded to follow Quinten into the back of the pick up truck and at this time Quinten jumped out and proceeded to run. K9 Reno followed, and was able to apprehend Quinton in the front yard of 7 River End Place. While Quinten was being apprehended by K9 Reno, he was actively fighting him, striking him multiple times." A deputy took out his Taser and fired activated it against Scarbo, who was then placed under arrest and charged with resisting arrest without violence and battery on a police dog. Scarbo was treated on scene by Flagler County Fire Rescue paramedics and taken to Florida Hospital Flagler before being booked into the Flagler County jail. Scarbo faced a burglary and criminal mischief charge from the earlier warrant. He posted $80,000 bond.

Arrested and Accused of Attacking Her Step-Son in the Hospital
Brandon Swartz, 21, had been staying at his grandmother's at 62 Fort Caroline Lane in Palm Coast, along with his father, Scott Swartz, 45, and his step mother, Rose Swartz, 28, as Brandon's grandfather was terminally ill. The three do not reside at the house but are staying there temporarily to be close to Brandon's grandfather. According to a police report, Brandon on July 10 said he got in a verbal argument with Scott during the evening. Scott told Brandon to leave and then forcefully removed him from the house. "While forcefully removing him, Brandon struck his arm on some items in the residence causing several small lacerations on his left arm. Brandon requested a Rescue unit and was transported to Florida Hospital Flagler at his request," the report states. The grandmother, Rose, and Scott all said that Brandon has been stealing and consuming his grandfather's pain medication while also using illegal narcotics, according to the report. The three were upset about Brandon's actions and requested he leave. Brandon refused to leave therefore Scott attempted to forcefully remove him, the report states. Scott was subsequently arrested on a local warrant during the investigation.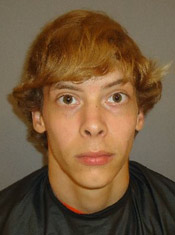 Later that evening, when Brandon was at Florida Hospital Flagler, Rose "went into Brandon's hospital room and verbally attacked Brandon," a police report states. "She then struck him in the left side of the head. Brandon advised that Rose was escorted into his room by nurses at the hospital. He advised that she shut the door behind her and then came over to the left side of his bed. He advised that she was screaming and stated, 'What is wrong with you?' He advised that she then hit him on the left side of the head near his temple." Brandon wanted to pursue charges for domestic battery. He signed charges and Rose was placed under arrest. She was transported to the Flagler County Jail. She had a Crown Royal bag with .44 magnum rounds and .22 long rifle rounds in her purse, according to the report. The items were placed in evidence for safe keeping. Nine days later, Swartz, of 62 Fort Caroline Lane in Palm Coast, was arrested and jailed on a charge of grand theft over $300, and a charge of dealing in stolen property.

$1 A Beer: Another Under-Age Drinking Party, This Time on Ridley Place
It was July 15 at about 1 a.m. Deputies responded to 32 Ridley Pl ace in Palm Coast after a noise complaint at a house party. Cops spoke with Thomas J. Entress, 28, a resident of Ridley Lane, who said that, according to a police report, "he was having a couple of friends over and they were having a small gathering." The reporting deputy picks up the narrative: "As I was speaking with Entress multiple people were running from the rear of the residence through the wood line to vehicles and leaving the area. One of the persons stopped was a [juvenile] who advised that he was at the party and he had consumed alcohol at the party. [The juvenile] is 17 years old. Entress was secured pending the investigation and escorted law enforcement into the residence, inside the house was approximately 80-100 people, only a handful were of legal age, 21 years or older. The party had people from 16-20 years of age. Multiple persons fled the area in the bushes and from the windows of the residence. Inside the residence we located a female [name redacted] who admitted to drinking alcohol and is only 16 years old. Additionally a subject, Michael Seyfried, who initially fled from law enforcement, leaving his wallet at the residence, was located down the street highly intoxicated. Seyfried is 19 years old. Upon clearing out the throngs of people, located in the house was a keg in the backyard, multiple tables of beer pong, multiple beer bottles, open containers of Bacardi Rum, and Crown Royal. A sign on the refrigerator of the residence said '$1 a beer.' Entress was placed under lawful arrest for hosting an open house party and contributing to the delinquency of a minor, 3 counts, and was transported to the Flagler County Inmate Facility without incident." He posted $2,000 bond and was released. On July 12, Entress had changed the cover photo on his Facebook page to that of a house party. See below.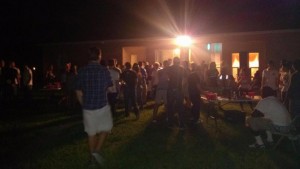 A Grandmother Living in Fear of Her Own Grandchildren
Mary Lee, a 79-year-old resident of Rockefeller Drive in Palm Coast, lives with her granddaughter Jestina Lee, 18, and her grandson Jerry Jayquan Lee, 19. Mary told cops that about a month ago she had open heart surgery, and is now still recovering. She said she is being disrespected by her granddaughter and grandson. She told cops she has taken care of both grandchildren since they were little. She said their father cannot care for them and that their mother died years ago. On July 15, she asked Jestina to clean the kitchen. She said she has asked her several times over the past few days and Jestina refuses to do so. Mary told cops that Jestina was "pointing her finger in her face while yelling at her," according to a police report. "She said she feels very threatened by Jestina's verbal abuse and her hand gestures. She said she is always under stress from them both and would like assistance with the eviction process." Mary told cops that "Jerry is always using her vehicle and she feels she can't tell him no. She said she has no other choice but to seek law enforcement assistance because she is in fear living in her own home." While on scene, a deputy's report notes, "Jestina refused to leave for the day. she was very disrespectful and argumentative towards M. Lee. M. Lee said that Jestina has lived in the Children's Methodist Home in the past for her behavioral issues and that she was told by case workers not to bring her back into the home." The state's abuse registry was informed of the incident, as was the Flagler County Sheriff's victims' advocate.
Anthony Capitola Arrested Again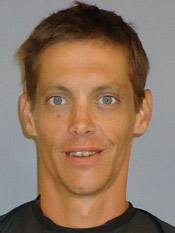 A deputy responded to 2 Boulder Rock Drive on July 11 where a 42-year-old male victim told a deputy he'd walked to the Shell gas station to purchase a beverage when, on leaving the station, he was confronted by Anthony Capitola, 32. Capitola called the victim a snitch, according to a police report, because he had filled out a complaint against him in reference to a prior larceny incident, which had occurred in Flagler Beach. The victim said that when he tried to walk away from Capitola, Capitola followed him, then allegedly grabbed the victim's t-shirt with his left hand and struck him once with his right closed fist. The victim said Capitola then left the scene in a gray medium sized truck. Responding units attempted to locate the suspect and his vehicle, but were initially unable to do so. The victim had a small laceration above his left eye. Medical units responded to the scene and the victim refused medical treatment, but wished to pursue charges. A deputy meanwhile located Capitola at 10:43am, in response to a suspicious vehicle in the area of 12 Ulong Place in Palm Coast, where Capitola was arrested on a simple battery charge. In May 2010, Capitola had sent deputies on a foot and K-9 chase across the P Section in Palm Coast–he'd set off on foot after he was pulled over for not stopping completely at a stop sign–where he was finally subdued with a Taser.
A Car's Window Smashed In at Imagine School at Town Center
A Flagler County Sheriff's deputy was dispatched to Imagine School at Town Center just after 4 p.m. on July 16 where a 66-year-old victim reported that between 12:30 p.m. and 4 p.m., someone broke the window on her 2002 Chevrolet Blazer and took her purse, which was under her passenger seat. The victim said that around half past noon she returned to the school after getting lunch. Around 4 p.m., the parent of a student told school officials that a Chevy Blazer had a hole in its window. It was the rear passenger side window. There is no surveillance camera coverage in the area in which the vehicle was parked.
The victim said the only thing that was missing was her cream colored purse with braided straps, which contained her
red flip open wallet and several other miscellaneous items, including a Florida driver's License. A deputy attempted to pull finger prints from the car. The results were poor. But those results were submitted to the Florida Department of Law Enforcement because of the frequency of car break-ins in the area.

Other Burglaries, Larcenies and Miscellaneous Matters
Gift cards, purse and hearing aide stolen at 82 Pritchard Lane in Palm Coast on July 14.
Tag decal stolen from a Ford Taurus at 56 Club House Drive in Palm Coast sometime between July 9 and 16.
Tag decal stolen from a Suziki motorcycle license plate parked at 5862 North Oceanshore Boulevard on July 14.
Clothes, Victoria's Secret bras, a Nike gym bag, an iPhone charger, a wallet and a Florida learner's license stolen from a Chevrolet Impala parked at Cracker Barrel iN Palm Coast in late afternoon July 16.
A 35-year-old woman riding her bike down Utah Place in Palm Coast was bitten by a German shepherd belonging to Rhonda Walsh, a resident of Utah Place.
A purse, wallet and cash were stolen from a Chevy Blazer at Imagine School at Town Center on July 16. The car's
A 55-year-old woman reported to cops on July 14 that while she was at the skate park at Ralph Carter Park in Palm Coast, she inadvertently hurt her shin with a skateboard, and while sitting to care for it, someone stole her $50 digital camera, $30 in cash and some Oxycodone pills after she'd left her purse on the sidewalk outside the skate park.
An unlocked Chevrolet Cavalier, with the keys left in the passenger seat, was stolen from 3 Indian Mount Court in Flagler Beach the morning of July 11.
Ignition key and key fob-remote stolen from a Toyota Solara at 8 Brackwood Lane in Palm Coast.
2003 Nissan Altima left idling in front of a business at 870 Palm Coast Parkway after 11 p.m. the evening of July 10 was reported stolen. The car was left idling, the victim said, because of an ignition issue.
Lock on sliding glass door reported broken, and pry marks found, at 7 Royal tern Lane in Palm Coast. Criminal mischief reported on July 10.
Jason lee Rogers, 28, of 7 Press Way in Palm Coast, arrested and jailed on a charge of assault and battery following a house party at the same address on July 10.

DUI Arrests
Keith A. Stifnell, 36, pf 37 Banton Lane in Palm Coast, on July 7.