The following incident and arrest information was compiled using official documents, reports and affidavits obtained from government and law enforcement agencies. This feature is not inclusive. It is a sampling of reported incidents in the Flagler County area. Note: The U.S. legal system provides the presumption of innocence to those charged with a crime until guilt is proven in a court of law.
The previous crime report is available here.

Pot-Dumping on Colbert Lane
Before 10 p.m. on April 6 a Flagler County Sheriff's deputy Daniel Weaver was patrolling the area of Colbert Lane and Blare Drive in Palm Coast when he performed a traffic stop on a red Buick due to an inoperable tag light. Immediately after turning on the cruiser's emergency lights, the right-front passenger in the Buick–19-year-old Michael Scarpa of Flamingo Drive in Palm Coast–threw items out the window, according to a police report. The dark clumpy objects hit the cop's windshield, and were, according to Weaver, "consistent with cannabis," or pot. "I then activated my emergency siren in an attempt to have the vehicle pull over to the side of the roadway," Weaver reports. "I observed the driver of the vehicle, now known to me as Donovan Ruiter, looking backwards at my patrol vehicle through the rear-view mirror." Ruiter is a 19-year-old resident of Oceanshore Boulevard in Ormond By the Sea.
Weaver then "began observing Donovan shoving his hands towards the waist area of his person and looking straight down as well while driving. Michael continued to throw dark small objects out of the front passenger window as the vehicle continued to travel at approximately fifty miles per hour on Colbert Lane. I was able to illuminate my spotlight through the rear window and directly on the front passenger window and saw Michael's arms continually being brought up to the window at which point objects were being thrown out of the window." There was a 17-year-old girl in the rear passenger seat of the Buick, who kept looking back. Ruiter continued traveling down Colbert for about seven-tenths of a mile before eventually pulling over, though Weaver notes that the entire time the road had wide grassy shoulders suitable for pulling over.
He took out his Glock, approached the vehicle and ordered all the occupants to keep their hands up in the air. Weaver describes the scene: "As Michael was exiting the vehicle I grabbed ahold of his right wrist and escorted him to the ground on his stomach and secured him in handcuffs. I continued to order the other occupants of the vehicle to keep their hands in the air raised until back up deputies arrived on scene. Michael began to scream and yell about being beaten up and yelling for the other occupants of the vehicle to record the incident. Michael also stated that he was going to sue the Sheriffs Office and me. The occupants in the vehicle were moving around and kept moving their hands towards their waists and I had to repeatedly instruct them to keep their hands up in the air. Upon Deputy Barile's arrival the other occupants of the vehicle were secured in handcuffs. While Michael was on his stomach he began stating that his right thumb had been previously broken and that I was hurting him by grabbing his thumb. It should be noted that I had a grip ahold [sic.] of Michael's hand and was not gripping his thumb. I then transitioned to Michael's left hand after the scene was secure, due to his complaint of a previous injury."
The vehicle smelled of pot, according to the report, and while searching Ruiter a plastic baggie containing cannabis fell out of his pants pocket. There was 7.9 grams in the bag. Small amounts of marijuana or stems of it were spotted in the car as well as–with a K-9's help–in the area where the deputy had seen Scarpa throw stuff out the window, despite the windy conditions. The 17-year-old girl gave deputies more details about what was thrown out and what the two men had allegedly told her to tell deputies while negotiating pulling over. Scarpa himself told deputies, according to the report, that he knew there was pot in the car but wasn't involved in dumping it. Both men were taken to the jail, under arrest. There, Ruiter was asked if he had any drugs on him. He said no. The report states that he was warned that if drugs were found he'd face a felony for bringing in contraband into the facility. At intake, that's just what deputies found, according to the report–"a small pink color baggie with cannabis residue in a hidden Velcro compartment in Donovan's right show," and another small amount of pot in a different pocket.
Scarpa was charged with possessing marijuana under 20 grams (a minor charge) and tampering with or destroying evidence. He posted $2,000 bond and was released. Ruiter was charged with possessing less than 20 grams of pot, fleeing and eluding, and introducing contraband into the jail. He posted $2,500 bond and was released.
A Chase Out of Taco Bell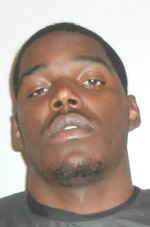 Kevin L. Spearmon was familiar to Flagler County Sheriff's deputy Augustin Rodriguez, who knew of a warrant out for Spearmon on a drug charge. (He'd been arrested four previous times in Flagler County.) On April 7, Spearmon was parked in a car at Taco Bell on Palm Coast Parkway, backed in. Rodriguez walked up to him. "Kevin, get out of the car," the deputy said, flashing a light into the car. Spearmon, according to a police report, started the car and fled. A chase ensued–on Palm Coast Parkway and the parking lot of Bealls, where the deputy turned off the emergency lights and, out of safety, decided to keep a visual on Spearmon from a distance. Spearmon took Cypress Point Parkway, weaving in and out of traffic, then south on Belle Terre Parkway, speeding, where other deputies were able to see the car as well. Spearmon allegedly blew through a red light at Whiteview Parkway, following which another deputy activated his emergency lights and set chase. By the time Spearmon crossed Pine Grove Drive, he was going 100 mph, according to a report. Again, the chasing deputy deactivated his lights and aborted the chase, out of safety. Spearmon was seen making a left onto Ponce de Leon Drive. The car's lights were turned off. And at 1 Philox Lane, Spearmon left the car and fled on foot toward Phoenix Lane. Spearmon was arrested in front of 9 Phoenix Lane. He was arrested on the drug-sale warrant, and additionally charged with aggravated fleeing and eluding, driving on a suspended license (a habitual felony), possessing marijuana (under 20 grams), possessing oxycodone without a prescription, and resisting arrest without violence.
Bunnell Commissioner's Son Files Battery Charge Against Fellow-Inmate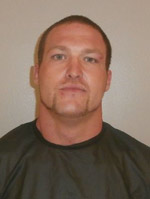 Ryan Rogers, the 22-year-old son of Bunnell City Commissioner John Rogers, has been in and out of jail for several years, serving a 24-month prison sentence (with 33 days' credit) in 2011 over a probation violation. He was jailed again in March on a grand theft charge, on $5,000 bond. He remains at the jail. On April 7, Rogers filed a battery charge against fellow-inmate Andrew Hubbard, who was in jail on a grand theft charge. Rogers said that the previous day he had two bags of chips stolen from him on Cell Block C. Rogers asked deputies to review the surveillance video to find out who had stolen the chips, according to a police report. An inventory of inmates' property was conducted. On April 7, according to Rogers, Hubbard approached him and told him to get out of Cell Block C unless he gave him his food "cantina." Rogers, who has experienced a year of state prison, refused. According to the report, Hubbard then allegedly started "striking him with a closed fist about the head and body." Rogers denied medical attention and displayed no visible injuries, according to the report. Hubbard would not give a statement, asking deputies only to check the surveillance video.
Bunnell Employee Arrested in Domestic Dispute
Laura L. Kaylor, a 58-year-old Bunnell resident and meter reader with the city's utility department, was arrested on April 8 following a domestic dispute. on Ohio Avenue in Beunnell. A deputy was called to Florida Hospital Flagler where Russell Dunkley Jr. reported being stabbed. Dunkley refused to talk about the incident beyond giving his name and saying he was stabbed. After a deputy spoke with him for a while, Dunkley said his girlfriend had stabbed him, but added: "I don't want to do anything about it." He refused to give his address. But deputies located several possible addressed for him, according to the report, showing up at 181 Ohio Avenue, where Kaylor said Dunkley was a resident there. She said there'd been an argument, that Dunkley was "extremely intoxicated," according to the report, that he hadn;t liked what she'd cooked for him and that she'd drunk two of his beers. "Russell began throwing things and ran toward Laura who was still sitting at the kitchen table with a knife and fork in hand, eating dinner," the report states. "Due to him being intoxicated Laura put her hands up to stop him from running into her and he ran into the knife." She was arrested on an aggravated battery charge. A Bunnell city official described Kaylor as "a model employee" who, when the city had to make decisions on who to lay off in previous years, weathered the lay-offs because of her work ethic and other qualities.
An Explosive Suspicion in a Palm Coast Garage
The afternoon of April 5, Christine Croteau, a 38-year-old resident of 2 Princess Geraldine Place, told a deputy that as she was recently cleaning out her neighbor's garage at 3 Princess Geraldine Place, she found what looked suspiciously like C-4, the explosive. She said that the elderly woman who'd just moved out of 3 Princess Geraldine Place used to serve in the Polish military, that she was very "strange," and that she kept a lot of odd memorabilia around her home. "Croteau took the suspicious substance out of her residence and placed it on the ground in the street in front of her home," the police report states. "The substance was green and had a clay-like texture to it. There were metal caps on the end of it with the numbers '7169' inscribed. Cpl. Reckenwald looked over the substance and felt that there was a possibility that it could be a plastic explosive of some sort." The St. Johns County Sheriff's Office's Explosive Ordinance Disposal Unit, also known as its bomb squad, was summoned. Residents at 2 and 4 Princess Geraldine Place were evacuated for their safety. The incident had been reported in early afternoon. The bomb squad arrived at 9:30 p.m. "After a lengthy investigation by Explosive Ordinance Disposal Unit, the suspicious substance was discovered to be a clay epoxy containing Saponite and several other non-explosive minerals," the report states. "Once deemed to be safe, the substance was returned to the residence."
Other Burglaries and Larcenies and Miscellaneous Matters
John C. Schmitt, 26, of Fernham Lane in Palm Coast, was arrested on April 5 for possession of drug paraphernalia.
Truck tires on a vehicle at 17 Llach Court in Palm Coast purposefully punctured. Incident was reported on April 6. A similar incident reported at 15 Lloyd Trail.
Burglary reported at Matanzas Woods Club House on April 4, where the club house, long abandoned, was damaged, with debris scattered in the building and "I love Tyler" spray-painted on a walls.
Dog bite reported on April 6 on a 25-year-old victim and resident of 16 Felling Lane, by a dog at 27 Fenton Lane. The dog was quarantined for 10 days.
Methadone and oxycodone prescription medicine reported stolen at 6 Holly Road in Palm Coast on April 7.
Driver's license, credit and debit cards, medication and other items stolen from a car parked at Flagler Estates on April 7. The car owner and family had parked the car there to go ATV riding.
Seven planters full of geranium flowers valued at $175 reported stolen at 77 Rickenbacker Drive in Palm Coast on April 7.

DUI Arrests
Aaron J. Bradshaw, 30, of 135 Wellington Drive, Palm Coast, on April 11.

Flagler County Jail Bookings
Flagler Jail Bookings, April 12-15, 2013

Flagler Jail Bookings, April 11-12, 2013

Flagler Jail Bookings, April 10-11, 2013

Flagler Jail Bookings, April 9-10, 2013