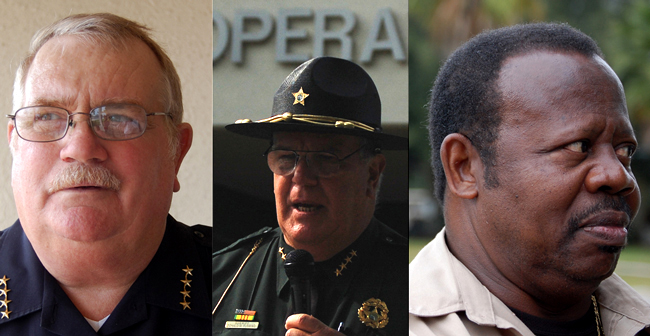 Crime in Florida is down 4.8 percent for the first half of 2010 over the same period last year, according to figures released today by the Florida Department of Law Enforcement. In Flagler County, the overall crime index actually rose 0.6 percent, even though crime fell in six of seven categories, including every violent-crime category. Fewer robberies, rapes, car thefts and aggravated assaults were offset by a significant increase in burglaries.
The figures are part of the 2010 semi-annual Uniform Crime Report, which provide a preliminary indication of this year's crime figures.
Total violent crime in Florida (murder, forcible sex offenses, robbery and aggravated assault) is down by 10.7 percent for the first six months of the year while total non-violent crime (burglary, larceny and motor vehicle theft) declined 3.8 percent. The report showed a 6.1 percent decrease in the number of forcible sex offenses, a 17.1 percent decrease in robberies, an 8.9 percent decrease in aggravated assault, a 5.5 percent decrease in burglary, a 1.7 percent decrease in larceny, and a 17.3 percent decrease in motor vehicle thefts. The number of murders increased 3.6 percent. Domestic violence offenses declined 2.4 percent.
In Flagler County, no murder was recorded in the first six months of the year (compared to one last year), and reported forcible rapes were down from nine last year to seven this year. The figure is generally deceptive: Many rapes, especially between spouses and partners or in incestuous situations, go unreported. Robberies were down 27 percent, from 22 last year to 16 this year. Motor vehicle thefts were down from 62 last year to 36 this year, a 42 percent decline. Larcenies, at 772 cases, were almost unchanged from last year's 774. But burglaries increased 44 percent, from 224 last year to 302 this year. The overwhelming majority of those crimes take place in Palm Coast.
There were 1,641 arrests in Flagler County in the first six months of the year, a 2 percent increase over the 1,607 arrests recorded in the same period last year. Of those arrested (this year), 93 percent were adults.. The Flagler County Sheriff's Office accounted for the largest number of arrests by far (72 percent), but continuing a disturbing trend that Bunnell City Commissioner Elbert Tucker has referred to frequently this year, including before his commission, the Bunnell Police Department accounted for a disproportionate share of the remaining arrests, with 255–three and a half times the number of arrests in Flagler Beach, a city with almost twice the population of Bunnell.
The Florida Highway Patrol made 103 arrests in the county in the first six months of the year, and the Florida Game Commission made 29 arrests.
Gov. Charlie Crist, who is running for U.S. Senate and is losing that race to former Florida House Speaker Marco Rubio, used today's crime-figure announcement to his political advantage. To help address a 5.8 percent increase in domestic violence murder, and in recognition of October as Domestic Violence Awareness Month in Florida, Crist announced a pilot project in Manatee and Sarasota counties aimed at helping survivors of domestic violence connect with employment opportunities and maintain self-sufficiency.
"By assisting survivors of domestic violence who need help finding work, we can help prevent individuals from feeling financially trapped in an abusive relationship," Crist said in comments conveyed by FDLE. "I commend Florida's law enforcement agencies for their commitment and dedication to keeping Floridians and visitors to our state safe. We must never forget that each crime represents at least one victim, and we must continue to be ever vigilant to do all we can to keep our communities and neighborhoods secure."
FDLE Commissioner Gerald Bailey was joined at the Capitol by Leisa Wiseman of the Florida Coalition Against Domestic Violence and Director Cynthia R. Lorenzo of the Florida Agency for Workforce Innovation. Workforce Florida Inc. is providing the $500,000 grant and working in partnership with AWI and Suncoast Workforce, which serves job seekers in Sarasota and Manatee counties, to develop and implement the pilot project.
"The first six months of the year typically provide a good picture of where we are going the rest of the year, and the fact that we had 19,000 fewer crimes is a positive sign," Bailey said. "The men and women in law enforcement are working hard across our state."
The pilot project will provide funding to Suncoast Workforce to collaborate with local domestic violence victim advocates to develop effective strategies to provide workforce services such as training, targeted case management, support services such as child care, and job placement assistance that will help survivors obtain new and better jobs to ensure self-sufficiency.
"This is an outstanding partnership that will help address key barriers survivors face when leaving an abusive relationship," said Tiffany Carr, president of the Florida Coalition Against Domestic Violence. "The message we hear from survivors is that economic self-sufficiency for themselves and their children is vital to moving on with their lives and away from the abuse."
This new initiative will include an evaluation component that can be used to help other Regional Workforce Boards replicate the model, and will incorporate outreach strategies to provide information on available workforce services and programs to the support agencies that assist families and individuals affected by domestic violence.
"This innovative and meaningful project will provide dedicated resources to Sarasota and Manatee families to address specific employment, job readiness and reemployment needs so survivors can be self-sufficient and their families safe," said Director Lorenzo. "We are proud to partner with the Florida Coalition Against Domestic Violence to provide another tool to help survivors achieve the bright futures they deserve."
The state's Unified Crime Report includes data submitted by 405 of the state's 416 law enforcement agencies for crimes reported from January through June of this year. This represents 97.3 percent of local, county and state law enforcement agencies. The report reflects crime volume only; crime rate, which takes into account population, is calculated in the annual report. The 405 submitting agencies represent 99.1 percent of the total population of the state.