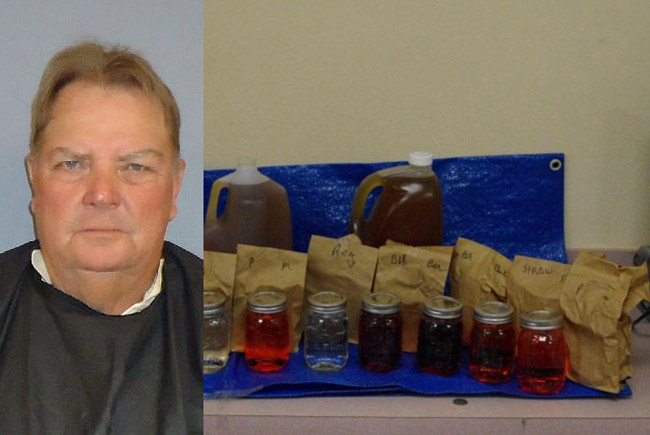 Like most moonshine producers in the country–a dying breed plying a dying tradition–Bob Tibbs is almost old enough to have been baptized with celebrations from Prohibition's repeal: he's 70. (There are very few moonshine produces younger than 60, even in Appalachia, the Mecca of moonshine in America now that northeast Texas moonshiners, old standards in the trade, are dying off.
Tibbs, who lives and operates his business on County Road 325 in Flagler County, was briefly at the Flagler County jail today before posting $5,500 bond, for possessing more than a gallon of moonshine, "or whiskey," as his booking sheet notes soberly. (The word originates from the 15th century, perhaps referring to work done by moonlight, and has come to refer to illegal liquor–corn whiskey or other types of spirits made with fermented fruit.)
Reached by phone at his home later in the day, Tibbs was surprised to have been arrested. "I thought you could make so much of it," he said. He'd learned to make it only recently, he said, watching "Moonshiners" on the Discovery Channel a show that, according to its website, "tells the story of those who brew their shine — often in the woods near their homes using camouflaged equipment — and the local authorities who try to keep them honest."
Moonshining in Florida is indeed illegal, whatever the amount. Possession of "less than one gallon of liquor, as defined in the Beverage Law" is a second-degree misdemeanor. Possessing one gallon or more is a third-degree felony.
Tibbs says he doesn't drink the stuff himself, which he compares more to vodka than whiskey ("it runs clear," he says, though many of the jars cops found with him had amber and orange hues worthy of the finer spirits), with an alcohol content closer to 50 percent than 40 percent, and with many uses: "It runs good in my lawnmower," he says. "I just make it for people that wants it made," he said. As far as he's concerned, he can't touch it because of bad kidneys and his dialysis treatment.
He claims he's only been making it for "a couple of months," a timeline that, in light of investigators' revelations today, strains credibility. Then someone was at the door, and Tibbs excused himself.
Tibbs was arrested by a Flagler County Sheriff's deputy after the deputy got a tip that Tibbs was going to be driving his red Dodge pick-up to Bunnell, and that he was going to be carrying moonshine, a word the police report places between quotes. The tipster had told the cop that Tibbs would be setting up his truck on U.S. 1 in Bunnell, on a grassy lot, to sell shrimp by roadside.
It wasn't, of course, an errant tip: Tibbs had been under investigation for weeks, and had sold moonshine to undercover investigators. But the investigation itself began after cops got a tip that Tibbs was operating the still. "You can buy them over the internet," Tibbs had said by phone earlier today. He's right. (Here's an example, and another, with music.)
Tibbs also has a prior record for driving drunk and having his license revoked, so when the deputy ran his name through a database, he got his picture and his record, and recognized Tibbs as he drove north on U.S. 1, just past Drain Street. The deputy pulled him over between East Booe St. and Martin Luther King Ave., the area where Tibbs likes to park and sell. When the deputy asked Tibbs for his driver's license, Tibbs only gave his name. When information about Tibbs's driving record was confirmed, he was placed under arrest on the driving on a revoked license charge.
Only then, according to the police report, did the deputy ask him if there was anything illegal in Tibbs's truck. Tibbs consented to a search. The deputy describes what was found: "Located inside of his truck was a brown paper bag lying on the front seat. Inside of this bag were two one gallon containers. One was a 'Musselman's Apple Cider' one gallon container with a brownish tinted liquid inside and the second was an unlabeled one gallon container with a brownish tinted liquid inside. Located on the passenger side floorboard was a cardboard box containing nine small brown paper bags with written labels on the top of each bag. Each bag contained a glass mason jar with a clear liquid inside. There were two labeled 'Straw Ber,' one labeled 'Apple,' two labeled 'Blk ber,' two labeled 'Reg,' and two labeled 'P.M.'"
Tibbs was then placed under arrest.
Unfortunately for Tibbs, George W. Bush is no longer president. In 2002, Bush's very first year of issuing pardons, he pardoned Kenneth Copley of Lyles, Tenn., who had received two years probation for a 1962 conviction for selling whiskey at a time when Copley claimed making moonshine was a way of making it through hard times. Copley had long ago paid the price of his very minor crime, but the presidential pardon wiped his record clean, and gave him a tiny spot in presidential history. It could also have been part of the president's atonement for his own days as a drunk.
What authorities don't like isn't the making of moonshine so much as the selling or distribution of it outside of the state's well-regulated licensing system, which ensures that makers, distributors and retailers of alcohol are distinct entities. Excise taxes apply to beer and liquor, too, which bring in considerable revenue to the state. (If cops chased after hobbyists making beer, wine and other spirits, they'd hardly have time left for chasing after bad guys.) For example, the excise tax on a gallon of beer is 48 cents, and $2.25 on wine. On liquor, it can go up to $9.53 per gallon, depending on the alcohol content.
There's also the danger factor: moonshiners have often made their product in unsanitary canisters such as fuel drums or radiators and mixed liquids with dangerous ingredients. The results can literally be lethal.