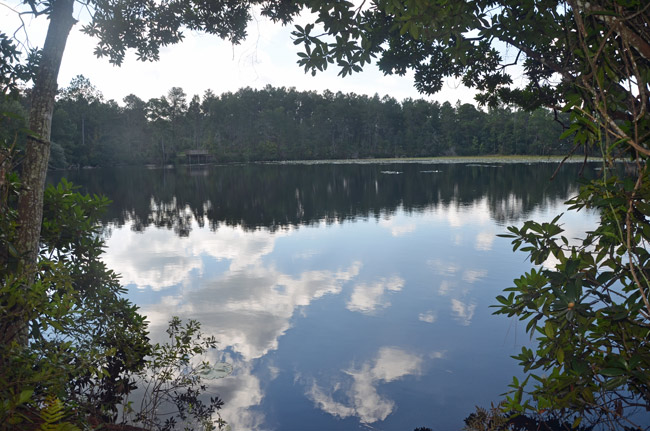 The Flagler County Sheriff's Office's wanker patrol fanned out in force Tuesday, netting three arrests in five hours at two popular county parks–Graham Swamp on Old Kings Road, and Malacompra Park in the Hammock as Flagler County Sheriff Don Fleming drew a line in the sand against public self-servicing.
The sting unfolded in much the same way in all three cases. The first, at 10:46 a.m. at Graham Swamp, involved Arthur Bellany, a 59-year-old resident of Roundmill Lane in Palm Coast. He started talking with what proved to be an undercover cop. The chat turned sexual, according to his arrest report. Bellamy then "pulled his penis out of his pants and began masturbating in front of the undercover officer." The incident occurred on the Graham Swamp trail that circles the small, water lily-covered lake there.
Next was Gary Lee Thompson Jr., 43, of West Place in Palm Coast, about two hours after the initial arrest. Same story. He began chatting with the under-cover officer, then exposed himself, and "in plain view" began pleasuring himself.
The third incident involved two under-cover detectives staked out at Malacompra Park. Just before 4 p.m., Vernal G. Arnette III, a 72-year-old resident of Palm Drive in Flagler Beach, approached both . They started chatting. The conversation turned sexual. In that case, Arnette asked the detectives to expose themselves to prove that they were not cops, according to his arrest report. "During the conversation, the defendant had his hand inside his pants, and was pleasuring himself," the report states. He then walked into the bathroom stall at the park and exposed himself while masturbating in front of the detectives.
None of the three men appears to have had prior issues with local police.
Late last month, a 52-year-old Ormond Beach resident was arrested in Flagler Beach for walking naked on the boardwalk. He wore just a hat.
Fleming said public displays of self-affection in Flagler County will not be tolerated. "Our parks and trails are there for families and residents to enjoy. They should not expect to encounter deviant behavior when they are on a family outing," Fleming said. "We will continue these operations for as long as it takes for the word to spread: Not in Flagler County."
All three men arrested Tuesday posted $2,000 bond and were released. They face misdemeanor charges of "exposure of sexual organs" and "unnatural and lascivious acts." Florida law does not specify the meaning of the word "unnatural," leaving its definition to the eye, or the limbs, of the beholder.