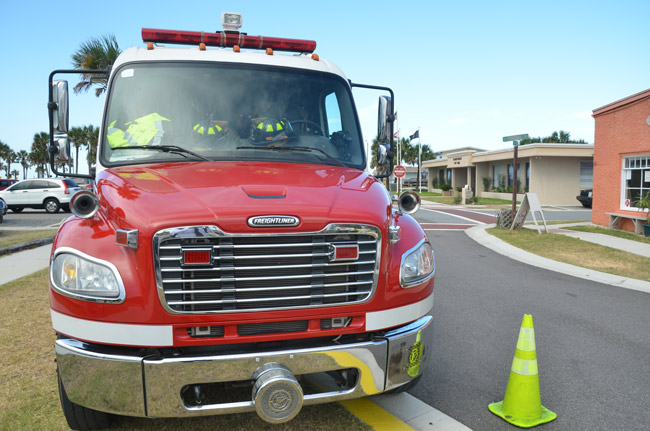 Flagler Beach Fire Chief Martin Roberts still has a job–for now. But City Manager Bruce Campbell said he is "close" to making a decision on the fire chief's fate, which will be his alone: the city commission is not involved, even though the commission held a special meeting Tuesday as a direct result of the clash that has unfolded, publicly, between Campbell and Roberts since mid-June.
That meeting was contentious and at times confusing, revealing as much dysfunction between commissioners as within some of the city's administrative channels. And commissioners differed markedly about their understanding of ethical responsibilities. But commissioners agreed, with their attorney's frequent encouragement, to clarify their guidelines and make more explict their rules controlling gifts –or "anything of value"–public employees may receive in the conduct of their job.
Commissioner Steve Settle called the special meeting and made the proposal about ethics rules. He also wants the commission to add language to the city's ordinances that would compel commissioners to report to the city manager any improprieties of note that they hear about. That proposal was not as easily accepted, especially by Commissioners Marshall Shupe and Jane Mealy, the commission chairman. Mealy said she didn't want to chill her relations with city employees to the point of silence for fear of saying something they may feel they shoudln't. "I can vote no when it comes up," she said of the proposal.
In short, Shupe and Mealy don't want to turn into whistle-blowers, preferring to leave administrative issues to the administration.
"It's none of my business," Shupe said at one point.
"It has to be, Marshall," Commissioner Kim Carney said. (Coommissioner Joy McGrew is on vacation for two weeks, and was absent.)
The commission never addressed the elephant in the room: Roberts's job, and what led to the controversy that triggered the special meeting in the first place: two trips that the fire chief or other employees took out of state in June to examine fire trucks for potential buys, without informing the city manager about the trips, although the commission–with the manager present–had officially green-lighted the shopping trips at a March meeting. The trips were paid for by the companies the employees were visiting.
The trips raised two issues, one ethical, one administrative. The ethical issue has to do with public employees receiving "gifts"–trips, meals, entertainment–which may entail city business. Settle's new rule would require employees to get written authorization from the city manager before accepting such "gifts." The manager would himself be authorized to ask the state Commission on Ethics or the city attorney for guidance.
The administrative issue is about communications: who should tell what to whom, how often, or how clearly.
"This whole thing could have been avoided if the city manager had done what he should have done," Mealy said, to groans from the audience that prompted an admonishing "excuse me" from her. "Any time the city manager believes there's something wrong, it's the city manager's job to deal with it." Campbell is contending that he did not know that the fire chief was taking the trips for city business, though there's a serrated history between Cambell and Roberts. The city manager had already warned him, in March, not to go around him to speak to commissioners about such things as truck purchases.
There has never been a question of improprieties or kick-backs in this case. Employees at the fire department were using their own time to investigate fire trucks on behalf of the city. They were not benefiting themselves. And it is common practice for fire departments to accept just such all-expenses-paid trips from manufacturers. Flagler County Fire Chief Don Petito and two other Flagler County firefighters were at the same manufacturers' plant a week before Flagler Beach's personnel showed up, inspecting a truck Flagler is about to take possession of. (The difference: that trip's cost is included in the price of the truck they were inspecting, thus eliminating the suggestion of a favor or gift.)
Still, there's no question that the trips were conducted on the truck manufacturers' dime, knowing that one of those manufacturers could score a deal with the city for a new or used truck. That's not what's endangering Roberts's job. The chief's silence about the trips is, though it appeared at times as if the entire city government knew about the trips, while Campbell did not. That may point to a deeper issue with more long-term consequences: the manager's isolation from his ranks.
Shane Wood, the fire department's second in command, spoke before the commission in a spirited defense of the department as Roberts sat to the left of the dais. (Roberts never spojke during the meeting.) After the meeting, Wood said: "I agree wholeheartedly that there was a breakdown in communication. That's what it's boiling down to, a breakdown in communications." But there were no illusions among the many firefighters at the meeting: the chief's job is in serious jeopardy.
Settle's proposals didn't make it to the city attorney's drafting table unscathed. Marshall Shupe, sounding at times bitter and describing himself as resentful of Settle's suggestions (that Shupe and Mealy were aware of the trips all along), repeatedly took issue with Settle, addressing him directly. "I think you're grabbing at straws. I understand your concern. To me this is a knee jerk reaction that we're going to go into our ordinances," Shupe said. "I think reading between the lines that there's another motive behind this but at the same time this is not an ordinance that needs to be changed the way you want it to be changed. I think this is a condition that exists between the department heads and the city manager."
Shupe, a volunteer fireman who works with the Flagler Beach Fire Department, said even if he knew of improprieties, he would not have interfered to tell the city manager. "It's my assumption that he would already know. It's not my job to tell him," Shupe said, before criticizing Settle for even implying that there were improprieties. "I resent that," Shupe said. Settle had conducted his own investigation into the fire truck issue, making public record requests for emails and other documents. Doing so, Settle said, doesn't imply wrong-doing, but merely enables someone to acquire records.
The matter isn't over. Besides Roberts's fate, the commission will have to give hearing to any ordinance changes proposed by Settle–twice, assuming the proposed ordinance survives its first reading.