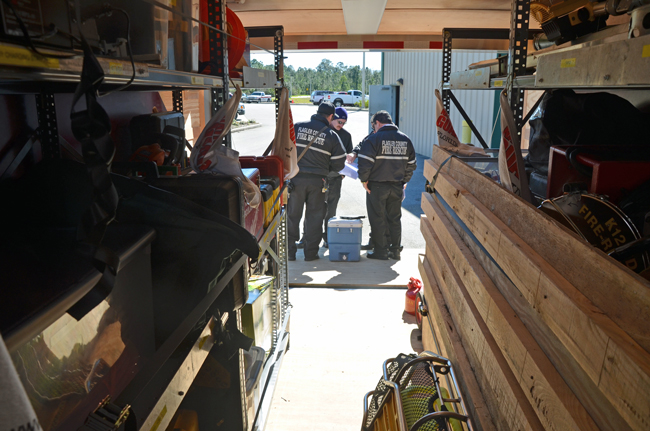 They set off at noon on Tuesday. Starting at 8 this morning, they got to work—a seven-man team of Flagler County Fire Rescue firefighters taking part in an exercise involving about a dozen Central and South Florida agencies in Palm Beach County, where the destructive aftermath of a hurricane is being simulated: collapsed buildings, entrapped people, hazardous waters, obliterated services.
Flagler County's Light Technical Rescue Team is one of 43 such teams certified across the state to take part in large-scale emergencies that would require more than a local response. That means Flagler's team may be called upon to respond anywhere in the state should the need arise. It also means that Flagler is equipped to tackle such emergencies locally with its own team.
"If there was a major incident here in Flagler County, we have the tools, the training and the assets to be able to respond quickly to any incident such as the tornado, a major hurricane, a building collapse, or any type of emergency such as that," Flagler County Fire Chief Don Petito said. "If we didn't have the state equipment and the state training, we wouldn't be able to respond to it. We'd have to rely on other people. In addition to that, we're able to help outlying or regional partners such as Volusia County, Putnam County, St. Johns County."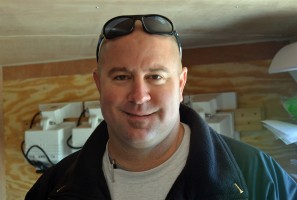 In an actual emergency, several Light Technical Rescue Teams such as Flagler's would be deployed in an area affected by a disaster to conduct immediate, first-responder type rescues before larger, so-called Task Forces arrive at the scene, with more massive equipment and personnel. A task force could number up to 100 people. Eight technical rescue teams and four task forces are taking part in today's exercises.
"Basically what separates the light technical rescue teams from the task forces is operations level or tech level," says Lt. Jason Powell, the team leader for Flagler County Fire Rescue's team. "All the tech level is your task forces. The majority of our guys are actually tech rescue, but we're basically under the state as an operations team, just because of funding."
Some 42 men and women in the county's fire department are trained and certified in the five disciplines that cover urban rescue—rescues from structural collapse, confined spaces, vehicles, trenches and rope rescues. Just seven men are taking part in the exercise, however—Lt. John Keppler, Lt. Andrew Kepler, Lt. Wayne Semenick, Firefighter John Moskowotz, Firefighter Matt Braasch, and Firefighter Dennis Moore, under the leadership of Lt. Jason Powell, a 10-year veteran of Flagler County Fire Rescue. Petito is also making the trip, but only as an observer. The state is reimbursing Flagler $5,000 to help cover overtime and other expenses.
"It's a great opportunity," Powell said as he walked through the trailer carrying his team's equipment, much of it supplied by the state. It's all self-contained, down to a power generator to keep radios and other equipment functioning anywhere. "We have to give a lot of the credit to the county for affording us this opportunity to go to these types of events. Having the skill set that 43 of our guys have really makes an impact on the county, that they should feel safe in the event that the situation should occur, they have guys that are trained to do this." The county takes part in statewide exercises twice a year. The department's personnel trains monthly locally.
"It's a great asset to have here in the county," Petito said, "because we can use it any time we need it without having to get permission from the state. Then again, when we go down to the state, like for this drill here, we have a deployment authorization from the state that allows them to pay us for going down there."
The team's "operational period" is 12 hours today, not including debriefings. The team is returning to Flagler on Friday.