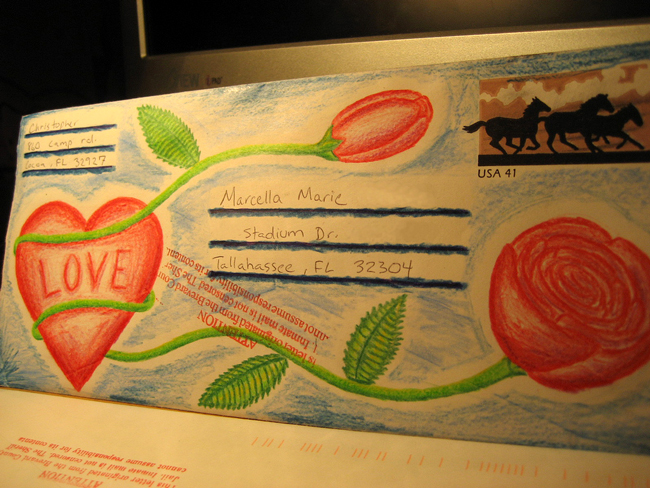 Beginning Jan. 15, the Flagler County Sheriff is banning all incoming or outgoing personal letters of any size to or from inmates at the county jail. Only metered postcards no smaller or larger than index cards will be allowed as means of written communication. No picture postcards will be allowed either way, so the ban will also mean that family or friends' personal photographs can no longer be sent in by mail. The policy doesn't apply to newspapers, magazines, religious or legal materials, though those materials must also comply with a set of restrictions.
Flagler is adopting a policy already enacted in a handful of counties in the last year, including Pasco, Manatee, Lee, Alachua and Santa Rosa. But the draconian policy, while gaining favor in Florida, remains extremely rare in the country. The ACLU of Florida and the Florida Justice Institute filed a class-action lawsuit against the Santa Rosa County Sheriff in September, challenging the constitutionality of the ban there. Two weeks ago, a federal judge suspended a similar policy in El Paso County, Colo., after the ACLU filed suit. The sheriff there then restored inmates' rights to unlimited written correspondence.
---
Click On:
The Federal Bureau of Prisons' Mail Policy
---
---
Many of the of the inmates in jail have not been adjudicated and are presumed (or supposed to be presumed) innocent. Yet Flagler's and other Florida counties' policies are considerably more restrictive than those of the Florida Department of Corrections or the Federal Bureau of Prisons, both of which allow written mail of unlimited pages in envelopes, and most of whose inmates have been found guilty and are serving sentences for crimes far more violent or serious than the overwhelming majority of inmates in county jails, including those serving a sentence. The federal policy explicitly "encourages inmates to write to family, friends, and other community contacts to maintain these ties during incarceration," and allows text-only email.  Had a policy like Flagler's been in place in local jails in Alabama in 1963, Martin Luther King would not have been allowed to mail his celebrated and influential Letter from Birmingham Jail, written in a single day in April that year from his jail cell, as a justification of civil disobedience against arbitrary and unjust laws. Three periodicals published the letter soon after it was mailed.
Details as to why the Flagler County jail was imposing the new policy were scant on Thursday. The Sheriff's Office announced the policy in a news release. "The change will free up staff time that otherwise would be used to screen the incoming and outgoing mail," jail Director Becky Quintieri was quoted as saying in the release. "It also makes the mail more secure."
Postcards must be no smaller than 3 ½ by 5 ½ inches and no larger than 4 ¼ by 6 inches (the two standard sizes of index cards). Stamped cards will be rejected. Incoming postcards must be clearly addressed with the inmate's name and booking number and may only be delivered by the U.S. Post Office or a commercially licensed mail carrier (a restriction similar to those that apply in state and federal prisons). There is no limit on the number of postcards inmates may send or receive, though beyond the two weekly pre-paid postcards provided to inmates who can't afford them, inmates must buy their own.
Speaking late Thursday on the origin of the new policy, Sheriff's Spokeswoman Debbie Johnson said there had been some cases of contraband being brought in through the mail, though the move was just as much to save on staff time, she said. "They're still going to have to read the postcards and they're still going to have to handle the mail and deliver it, but for security they've chosen to go with the postcards," Johnson said. She couldn't yet provide numbers regarding the volume of mail in question, or the amount of staff time that was taken up sorting through mail, and how much of that time would be saved under the new policy. Unlike in Santa Rosa, a jail with a capacity of 500, the Flagler jail is relatively small. It has a capacity of 132. On Thursday, it had 158 inmates.
The ban on stamps has to do with contraband, too: it can be smuggled in using licked stamps, though Johnson said the jail would not provide details. Inmates at the jail have no access to the Internet, to email, or to portable phones or communication devices. They may only use payphones through a system called Pay-Tel, which charges a flat fee of $2.25 for the first 15 minutes for local calls. Out-of-county calls in the United States cost 50 cents a minute, not including operator charges of between $1.85 (in-state) and $2.85 (out of state) per call. In other words, phone calls are expensive regardless.
Writing an unlimited number of postcards isn't a financial solution: according to the Santa Rosa lawsuit, an inmate would need to write 18 postcards, at 28 cents each, to write the equivalent of a two-page letter, costing a total of $5.04 to transmit the same amount of information.
Last year an inmate sued the Manatee County sheriff over a similar policy, but the lawsuit was thrown out before it got a hearing. "The constitutional issues have never been fully litigated in federal court in Florida," Benjamin Stevenson, a Pensacola-based staff attorney with the ACLU, said Thursday evening. Stevenson is litigating the Santa Rosa case.
"Inmates and their friends and families ought to be able to receive and send letters. That's the simple answer," Stevenson said. "These policies that needlessly restrict inmates, they not only punish the inmates, many of whom have not been convicted, but also their friends and family." When visiting hours are limited, phone calls are expensive and email not allowed, written mail is "often the only practical way for inmates to maintain contact." Beyond practicality, there's also privacy: while jail staff has the right to inspect mail, an inmate's or correspondents' words should not have to be seen by everyone else along the way, especially when medical, financial and personal family matters are at stake. It's also common that an inmate would want to write, say, to a spouse without having the inmate's child see the correspondence. That privacy is no longer possible.
Stevenson doesn't buy the argument that restricting mail to postcards saves money or time, since the mail would still have to be inspected (and inspectors may have to strain longer to decipher the inevitably smaller print in restrictive postcards, for example). It is doubtful, however, that local county jail have either conducted empirical analyses of time spent (or saved) through various implementation of mail policies while translating that time into dollar figures. It costs about $50 a day to incarcerate an inmate, Stevenson said, "and we're arguing over a dime here, or a nickel, or penny? The same argument can be made over food."
The Santa Rosa suit (see the full text) was filed on First and Fourteenth Amendment grounds. It charges that by limiting how much they can express themselves, the policy violates inmates' right to free speech. The policy, the lawsuit charges, "prevents family and friends of inmates from receiving these fully developed and complete messages from jail inmates. In addition, the postcards expose the content of the inmates' communications to anyone who handles, processes, or views in route the postcards, both within the jail and after the postcards leave the facility." The new policy, the suit continues, forces "inmates to either abandon including sensitive information in their non-privileged correspondence or risk divulging confidential, sensitive information to unknown third-parties who can easily intercept these messages on postcards. Including sensitive financial information on a postcard increases the chance that the jail inmate may become a victim of identity thief or fraud. The Postcard-Only Mail Policy either chills jail inmates from writing about sensitive matters entirely, or it requires them to expose their communications to a host of strangers or unintended recipients—such as postal employees, an office secretary or a child who retrieves from the mailbox a postcard that discusses sensitive details intended only for the parent's eyes."