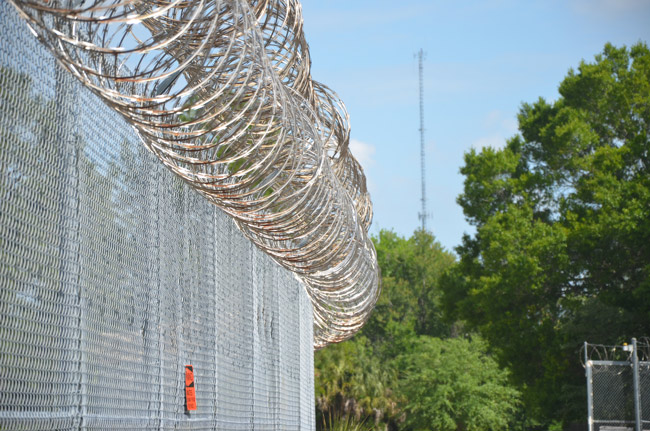 Last week the Flagler County Commission voted unanimously to shelve plans to send a sales-tax renewal to voters and renew the tax themselves, by at least four of their five votes, sometime this fall. Commissioners are fearful that if the sales tax referendum were held in November, voters would reject it, and the county would not have close to $2 million a year to build a jail commissioners claim is critically needed.
Not surprisingly, all five candidates running for three county commission seats are opposed to the sitting commissioners' decision, particularly the manner in which that decision was reached. Four of the five are not opposed to a sales tax renewal necessarily, and even the fifth might go for it with more convincing information from the county. But all five candidates derided the commission for taking the decision away from voters, and for doing a shoddy job of making the case for the tax.
"That's just wrong, let the people decide what they want to do. It's their money," says Dennis McDonald, one of two Republicans in the race for the seat Milissa Holland is vacating. He faces Frank meeker, the Palm Coast City Council member, in the Republican primary for that seat, with the winner facing Independent Abby Romaine come November.
McDonald, who represents the so-called Ronald Reagan Assemblies wing of local Republicans (a more insurgent version of the tea party), actually favors the tax: he sees the need for the revenue, and understands that it merely continues a tax that's been in effect for two decades. He isn't sure one way or the other if it would have failed had it gone to voters, particularly if a clearer case was made for it. But he won't abide the unilateralism. "We're being played. I don't understand," McDonald said. "I'm hoping people are watching this and saying we have to get commissioners in there that are going to let us decide, and not play us."
It's an easy position to take: challenging candidates are naturally prone to criticizing incumbents, if only to sharpen differences and underscore their case for change. But three of the five challengers, including McDonald, are running for Holland's open seat, who's stepping down in November as she runs for a Florida House seat in the interim. They don't need to make a case against the incumbent (though it's been common practice for candidates to score easy points by simply and generally bashing incumbents in general), but they are being asked about the sales tax on the campaign trail. Their opposition reflects an unease with commissioners' own fragmentation on the issue, and their inability to reach a solid compromise with the cities' support.
The county must split the sales tax revenue with the cities, but the main reason commissioners failed to agree among themselves—and with the cities—was that they couldn't agree on the sharing formula. Palm Coast wants the formula to stay the way it is now, with the lion share of the money going to Palm Coast because that's where the majority of the population is. The county wanted a formula closer to an even split. County commissioners finally decided that their unilateral vote this fall will create an open-ended sales tax (the 10-year term would be lifted), with revenue phasing into the county's formula over eight years, giving cities time to adjust.
Meeker is in a position to say how he would have voted as a county commissioner and a city council member on the matter. He's willing to go for the new split. "I think we can wean ourselves of that money, quite honestly, and I'm an optimist, I think we'll see the economy turn around," and revenue make up for the proportionate loss, he said, speaking as a council member. But speaking as a county commissioner, he said that he would have "preferred it to go to a referendum, just like it did last time. But it's too late."
Speaking as if he were already building relationships with commission members (Meeker has had his eyes on a commission seat for at least two years), he sounded a more conciliatory note about their decision last week. "If  the only option I've got is a supermajority vote for the half cent sales tax, then that's what I have to do," he said, noting that the commission got to that point only after "treading water" for months. He's also not convinced a new jail or a big expansion is needed. He's thinking about "modules" that get tacked onto the existing jail periodically, at a much smaller cost, an option Sheriff Don Fleming has been talking about as well—and that Herb Whitaker, a candidate for the commission in another district (he's running against incumbent George Hanns) poke of directly to commissioners earlier this week, at a meeting.
"It's not new, it's not innovative, and it's approved by all the entities that need to approve it, so why are we mired in having to build a $20 million jail—or whatever cost it's going to be," Whitaker said.
"Quite frankly I'm not comfortable with supermajority votes but I understand sometimes they're necessary,  and I will say this, I think the jail is a necessary evil in our community, so we're going to have to do something."
But had he been a commissioner at the time of last week's vote, he would have voted against. First, he said, the costs aren't clear. Second, the commission was acting out of "crisis mode" for having waited too long to make a decision, leaving itself no other option. "I would have favored a referendum," Whitaker said. And a broad public-education campaign, visiting social and civil clubs and cultural events such as Flagler Beach's First Fridays. Commissioners are only now proposing to do just that.
"Yes we need the jail," Whitaker said, "but I'm not one that's trying to push that decision off on somebody else. I'm very willing to make that decision. But I just need more information than what they've put out there." And the public should not be ignored, he said: "If you can't sell it or get it passed then obviously the voice of the people is we don't need it or don't want it."
Alan Peterson, who's also running for re-election, and Hanns, had both favored at least holding a straw vote that would have asked the public which way they would favor paying for a new jail. That idea didn't convince the rest of the commission, and both commissioners joined their colleagues for the supermajority option.
Charlie Ericksen, who's running against Peterson, repeats the same complaint: the choice should have been the voters', not the commission's.
Still, he supports the half-cent sales tax, and would have voted for it as a commissioner—but not for a full-blown jail. When he spoke, he did so by phone from Brevard County, where he was visiting, and where, he said, the county had adopted a system of "modular" jail space that doesn't require the building of an entire institution. Word of those modular buildings appeared to have spread very quickly among the commission candidates. That's the approach he'd favor now.
"We've dragged our feet on taking action on jail expansion and we've got to pay for the past sins of the past commissions, and county administrators," Ericksen said. "This should have been taken up a long time ago, and the expense would have been less. In fact the county administrator did a survey, or he got some numbers on what a jail would cost three years ago, and nothing happened."
If the public were to vote on the tax, however, it would probably not pass, Ericksen said, "because they don't have the information."
But the county commissioners "are not asking people for anything more than what they're paying today," Ericksen said, "and that's one of the things they can educate them on, because we already have  a half-cent sales tax on the books, and it should be continued." Another caveat: Ericksen doesn't favor an open-ended tax, as some commissioners are proposing. He wants it term-limited.
At a candidate forum at the Realtors building late last month, the commission candidates, including Peterson (but not Hanns) sat for their presentations and a few questions. When asked a yes or no question on whether they supported the tax, all of them said yes. They were not allowed to elaborate. There was one exception: "Just to be contrarian," Romaine, the Independent, said, "I'll vote no." That comment startled several of her fellow-candidates, who remarked about it later in interviews.
But Romaine later elaborated: "I would want the people to vote on it," she said.
"The bottom line for me is no plan, no money. Taxpayers should never endorse blank checks. Because for me you're almost asking the wrong question, with all this hysteria over creating a new jail. We don't know what the nature of the overcrowding is." If juveniles or the mentally ill are taking up space in the jail, they shouldn't be there, she said: they should be in a juvenile facility, or an institution for the mentally ill. If it's people suffering from substance abuse, an expansion of drug court might alleviate the overcrowding. But all that information needs to be spelled out. "We can't just operate under knee-jerk reactions," she said. "People don't know this about me but I'm a fiscal conservative. I'm thinking about stress on our businesses and our homeowners and tax payers."