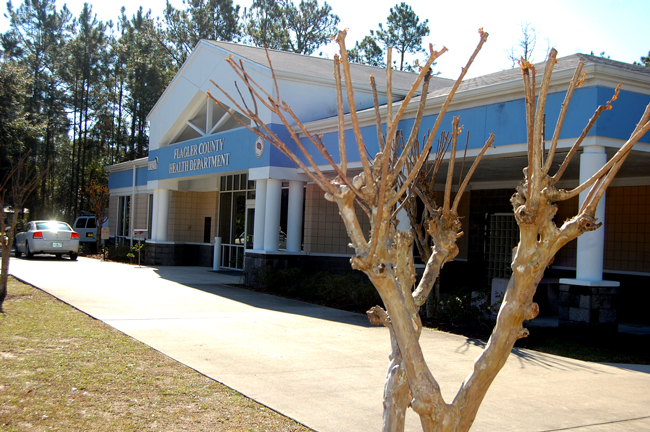 A look at Gov. Rick Scott's budget under community health programs reveals a striking zeroing out: the $2.2 billion in this year's public health program disappears in Scott's proposed budget, including funding for local county health departments, environmental health services, infectious disease control and other divisions.
Much of that is a reshuffling. The same divisions and a few more reappear under a new name: Public Health Services. Along the way, however, $130 million disappears. So do 657 positions. That's just in public health. The total number of positions being lost in the health department would be 879. Clinic care is among the services that may be eliminated. That would affect affect people with chronic diseases, pregnant women, people with HIV-AIDS and other conditions that don't qualify for a visit to the emergency room. The uninsured don't have the luxury of calling on a doctor in private practice.
At the Flagler County Health Department, 136 people a day use clinical services, from primary care to immunizations to dental work, and as part of the Women Infants Children program (WIC). That last program is federally funded. It would not be affected by state cuts. But other services would.
For county health departments across the state and in Flagler County, Scott's budget, if passed, would be a serious blow to community health for those who have no other options. There's still a lot of uncertainty over the budget, and some resistance in the Legislature over its more draconian proposals. But there's also a nearly $4 billion deficit to close. Unlike schools, which have a powerful political constituency, county health departments have no powerful advocates other than their own employees. Poor people who use county health services are neither organized nor usually able to mount activist campaigns on their own behalf. And few people will speak for them.
Patrick Johnson, director of the Flagler County Health Department, isn't panicking yet. "Here's what DOH told us," Johnson said, referring to the Department of Health, during an interview at his office. "All of this has to go through the Legislature, and until that happens we're not going to know exactly what individual health departments are going to get cut, because the Department of Health is a big agency. One quarter of the Department of Health is headquartered in Tallahassee. Three quarters are in 67 county health departments. So if they are doing a cut proportional, those numbers have to be taken into account in the formula. DOH doesn't know any of us. Now, the budget does say 879 DOH positions will be cut. Well, there's 16,000 positions. Many of those are vacant. So what the proportion would come to a specific health department is completely unknown."
There are 60 full-time positions at the Flagler health department, and five part-timers. The department has a $4 million budget. The county's share, approved earlier this month, is $250,000. The rest is state and federal money, with Medicaid alone accounting for 44 percent of the budget. Straight state funding accounts for $445,000 a year—the same amount the department has been receiving since 1996. Johnson has been at the department since 2004. The patient load has doubled since.
The day he was being interviewed, Johnson was finishing a presentation to the Flagler County Commission—an annual report—that he was presenting this evening (Feb. 21). "Our goal right now is to point out our public health role, our safety net role," he said.
For example, the department had 366 maternity patients in 2009. That's more than a third of all births in the county that year.
"Historically health departments have been the place for under-insured, indigent people to go to. And in small communities, small counties, that's still the case. In bigger counties that role has diminished. We're the medical home for 2,700 people on Medicaid. I don't know that there's a bigger clinic per se in the county, so our safety net role I think is going to help us."
Other services the department provided in 2010: 12,405 immunization shots (Flagler's population is around 90,000), some 2,000 child health check-ups, surveillance and treatment for two cases of tuberculosis and 10 new cases of HIV. In addition, the department provides a slew of environmental services such as facilities inspections and water sampling. It's also to the department that the county turns for coordinated responses to outbreaks of disease. In all in 2010, the department touched the lives of county residents 19,000 times.
The department isn't into frills. Employees are stacked—two, three, four per office. "It's clean, it's functional, it's light and bright," Johnson says. "You're not going to see wood floors and a bunch of elegance. You're going to see practical and clean and pretty straight forward."