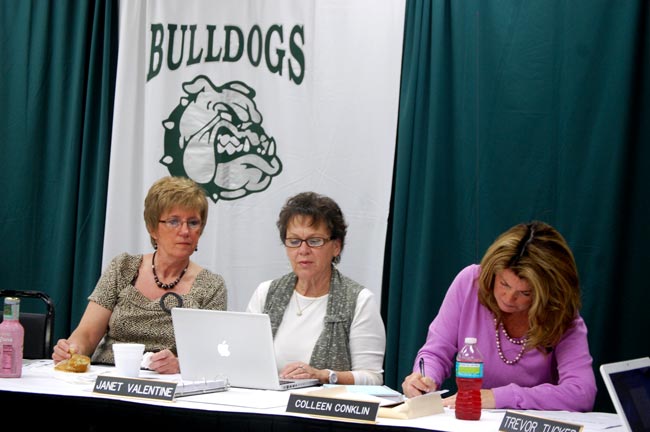 As the Flagler County Commission tries to convince cities and residents to go for a new sales tax for economic development, the Flagler County School Board Tuesday morning got a reminder: its own half-penny sales tax, in place since 2002, expires next year. The $29 million the tax generated helped the district build a new school (Belle Terre Elementary) and become a leader in technology-based education. The money since 2008 also countered a drop in revenue from the state.
There's no question that the school board wants voters to renew the tax for another 10 years. The referendum will appear on the November 2012 ballot. That's still 21 months away. But the timing of the school board's reminder is not coincidental.
School Superintendent Janet Valentine said she wants the board to be aware of its priorities ahead of this weekend's economic-development summit. That two-day summit will yet again gather representatives from every local government agency, including the school board, to devise a development strategy all agencies can agree on. So far, that agreement has been elusive because it hinges in large part on a new half-penny sales tax. That referendum would likely appear on the November 2011 ballot, leapfrogging the school board's referendum, and possibly hurting its chances a year down the line, if voters feel that they're being bombarded with tax increases.
The school board convinced voters last November to approve the continuation of another existing tax—a 25-cent-per-$1,000 levy on property values that generates about $2 million, and that helps pay for teachers and other critical needs. That tax expires in 2012, too.
The difference between the school's existing sales tax and the county's projected tax is proof. The district is able to show what it's done with the money. The county isn't: it would be asking voters to take a leap of faith. School board members on Tuesday stressed that as they prepare to re-sell their half-cent sales tax to voters, that proof should be a centerpiece of the campaign. "We did what we said we were going to do," Andy Dance, one of the school board members, said. "We were good stewards of the funds we were going to receive."
The other centerpiece of the campaign will be education—not the sort of education that takes place within schoolhouse walls, but education about money pots. The half-penny sales tax revenue is spent exclusively on capital needs. That means school buses, furniture, copiers, building additions, computers or anything else associated with technology. But not teacher or service employees' salaries. That comes out of the general fund budget.
Since 2002, the district has been able to lower the student-to-computer ratio to 3-to-1. That's eliminated the bottleneck that formed at computer labs previously. In the next 10 years the district wants to lower that ratio to 1-to-1 in the future (not to ensure that every student has a computer, necessarily, but that every student has access to computer technology, from laptops to ipads to Kindles and the like).
The district also wants to move toward digital textbooks, which would save money, and close the digital divide, enabling students who can't afford wireless access from home to access it through the district's infrastructure.
Maintenance, however, would also be part of future costs (as it already is): ""You can't have a massive amount of technology in our system without taking care of it," Mike Judd, the district's facilities director, said. "We all know that computers are obsolete in a relatively short amount of time. So a large amount of that money will keep us where we are."
There's also a new elementary and middle school in the works for sometime over the next 10 years, once growth resumes. The half-penny sales tax would pay for it. "It's just a matter of time before we see growth again and we have to prepare for it," Judd said.
The district doesn't depend entirely on the half-penny sales tax for its capital needs. The state sets a portion of the school's property tax to account for those needs. But the state has lowered that levy, from $2 per $1,000 in taxable value to $1.5 per $1,000. That, combined with the decrease in property values, means district revenue for capital needs has decreased from $22 million in 2007 to $14 million this year. Tom Tant, the district's finance director, estimates property values will fall by at least 10 percent again this year.
The county's half-penny sales tax idea has an uncertain future. The county and Bunnell favor it. Palm Coast and Flagler Beach do not, though they'd go along with a referendum. The school board is neutral on the matter. It's not yet clear what the sales tax revenue, if approved, would pay for. In that regard, the proposal suffers from the kind of uncertainty that attached to last year's proposal, by Enterprise Flagler—the county's public-private economic development partnership—to raise the property tax and pay for new industrial buildings as bait for new industry. The referendum was scrapped before election day.
The county commission could approve a sales tax increase by a super-majority of four votes, but a majority of commissioners are opposed to that unilateral approach, preferring the referendum route. Most county and city officials have discussed those possibilities without taking the school board's half-penny sales tax in consideration.