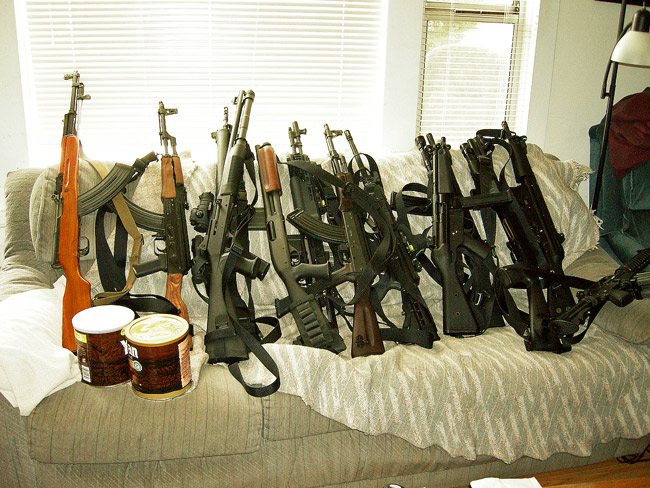 Last Updated: Wednesday, 2:07 p.m.
The Flagler County Sheriff's Office will hold the county's first gun buy back on Aug. 11, from 9 a.m. to 1 p.m. at Town Center.
"This is a no questions asked–amnesty opportunity for anyone to turn in unwanted, operational firearms," Fleming said.
Individuals will receive a $50 gift card for each firearm turned in, up to a maximum of three. Additional guns will be accepted, but gift cards will be limited to three, while supplies last. Other weapons, such as knives, swords, brass knuckles, etc., will also be accepted.
The program is being funded through a $7,000 crime prevention grant award by the Flagler County Commission. Businesses wishing to donate gift cards should contact Capt. Lynne Catoggio at (386) 586-4805.
Those wishing to turn in their guns should drive to the north side of Central Park at Town Center. A drive-through station will be set up and deputies will come to the vehicles. Guns should be unloaded and stored in the trunk area or bed area of trucks. Participants must not leave their vehicles.
For those who wish to discard guns but are unable to drive to the site, deputies will come to your home during this period and pick up the weapons. Arrangements may be made by calling (386) 313-4911.
The proposal drew skeptical responses from Fleming's opponents in the sheriff's race. Fleming is running for re-election in the Aug. 14 primary.
"Gun buy-back programs may be popular in communities and are designed to give the impression that law enforcement is doing something about illegal guns," John Pollinger, one of Fleming's two Republican opponents, said. "No one with the intent on committing a crime while armed is going to surrender that firearm in exchange for a gift card. In addition, buy-pack programs such as these encourage citizens to otherwise keep firearms they no longer want or need in the hopes in the future, government is going to provide some type of compensation or reward in exchange. I would rather see the $7,000.00 in taxpayer money used for educational and diversionary programs for the youth in Flagler County to discourage them from obtaining any illegal gun in the first place."
Ray Stevens, also one of Flaming's Republican opponents, had similar reservations. "At first glance the gun buy-back concept appears to be sound," Stevens said, "but upon closer examination, it does little to take guns out of the hands of criminals. Based on my experience a vast majority of the firearms that are turned in are inoperable. Citizens who legally posses functional firearms, and want to dispose of them, can go to a gun store or pawn shop and quite probably receive more than fifty dollars for the weapon. The potential exists that persons who posses or have obtained these firearms illegally will turn them in to make a fast fifty dollars and then go out and steal another one. So, this flurry of activity by the sheriff every three and a half years must be seen for what it is, an attempt to gain votes. I believe the money could be put to better use, such as the PAL program. Just my opinion." (PAL is the Police Athletic League.)
To Karl Tozzi, one of two Democrats running against Fleming, the program is the program is "an excellent way of getting weapons off the street."
"The only problem I see," Tozzi said, "is that we should not cap the quantity of guns per person nor should we have a cap on the number of funds we are allocated to take the weapons of the street. If you are going to start a program like this for the first time in our county, we must have adequate funds to assure that the program works and gets all the guns possible in one fell swoop. We certainly don't want people walking away with unsold guns in there trunks because we ran out of gift certificates."
All four of Fleming's opponents were given the chance to address the buy-back program.
"This is the first time we have offered a gun buy back in Flagler County and I think it will prove to be a valuable service to our residents," Fleming said. "The more guns we take out of the community, the less opportunity there is that one of those may be used in a crime I encourage folks to take advantage of this opportunity."
As an additional service, Sheriff Fleming has ordered a prescription drug take back during this event. Gift cards will not be distributed, but residents may drive through the appropriate station where unwanted prescription drugs will be accepted. Needles in Sharps Containers will also be accepted as part of this operation.