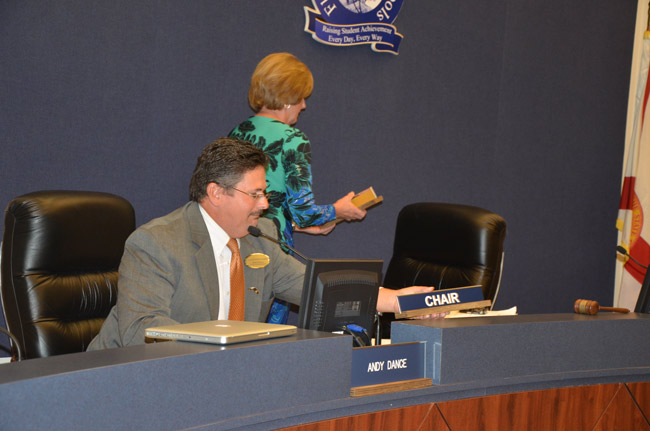 It was a day of ceremony and smiles, most of them sincere, all of them inaugurating significant changes and outright departures in Flagler County governments: three local governments welcomed new members and two of the three appointed new chairmen. And the two judges administering oaths of office at the county commission and the school board did so for the last time in Flagler County, as one will retire next month, and another will move to Volusia County.
The oaths began almost simultaneously at 9 a.m. at the Palm Coast City Council and the Flagler County School Board. At the council, David Ferguson, appointed last week in a mostly secret process by the council, took his oath—as administered by City Clerk Virginia Smith—and was promptly assigned to read a proclamation (for Small Business Saturday on Nov. 24). The meeting was unusually eventful—Gus Ajram, the business owner on Bulldog Drive, collapsed before an immobile council while delivering a harsh tirade against it. But the room was mostly empty when Ferguson heard Louis McCarthy, one of the council's most faithful audience members, warn him, with a welcoming smile, that "I'll be watching you."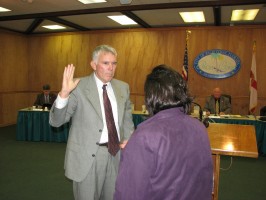 "I don't mind being watched," Ferguson said when it was his turn to speak near the end of the meeting. "In fact I do better when I'm watched. In sports, I like an audience. But this is not sports. I'm honored to be up here. It's an honor to be here. I think the process was fair and square. It's easy to say as a winner. But I also want to say this, that the people who wanted to be up here were deserving to be up here, and I'm going to reach out to every one of these people and seek their opinion about what I can do to represent them specifically as well as the constituents in District 2."
The changes at the school board were more limited. Colleen Conklin and Sue Dickinson, both of whom were first elected in 2000, took the oath for their fourth term from Flagler County Judge Sharon Atack. The most consequential change on the board this morning was the change in chairmanship. Dickinson's two years were up. There was no disagreement over who should succeed her: Andy Dance was a unanimous choice.
But the nominations for the vice chairmanship—essentially, the chairman-to-be, two years hence—were all over the place. Dance nominated Trevor Tucker. Conklin nominated John Fisher, who immediately turned it down in favor of Tucker. Then Dickinson nominated Conklin. Tucker got two votes: his and Dance's. Conklin got three—hers, Fischer's and Dickinson's—and got the vice chairmanship.
"While on a number of boards, we've witnessed school boards, county commission, city council, this time of year becomes so nasty, with jockeying for position," Conklin said, "that I think that it's a testament to being able to come to a meeting and not know, not take for granted, and I don't want to use the word assume, but to know that we do have a process in place, whether it's informal or formal, that allows you to begin and hit the road running."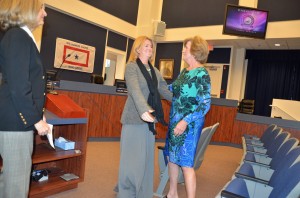 She was referring mostly to Dance, who had just outlined his vision for the chairmanship in a 13-minute talk that immediately sharpened the contrast between how he would lead the board and how Dickinson did. Dickinson was firm but laid back, steering discussion rather than leading it, or deliberating through it. Dance is a methodical analyst who sees his tasks in outlines, literally: he had a three-page handout for board members outlining a month-by-month list of expected contract and policy issues over the next 12 months, another hand-out—a copy—of an article about the most effective habits of board members, and a third text, his own speech, which he delivered in his characteristic, careful monotone.
Among his goals, drawn from the article on effective habits: making decisions based on data, in partnership with the superintendent, and with high expectations in mind.
"I believe this board shares these characteristics," he said, "but we have room for improvement, and I will make it my duty to ensure that we improve on these characteristics in order to continue moving this district forward."
Without wasting time, he then immediately challenged his fellow board members to come up with one issue in the district they thing could improve matters, then create a plan and devise a solution for it. The idea, he said, was borrowed from the Chamber of Commerce's annual leadership program, (which brings together a dozen or so community members and compels them to devise a community project all the way to completion, such as the Dolly Parton Imagination Library.) Dance gave his colleagues two weeks to come up with ideas, and two more to finalize one by the new year.
He also wants to resurrect the Business Advisory Ad Hoc Committee, to assure the public that "we are continually researching how to operate more efficiently and effectively," from the district's administrative structure to its health insurance contract. He wants to create a Citizen's Academy, similar to academies run by the county, Palm Coast and the sheriff's office. The academies give members of the public a multi-week course in each government's operations. He wants the board to have more direct contact with the district's School Advisory Council and Parent Teacher Organization membership. And he wants more transparency.
"I know my place," Dance said in a brief interview afterward, when asked about the ambitious scale of his agenda, and the risks of micromanaging. "I didn't just come up with this. This was with discussion. I'm not doing anything that wasn't discussed with staff to gain approval."
Dance chaired one board before: Palm Coast's Beautification Advisory Council, around 2006 and 2007. He's a member of the Flagler County Chamber of Commerce. "I'm not a voice of the chamber, I'm a chamber member," he said. "I'll still independently tell them if I think it's a bad idea. So no, I don't think I'll be a puppet."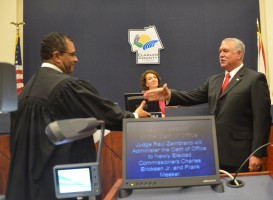 A few hours later, the same chambers at the Government Services Building filled with a different crowd to witness the swearing-in of two new members of the Flagler County Commission. Much of the crowd was Republican: the GOP has a majority on the commission for the first time years, with the accession of Charlie Ericksen and Frank Meeker (two Republicans), and the departure of Milissa Holland, a Democrat, and Alan Peterson, a Republican.
"You know what we're losing with Alan, we're losing that hawk's eye on the spreadsheet," Nate McLaughlin, a commissioner since 2010, said. "There's a man who understands really more than anybody what he's looking at. What you're gaining with Charlie is a man who from a business perspective understands what he's looking at. So we're losing a banker but gaining a businessman."
Barbara Revels, until today the chairman of the commission, said: "Alan came from the city council, and there were many times where Alan carried the torch for the city, you might say as he should. The fact that he lives there, and I've done it for the city of Flagler Beach, and sometimes maybe not. I personally would like us not to have an adversarial relationship with the city, and so now we have a new commissioner, coming off city council, to the county commission, and I hope that that will improve our relationship in some way, versus making to worse."
Flagler County Circuit Judge Raul Zambrano administered the oath of office to Meeker and Ericksen together, with their families looking on and camera shutters clicking. Atack was also in the audience, and both judges were later recognized by Revels for their service to the community, their last oath ceremony over.
The most significant order of business at a very short commission meeting was the nomination of chairman and vice chairman. Unlike at the school board, there was remarkable unanimity in both cases, and no discussion at all: McLaughlin was named chairman. His nomination as chairman was widely anticipated. He's now the most-senior commissioner in line after Revels, who's been chairman for a year, and George Hanns, who was chairman before Revels. So his nomination was due. The surprise was Hanns, who got the vice-chairmanship, though the two rookies on the board may have felt it wasn't yet their time to make their move, particularly with far more significant jockeying ahead, for the county's various advisory boards and chairmanships.