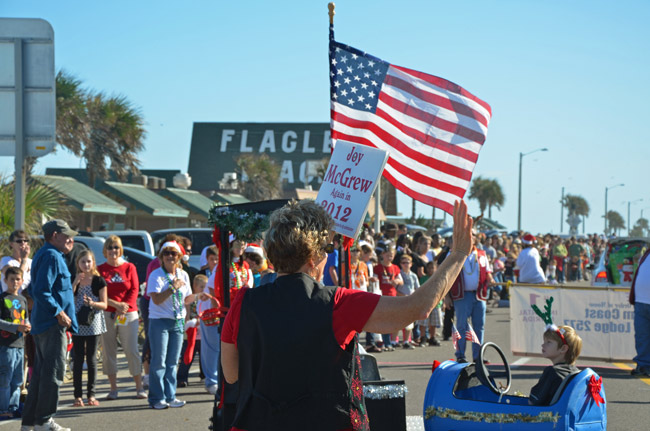 Last Updated: 9:01 p.m.
Mitt Romney beat Newt Gingrich decisively in the GOP primary in Flagler County, with a 47 to 35 percent advantage. Rick Santorum came in third with 13 percent, and Ron Paul fourth with 5 percent. The tally is based on 10,812 votes out of 26,861 registered Republicans, a 43 percent turnout among Republicans, and with 34 of 34 precincts reporting.
In the Flagler Beach municipal election, based on 1,538 votes counted, Joy McGrew has defeated Sandra Mason with 52 percent of the vote, while Linda Provencher decisively beat J. NeJame with 58 percent of the vote.
The vote tally is as follows:
Provencher, 890 votes to NeJame's 648.
McGrew, 790 votes to Mason's 737.
The results are unofficial, but all three of Flagler Beach's precincts have been counted, sealing the victory for Provencher and McGrew. Both are former commissioners returning to the city commission for the second time. Mason was a newcomer. NeJame was trying to win office in Flagler Beach for the fourth time.
"It was good to be out in the community, it was good to get back in touch with the people, walk the streets, in my case I bicycled a lot of streets, house to house," McGrew said. She had served two terms on the commission until deciding to step down less than a year ago, in March 2011. "I basically heard, good, you're our voice of reason, we're glad you're coming back, we need you up there, so I heard a lot of encouragement." She also heard a lot of questions about who to vote for in the mayoral race. She suggested that voters do their homework and go to the meet and greets.
But McGrew had her own pick: Provencher, without question. "I recommend somebody who has experience, so Linda P," whom she said she would prefer to work with, rather than with NeJame, because Provencher, in McGrew's view, would bring greater cohesion to the commission.
Provencher unwittingly illustrated McGrew's point when asked what she would do first, after the election.
"What I'm going to need to do first is, the people who voted against me, to convince them that I'm not the antichrist, as some citizens have tried to portray me," Provencher said, "squash the rumors, make them see that I'm for all the people, not just little groups or certain businesses, but I really want to represent all of Flagler Beach."
Provencher described an especially bitter campaign in which she said she had to fight false allegations spread through email, such as the notion that she had not voted for Bruce Campbell, the city manager (Provencher was not on the commission when Campbell was hired), ior that one of her acts would be to vote him out, or that she would re-form a coalition, as she once had, with McGrew and Commissioner Jane Mealy, though as the mayor, Provencher has no vote on city matters. She has a voice–and a seldom-used veto, which the commission can override with a supermajority vote of four.
Both McGrew and Provencher were at the Golden Lion, the Flagler Beach restaurant where Provencher is an assistant manager, for the victory party–as was Jane Mealy, now the senior member of the commission. "I think the city of Flagler Beach did well. I think it'll be good for the city," Mealy said of the evening's outcome.
McGrew returns to the commission, replacing the seat vacated by John Feind, who decided not to run again after none years on the commission. Feind had been the commission chairman, a largely ceremonial, but still notable role, because it sets the tone of the commission's meetings–and, not insignificantly, the pace of those bi-monthly meetings, which are notoriously epic in length. Mealy is now in line to chair the commission next, a role she said she'd like to fulfill, though it's up to her colleagues to elect her.
Asked about the possible outcomes of the election less than an hour before the polls closed this evening, Mason said: "It's the same answer either way. It's been a wonderful experience. I've met great people, like Rusty," Mason said, pointing to Rusty Place, a supporter, "and lots of people in town I didn't know, and it's been fantastic, so I'm glad I ran." Mason said that while she'd "never say never," she was not planning on future runs for office. "There are other things in town I'd like to get involved in, and I will, but I don't have any long-term political plans."
NeJame, who had stood apart from the three other candidates and their supporters Tuesday evening, near City Hall, said: "I've give it all I would give, and I don't regret that I want to help the city out, just as I have." He said his whole campaign had been the work of just two people. "It was a grass-roots effort on my part, and I was against a large contingent of other people."
Florida-wide, and with 79 percent of statewide precincts reporting, Romney is leading with 47 percent of the vote. Gingrich is second with 32 percent, Santorum, who did not campaign in the state for the past several days so he could be with his ailing daughter, was third with 13 percent, and Ron Paul 4th with 7 percent.
Romney won the entire I-4 corridor and all but a few inland counties in south-central Florida. Gingrich took most of the Panhandle counties, which tend to preserve a more politically Deep South flavor–and neighbor Gingrich's Georgia to the north.