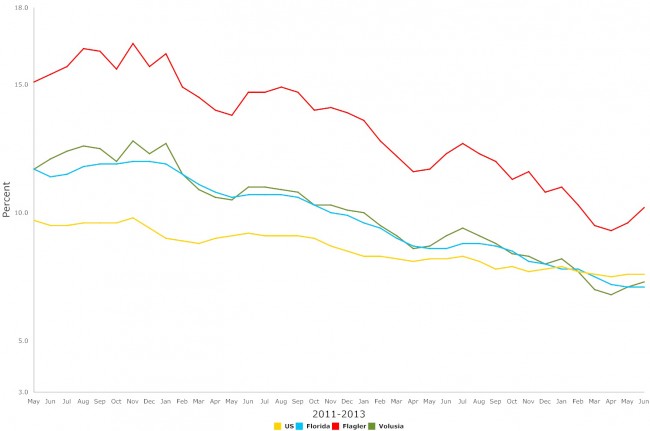 The economy in Flagler County and Florida is mirroring that of the United States: it makes small advances then stalls, still unable to find a decisive way to add jobs and convince discouraged workers from returning to the workforce.
In June, Florida's economy added 9,300 jobs, but most of those were government jobs. The private sector added 2,300 jobs, and the state unemployment rate held at 7.1 percent, same as in May. Those figures are based on the monthly survey by the federal Bureau of Labor Statistics.
The state releases a different survey that breaks down unemployment by counties. In that survey, Flagler County's unemployment rate went from a revised 9.6 percent in May (it had initially been pegged at 9.5 percent) to 10.2 percent in June. The number of people with jobs fell by 830, one of the sharpest drops of the year. The number of people in the labor force also fell, by 669. But those figures also reflect seasonal fluctuations as people move north during the summer.
Flagler's is the second-highest unemployment rate in the state after Hendry County's, at 13.5 percent. Flagler is one of three counties with double-digit unemployment. The third is St. Lucie, at 10.1 percent. Volusia had a 7.1 percent unemployment rate in June, and St. Johns, which has consistently fared better, came in at 5.6 percent.
St. Johns generally benefits from its proximity to Jacksonville and that city's large job base, with St. Johns as its bedroom communities.
The state survey also shows overall jobs in Florida declining. The seasonally adjusted total number of people with jobs in June was 9,416,000, down 13,000 from the previous month.
"Yes the unemployment rate is the second highest in the state" in Flagler, Lou Paris, the business development and communications manager at the Center for Business Excellence said. "Unfortunately there's no way of sugarcoating that. But I do think that coming from such a severe position we were in in the previous years, the highest point was almost 17 percent, we have made a dramatic improvement."
The nature of the improvement is what Flagler residents should take heart from: the economy was previously disproportionately dependent on construction.
"Even during the recession everyone knew that a change had to come, and that change was to bring more business diversity to the region. That's not something that happens overnight, it's something that has to be well orchestrated," Paris said. That has been taking place. "Is it a rocky road? It is, we have ups and downs along the way, we will, but all the actions taking place in the county are helping us get in the right direction."
Paris points to a particular indicator from the center's perspective. The center runs a program for entrepreneurs called Start-Up Quest. But more and more participants have been dropping the program for one overriding reason: they've been getting jobs, or interviewing for jobs. Paris also hears from Flagler workers who've been unemployed for a year or more, but who report to him that the people they know are consistently getting jobs, giving them the impression that their chance is next.
Looking at the fine print, construction showed a gain of 2,200 jobs, service-providers added 7,200 jobs, retail added 2,800, education and health services added 2,400 and government, led by state government jobs, added 7,000 jobs.
At the losing end, professional and business services lost 5,600 jobs, leisure and hospitality lost 4,400, while most others sectors stayed flat.
"The creation of more than 2,000 private sector jobs last month is further evidence of the state's continuing economic recovery," Gov. Rick Scott said in a release.
Last month the University of Florida's Bureau of Economic and Business Research reported that consumer confidence in the state is at a post-recession high. Florida's 7.1 unemployment rate remains below the national rate for the fourth straight month.
Several large companies have announced plans to bring jobs to the state, among them California-based CHCS Services, an information technology company, which plans to bring up to 385 jobs to Pensacola, Bristol-Myers Squibb's plan to locate a facility in Tampa, creating almost 600 well-paying life sciences jobs, and Amazon, which would bring 3,000 jobs to the state. Flagler County has been adding up its own successes on a smaller scale.