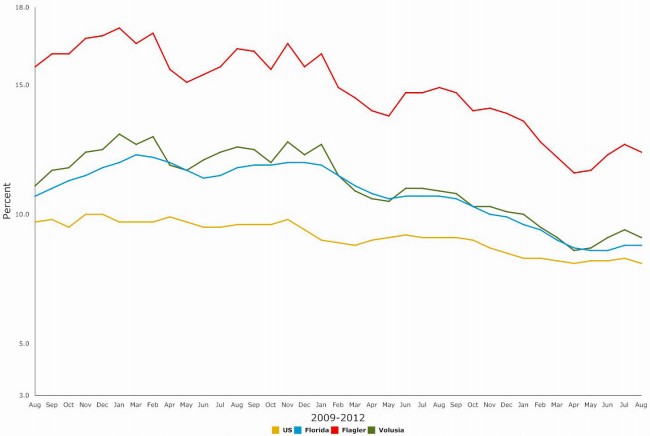 Last Updated: 11:27 a.m.
Florida's unemployment rate was unchanged in August, at 8.8 percent, as the state added just 23,200 jobs–for a total of just 77,800 in the past 12 months–while Flagler County's rate dipped to 12.4 percent, according to figures released this morning by Florida's labor department. Flagler's rate has been in the 12 percent range since February.
While the state tallies a net-job increase in August, the labor force actually shrank by 10,000 people, as did the number of people employed, pointing to a continuation of this summer's trend: while the unemployment rate has fallen slightly or held steady, it's done so more because people are leaving the workforce altogether than because they're finding jobs, or because the economy is creating new jobs. The Florida Legislature approved some of the nation's strictest eligibility requirements for people applying for unemployment benefits, discouraging many of them to follow through on their applications.
In Flagler County, the unemployment rate fell by three decimal points, but as in Florida as a whole, it did so because of the shrinking labor force rather than because more people found jobs. The number of Flagler County residents with jobs fell from 29,695 to 29,624. The labor force shrank from 34,029 to 33,801.
Flagler County's unemployment rate kept it the second-worst in the state, behind rural Hendry's 15.3 percent, but only two decimal points separate it from third-place St. Lucie. The Palm Coast metropolitan area remains the state's leading urban unemployment zone, ahead of Sebastian-Vero Beach's 11.9 percent. Over the past 12 months, Palm Coast has added a net 200 jobs. The national unemployment rate is 8.2 percent, and the lowest unemployment rates in Florida are in Monroe (5 percent) and Walton (5.5 percent) counties.
In an encouraging sign, constriction was among the most vibrant sectors in August, adding 5,300 jobs, an increase of 1.7 percent, though construction jobs are still 8,500 below where they were a year ago. Manufacturing added 800 jobs, finance and insurance added 3,400, and professional and business services, led by administrative and waste services, added 11,700 jobs, a 1.1 percent increase. Education and health services, a consistent high-performer over the past year, added 4,500 jobs (for a year's total of 18,500 jobs). Leisure and hospitality–the tourism industry–added 4,500 jobs.
In the loss column, government again led the way, with a loss of 5,200 jobs all of it at the local level. The federal government's 500 new jobs were counter-balanced by a 500 job loss in state government. Real estate lost 1,100 jobs, transportation and warehousing lost 1,000, arts and entertainment lost 1,300, and wholesale trade lost 700.
Florida's job-creation numbers haven't been strong, but relative to previous months, August's showing was the best in more than a year. Gov. Rick Scott quickly too credit. "The month of August showed that 28,000 more Floridians found employment in the private sector and are able to provide for their families," Scott said in a news release. "This increase in new jobs is proving that the decisions we're making here in Florida are pointing our state in the right direction." Scott did not mention the large number of workers dropping out of the workforce.
The state's full report is below.