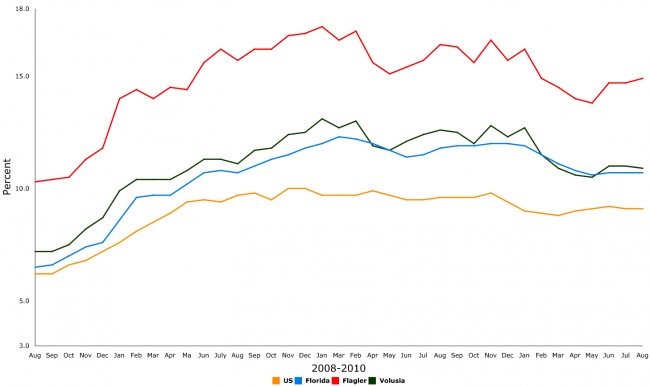 As in the rest of the nation, job creation in Florida is close to a standstill, with just 9,900 jobs created in July, leaving almost 1 million Floridians out of work and the unemployment rate at 10.7 percent, where it was last month.
In Flagler County, 4,858 people were jobless in August, up from 4,817 the month before. The unemployment rate went up two decimal points, to 14.9 percent, ranking the county second-worst in the state behind Hendry's 17.9 percent rate.
Fifty one of Florida's 67 counties have a jobless rate higher than the nation's, which stands at 9.1 percent.
In August, no industry experienced any significant job gains in the state except for professional and business services, which added 9,800 jobs, and retail trade, adding 6,400. Leisure and hospitality (that is, tourism) added 4,400.
Government again led the way with job losses, with a drop of 8,100 jobs, most of them in local government, strongly suggesting that government tightening at every level has contributed to slowdown instead of shortening it.
In 12 months, the state has had a net increase of just 46,100 jobs.
Cynthia Lorenzo, the state's labor department chief, tried to put a bright face on today's numbers, saying that "Florida's employers are gaining confidence, people are getting back to work, and our state is making progress under Gov. Scott's leadership."
The numbers, however, contradict Lorenzo's assessment.
The University of Florida's consumer confidence index crashed in August to a near record low.
Florida's labor force has shrunk by 29,000 over the past year, artificially enhancing the state's employment rate. More people are dropping off the unemployment rolls altogether–not because they're finding work, but because they have stopped looking for work, their unemployment benefits have run out, or they've become too discouraged to look. The state isn't helping: lawmakers in the last session shortened the number of weeks an unemployed person is eligible for benefits, even though Florida is already among the stingiest states when it comes to actual benefits: the $275 a week maximum that an unemployed person may draw ranks the state among the bottom five in the nation.
Coupled with the state's miserliness is the new requirement that the unemployed must go through eligibility interviews and increase the number of job applications they file every week to remain eligible for the benefits. Federally, the COBRA health insurance premiums subsidized by up to 65 percent by the government have also run out. The combined effect is a steady drop of people from the official unemployment rolls, which gives the impression of keeping the unemployment rate lower than it actually is. That's also true on a national level.
Florida doesn't calculate its under-employment: people who are working part time because their hours have been cut back or because they can;t find full-time work, though they need it. Nationally, if that figure were included in employment tallies, the rate of the unemployed or underemployed would rise to around 17 percent. It would likely be higher in Florida.
The full jobs report is below.