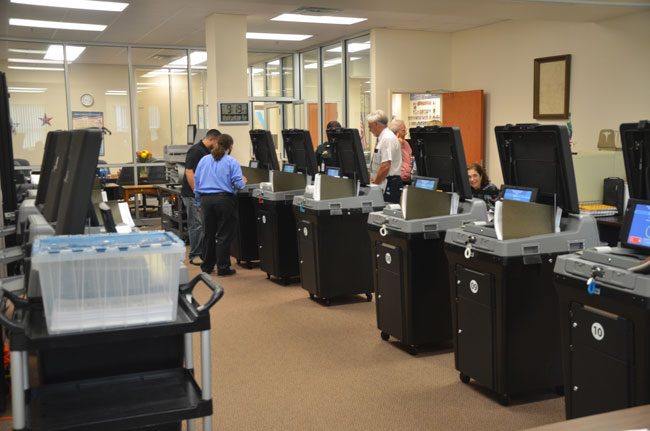 The Flagler County Canvassing Board gathered at 9 a.m. this morning in Bunnell to conduct its part of a statewide recount of the races for governor, U.S. Senate and commissioner of agriculture.
The daylong recount at the Government Services Building was not expected to produce surprises in Flagler. Premise and interested spectators aside, the relatively low number of ballots, at least in comparison to numbers in Broward, Palm Beach and Miami-Dade, and the large margins recorded in those races locally, makes the exercise less dramatic than it may be in counties where larger counts have led to more fluid results.
The three-member canvassing board and its two alternates gathered around a table in a cramped conference room at the Supervisor of Elections' office and started the procedure with Supervisor Kaiti Lenhart reading several pages of rules governing the process. There were some 14 people in the room, including two board alternates, two representatives of the Bill nelson campaign and two of the Rick Scott campaign. Attorney Sean Moylan is representing the Flagler County Attorney's office.
The rules read, the group moved to the much larger adjacent room. Spectators and observers were seated on one side of the room, the board and alternates were seated at another end, facing the array of 11 counting machines: one, large machine that counts 300 ballots a minute is to count the early-voting and mailed-in ballots. "Pretty amazing to see it go 300 ballots a minute," Lenhart said. Ten other, smaller machines are to count precinct-level, Election day ballots.
As has been the case during Lenhart's tenure, the atmosphere in the office was relaxed, tension-free, and largely upbeat but for the crustier faces of a couple of the observers, who might have briefly betrayed the look of too-intently seeking something that's not quite there. Conversation gauges were set to "chatter" and "banter," not "debate" or "argument," with Lenhart readily answering all spectators questions patiently and at length.
"I love our SOE. Katie herself serving drinks to the observers," one observer who stopped by in the afternoon said. "Unreal."
That's not to say that controversy is absent. But it's elsewhere.
The board started the process first by testing all the equipment. The count would then start.
The testing ended at 10:30 a.m. There were "no errors," Lenhart said. There was a 10-minute "intermission" of sorts to prepare the machines for the actual recount, and that was to then begin. Lenhart expected it to take "at least 12 hours," leaving most people in the room with very little to do.
The board is not actually doing much of anything other than supervising or arbitrating, in case issues arise. The actual workers in this case are the supervisor's staff and Lenhart herself, who will be hauling 53,000 ballots, ensuring that they are properly classified and fed into the various machines.
The board is made up of County Commissioner Charlie Ericksen, Lenhart and County Judge Melissa Moore-Stens (who came prepared: she'd brought two books, including "Yoga Sequencing," which provides 67 sequences of yoga poses, some of which were certain to be advisable for anyone in the canvassing room as the day progressed.)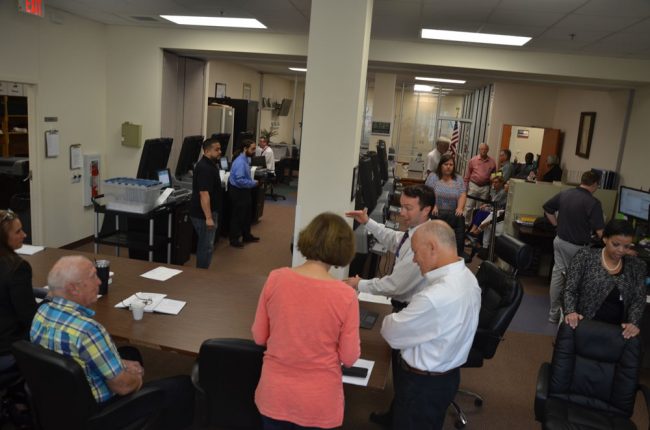 The board alternates are Commissioner Donald O'Brien, who would sit in for Ericksen, and former County Commissioner Barbara Revels, who would be the judge's understudy. At least two board members must be present at all times. There were two Flagler County Sheriff's deputies as well (a corporal and a sergeant): one is the judge's required escort, the other was just added security.
Lenhart had advised the board on Friday that the recount would be likely. Florida Secretary of State Ken Detzner on Saturday confirmed it when he issued the machine-recount order, which affects any race below the 0.5 percent margin of difference once the first set of unofficial results are filed by all 67 counties' supervisors. That was completed Saturday.
The three races to be recounted are as follows:
— The U.S. Senate race between Democratic incumbent Bill Nelson and Republican Gov. Rick Scott. In the unofficial results, Scott had 4,098,107 votes, or 50.07 percent, while Nelson had 4,085,545 votes, or 49.92 percent. In Flagler, Scott won the vote with a 59.36-40.38 percent margin, or by 31,454 to 21,396 votes.
— The governor's race between Republican Ron DeSantis and Democrat Andrew Gillum. In the unofficial results, DeSantis had 4,075,879 votes, or 49.59 percent, while Gillum had 4,042,195 votes, or 49.18 percent. In Flagler, DeSantis won 58.58 percent to 41.42 percent, or by 30,581 to 21,625 votes.
— The race for agriculture commissioner between Democrat Nikki Fried and Republican Matt Caldwell. In the unofficial results, Fried had 4,030,337 votes, or 50.03 percent, while Caldwell had 4,025,011 votes, or 49.97 percent. In Flagler, Caldwell won with 58.98 percent to 41.02, or by 30,626 votes to 21,304.
The machine recounts will play out over five days across the state, with county canvassing boards required to report results by 3 p.m. Thursday. In that sense, Flagler is lucky: it'll be done either later today or by Monday. Once all 67 counties have reported their recount numbers, races with margins of .25 percent or less will go to manual, or "hand," recounts. That's likely to affect the commissioner of agriculture race, and possibly the Nelson-Scott race, assuming no surprises with the DeSantis-Gillum race.
But that doesn't mean every vote will be recounted by hand. Rather, over- and under-votes will be counted by hand–a much quicker process.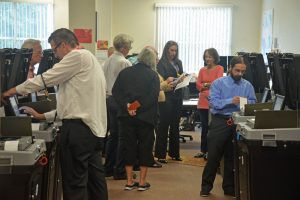 Overvotes or undervotes are set aside during the recount. Those are the ballots in which more than one vote may have been recorded in the same race, or in which no vote appears to have recorded. Those ballots become relevant only in case a manual recount takes place. At that point, it'll be up to a majority of the canvassing board to decide how each ballot's vote is recorded if it is to be recorded at all.
Those aren't the only races being recounted, however. The following races are also being recounted, but not in Flagler:
— The race in Hillsborough County's state Senate District 18 between Sen. Dana Young, R-Tampa, and House Minority Leader Janet Cruz, D-Tampa. In the unofficial results, Cruz had 104,001 votes, or 50.09 percent, while Young had 103,625 votes, or 49.91 percent.
— The race in Volusia County's House District 26 between Rep. Patrick Henry, D-Daytona Beach, and Republican Elizabeth Fetterhoff. In the unofficial results, Fetterhoff had 30,591 votes, or 50.05 percent, while Henry had 30,532 votes, or 49.95 percent.
— The race for an open seat in Palm Beach County's House District 89 between Republican Mike Caruso and Democrat Jim Bonfiglio. In the unofficial results, Caruso had 39,228 votes, or 50.02 percent, while Bonfiglio had 39,191 votes, or 49.98 percent.
The results from the manual recounts must be provided to the state no later than noon on Nov. 18. Two days later, the state Elections Canvassing Commission, comprised of Scott and two members of the Florida Cabinet, will meet in Tallahassee to certify the official election results.
By 11:30 a.m. as the count had been well under way, observers from both sides had no complaints. An observer for Nelson said all was well, as did an observer for Scott.
"This is the most professional supervisor of elections I've had the pleasure of knowing," said Bob Updegrave, the Flagler Republican Party member and an observer for Scott. "They do a good job."
The recount ended at 9 p.m. There were no surprises. Ericksen described it as mostly "monotonous."